In this digital age, we get everything from shopping to news, entertainment, communication and information online. Social media keeps us connected, and we use these platforms to benefit our businesses by reaching out to more customers and enhancing our brand value.
Digitalisation is not a new concept. Businesses were already embracing the trend to stay relevant in the market. What's new is that the ongoing COVID-19 pandemic gave a big push to the already booming industry. Right now, when work from home and online education are the new norms, digitalisation is necessary to stay afloat in the market. If your business is not online in today's time, you are just not existing in the market.
What is digital transformation and why to go for it?
Digital transformation helps you better understand the needs of your customers and build a sustainable relationship with them. It means the implementation of digital technologies to every aspect of your business. It has the power of completely transforming your business using innovation and technologies. Once you know your customers well and interact with them regularly, you can re-design your entire business and set new goals based on the insights you get from people who use your services.
Though you have the technologies in hand, how you strategise the digital transformation is more important. Deloitte 2015 global study and MIT Sloan Management Review suggest that the digital strategy decides the digital maturity. To develop the businesses digitally, companies need to concentrate on combining digital technologies like analytics, social media, mobile, and cloud technology to transform how their respective businesses operate. A clear digital strategy with leaders who can implement it to bring changes to business is the key.
Digital transformation during coronavirus pandemic
All education and workplace are forced to turn digital to keep going efficiently. So, the companies who can adapt to these changes by using digital tools and technology are the ones who will go ahead of their competitors.
Big companies are encouraging employees to work from home and even developing policies for remote working. The current pandemic has changed the way we used to live earlier. Now, also when the lockdown will be lifted, social distancing is going to stay here till there is some effective cure for the novel coronavirus. It is more likely that work from home is going to stay here, and companies need to adapt to this new way of working.
Public health officials are encouraging telemedicine which patients can access using their smartphones and laptops. It is ideal during the pandemic as it limits human contact.
E-learning is another need for this period. Even though the schools and universities are facing some technical challenges in implementing online education, they need to find the solutions for these challenges to provide the best education to the students. EdTech companies are voluntarily helping educational institutes to teach online successfully.
Here, we also see that the technologies were already there. However, during the ongoing crisis, businesses are forced to embrace these technologies to function, and the crisis also calls for multiple innovations in technology.
Some of the businesses that gained from the digitisation trend are: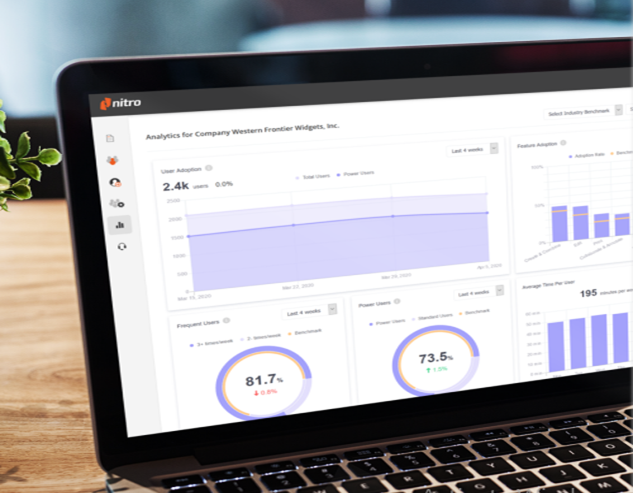 Image Source: Company's Announcement
Nitro Software Limited (ASX:NTO) is a global document productivity software company providing digital transformation services to other businesses around the world.
Q1 Results: Sales rise, new customer wins
The company released its Q1 report, which highlighted an impressive performance with double-digit growth in revenue and new customer wins. Below are the key highlights:
Cash receipts from customers stood at US$9.1 million, an increase of 11 per cent compared to pcp.
Strong balance sheet with US$40.5 million cash and no debt.
Nitro Analytics data indicates a 92 per cent increase in digital form filling, 108 per cent increase in electronic signature requests, 52 per cent reduction in printing, and 67 per cent increase in digital annotation and collaboration.
Nitro also got new enterprise customers in Q1, most notably the French Ministry of the Interior, Sandvik, the Australian State Government of Victoria, and the Royal Bank of Scotland.
Nitro CEO & Co-Founder, said the company could foresee the digital future of work being turned into a reality in a short period of a few months, with processes and productivity anytime, anywhere the new norm. He also added that the pandemic is accelerating the digital transformation. Digitalisation is all set to become a permanent feature of the business landscape.
Nitro last traded at $1.340 on 27 April 2020, a decline of 1.832 per cent compared to the previous close. NTO's market cap stands at $258.38 million. During the last one month, NTO's stock performance is up by 40 per cent.
Accent Group Limited (ASX:AX1) is into lifestyle and performance footwear retail and distribution. The company announced their plans to re-open the stores in compliance with government directives with priority being the safety of customers and the company staff. It also announced a massive surge in the company's digital sales.
Before the closing of stores in March, the average digital sales used to be worth approximately $250,000 per day and now for the last two weeks in April, the online sales were between $800,000 and $1.1 million per day.
Image Source: Company's Announcement
Accent Group CEO, Daniel Agostinelli said, the company is delighted with the growth in online sales. Company's years of investment in the digital team and technology is benefitting it during the crisis, and it also shows a shift in consumer buying behaviour from traditional shopping centres to shopping online. Accent Group is capitalising well on the new online shopping trend and will continue to drive digital growth. It is one of the topmost priorities within the company.
Accent last traded at $1.165 on 27 April 2020, an increase of 11.483 per cent compared to the previous close. AX1's market cap stands at $566.56 million. During the last one month, Accent's stock performance is up by 54.81 per cent.
Woolworths joins Uber to meet home delivery demands
Woolworths Group Limited (ASX:WOW) has partnered with Uber to meet the sudden rise in demand for home deliveries. WOW, and Uber will kick off from three WOW stores in Townsville, and they will work together in more cities within a few weeks.
At WOW stores, personal shoppers will handpick all the grocery orders placed on the Woolworths' app or website, and they will then pass the orders to Uber driver-partners for delivering orders to customers' home. The orders will be delivered to the customer the next day, and orders are capped at 40 items.
As per Annette Karantoni, Woolworths Director of E-commerce, Due to COVID-19 situation, the demand for home delivery has surged at an unprecedented rate across Australia, so the company scaled up their delivery capacity to meet these demands.
Dom Taylor, Uber General Manager for Australia and New Zealand, said the company is dedicated to supporting Australian communities, especially during such crisis.
Woolworths last traded at $36.800 on 27 April 2020, an increase of 0.327 per cent compared to the previous close. WOW's market cap stands at $46.33 billion. During the last one month, Woolworths' stock performance is up by 5.40 per cent.
With the challenges for businesses on the rise due to the ongoing crisis, the implementation of technology has eased a lot of pain faced by the companies. The ever-increasing use of technology is leading us towards the next generation of digitalisation.