During this time of turmoil in the economy, many businesses are freezing their dividend payments until the things ride back the normal pace. Markets are highly volatile, and numerous stocks have been negatively impacted, which in turn has made it difficult for the investors to choose the mix of stocks for their portfolio. Dividends that provide a consistent income to the investors have been cut down by the companies in response to COVID-19 to maintain cash flow.
There is a significant chunk of stocks that has been impacted positively and have generated substantial dividends for the investors. Most of these stocks are yielding dividend and have the word Digital associated with them. Digital is the word embraced by the companies amid COVID-19, and it has aided the economy in the current challenging environment. The question is, what is this digitalisation all about?
Today companies are turning their head towards digital technology and analytics to help them withstand the crisis and equip themselves with ways of surviving. COVID-19 is building a Digital Bridge across the world to the New Normal.
The waves of digitalisation are stimulating, accelerating at a fast pace to result in inevitable disruption. Still, at the same time, it is creating opportunities for businesses responding to this disruption. A response can be in terms of commitment to a journey of reinvention incorporating the capabilities to develop, the way they think and work, to the investment they commit.
Moving forth, let us discuss some ASX-listed Stars that have embraced digital over dividends.
Temple & Webster Group Ltd (ASX:TPW)
In the wake of the current crisis, TPW, the Australian online retailer of furniture and homeware provided an update on its operations in response to COVID-19 on 28 April. TPW highlighted the below points:
During April, the online business has witnessed an upsurge in demand from new as well as repeat customers.
Revenue rose 74% on a y-o-y basis between 1 January 2020 to 24 April 2020.
Robust business in terms of financial position, profitability, positive cash flow, debt-free balance sheet and capital-light business model with around AU$20 million cash.
Commitment for long-term via high growth strategy to derive benefits from the online structural shift.
As on 22 May 2020, the stock of TPW was trading at AU$4.160 (at 2:22 PM AEST), an increase of 0.483% from its previous close.
Adairs Limited (ASX:ADH)
In response to COVID-19, ADH, a retailer of homewares and Manchester had shut its doors in March 2020. ADH announced the withdrawal of its FY'20 guidance, cancellation of interim dividend, and emphasised on the efforts on cost reduction and operations via online channels.
Even though the physical stores were closed, ADH products experienced growth in the sales via online mode by 221 % during the shutdown period of four-six weeks. Also, during the nine months ended in March 2020, online sales accounted for 20% of the total sales.
ADH shares were trading at AU$1.735 on 22 May 2020 (at 2:23 PM AEST), up by 3.274% from the previous close.
RELATED: Adairs Provided Trading Update; Would Soon Open All Its Stores
Kogan.Com Ltd. (ASX:KGN)
KGN, an Australian marketplace engaged in the consumer discretionary space, ensured quality service amid COVID-19. KGN released its positive business outlook for April 2020 and observed considerable growth in gross sales of more than 100%, and gross profit increment by 150%. The adjusted EBITDA was up by more than 200%.
The April business update threw light on growth in a considerable number of active customers. The active customers swelled to 1.948 million (As on 30 April 2020) with an increase of 139,000 active customers in April alone. The Company plans to increase its active customer base and brand building as a strategy for the long run.
On 15 May 2020, KGN acquired Matt Blatt, Australian family-run business, and a furniture icon for AU$4.4 million.
Source: Company's website
The KGN stock was trading at AU$9.470 on 22 May 2020 (at 2:25 PM AEST), an increase of 1.901% from its previous close.
James Hardie Industries Plc (ASX:JHX)
JHX, a leading manufacturer of fibre cement siding, backer board and fibre gypsum products has published robust business results in May for the year ended 31 March 2020 and highlighted the capability of the business to perform strongly in evolving and volatile market. Business results showcased the boosted volume of 10 % y-o-y in Fiber Cement Segment of North America. This growth is reflected by the lean transformation in their network of plants.
Their Lean manufacturing initiative continued to generate improved performance in the manufacturing network in North America and delivered adjusted EBIT margin growth of 25.3% in the fourth quarter.
Even though the market was extremely volatile, starting in March 2020, JHX successfully grew revenue by double digits in its entire operative region. Also, Company's liquidity position has been upgraded from US$ 464 million at 31 December 2019 to US$ 510 million at 31 March 2020 and US$ 578 million at 30 April 2020.
JHX currently intends to purge lean manufacturing initiatives, impactful innovations, gain market share and establish strong liquidity and financials.
JHX stock was trading at of AU$23.720 on 22 May 2020 (at 2:26 PM AEST), up by 0.401% from its previous close
ALSO READ: Why Is James Hardie Topping the Charts Today on S&P/ASX200?
Volpara Health Technologies Limited (ASX:VHT)
VHT, a MedTech SaaS company offering digital health solution released its strong quarterly cash flow report for the quarter ended 31 March 2020 (Q4' 20) in April. VHT reported an increment of net new annual recurring revenue (ARR) of ~ NZ$1.2 million, an increase of ~20% y-o-y despite the COVID-19 crisis. Also, VHT's liquidity in the form of cash remained sturdy, with NZ$31.4 million in Q4'20.
Also, during the quarter, VHT completed the placement of AU$28 million along with the launch of a share purchase plan (SPP) for an additional AU$7 million.
VHT shares were trading at AU$1.370 on 22 May 2020 (at 2:26 PM AEST), down by 3.18% from the previous close.
Alcidion Group (ASX:ALC)
A health-tech company, ALC utilises technology mobilisation to offer services including clinical decision support to the healthcare companies.
ALC published its market update for the quarter ending March 2020 (Q3) and highlighted strong business performance amidst COVID-19 and the importance of Alcidion's platform. Sales pipeline remained robust across all markets. Also, financially, business witnessed robust performance with recurring revenue of AU$17.2 million and cash reserves of approximately AU$15.9 million for Q3.
ALC shares were trading at AU$0.152 on 22 May 2020 (at 2:27 PM AEST), down 1.935% from the previous close.
Dicker Data Limited (ASX:DDR)
DDR, a distributor of ICT hardware, software, cloud & (internet of things) solutions for its resellers released investor presentation for April 2020 and highlighted strong business performance amid COVID-19. April month revenue grew by 37.7% y-o-y to AU$163.7 million due to demand upsurge for remote working solutions across both hardware and software portfolios reinforcing IT distribution as an essential component of business continuity.
During the quarter ending March 2020, DDR had total revenue of AU$463.9 million, up 19.9% y-o-y inclusive of highest revenue generated in March due to considerable mobilisation to remote working solutions.
Also, DDR completed the placement of AU$50 million by issuing 7.5 million new shares at AU$6.70 each.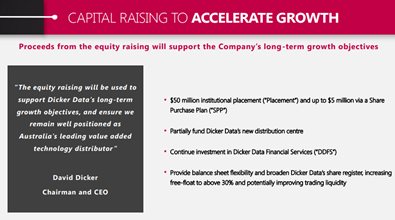 Source: Investor Presentation - May 2020
DDR shares traded at AU$7.550 on 22 May 2020 (at 2:29 PM AEST), up by 2.165% on its previous close.
Xero Limited (ASX:XRO)
A global provider of SaaS-based business and accounting software to small businesses and their advisors, Xero launched an array of news tools on 19 May 2020 to support companies in their revenue and cash flow management.
On 14 May 2020, XRO released its full-year results (FY) for the year ended 31 March 2020 and delivered an impressive business performance with positive free cash flow and net profit outcome. XRO's operating revenue saw a growth of 30% to NZ$718,231 thousand driven primarily by the rise in subscriber across all markets.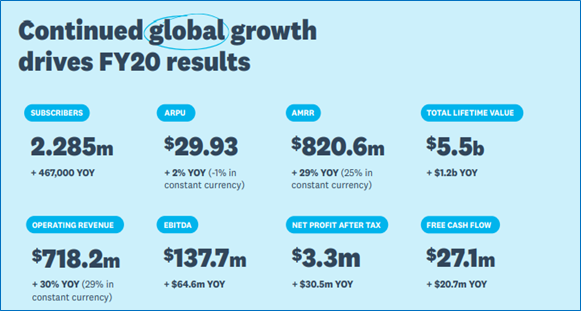 Image source: XRO's Investor Presentation

XRO shares were trading at AU$79.920 on 22 May 2020 (at 2:30 PM AEST), down by 0.025% from its previous close.
Digital technologies applied to the new ways of working is changing the existing business model and creating substantial growth in the revenue and other value-adding opportunities across various businesses which in turn are going to boost returns and dividends for the investors and shareholders.