The inflation for Australia rose to over 5 years high during the March quarter of 2020, showing the impact of drought and bushfires on food prices as well as COVID-19 effect.
The headline CPI rose 0.3% in original terms and 0.4% in seasonally adjusted terms in the March quarter 2020 pulling up annual inflation figure to 2.2% in 12 months to March 2020 compared to 1.8% over 12 months to December 2019. This is the first time that the annual inflation figure has achieved RBA's annual inflation target of 2-3% since 2018 and is highest since the September 2014 quarter.
Contributors to change in CPI
The education group was the main contributor to the change followed by food and non-alcoholic beverages, health group and alcohol and tobacco group. Going deeper into the groups reflect the most substantial increase in prices in March were vegetables (+9.1%), tobacco (+2.0%), secondary education (+3.4%), and pharmaceutical products (+5.1%), whereas international and domestic holiday travel, along with automotive fuel accounted for the significant price falls.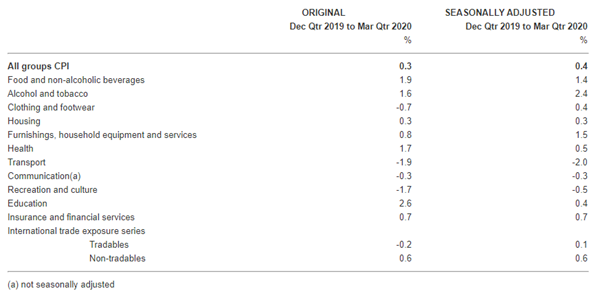 Source: ABS
As per ABS Chief Economist, Bruce Hockman, "Some price effects of COVID-19 were evident in the March quarter due to increased purchases due to restrictions. Since most of the restrictions like travel bans and social distancing came into place in mid-March, more evident effects are expected in the June quarter."
ABS collected data for 1 January to 31 March to arrive at CPI numbers for the March quarter. Hence, the entire impact of restrictions imposed in mid-March was not covered. Hence, ABS has already put in some measures to make sure that the CPI figures are not adversely affected due to inability in collecting data amid COVID-19 restrictions.
CPI in Capital cities
All capital cities ranging from Sydney to Melbourne recorded a rise in CPI except for Brisbane. Yearly movements rose in all the capital cities in the March quarter period with 6 cities yearly progress noted at 2% or higher.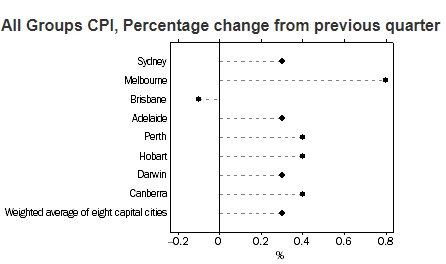 Source: ABS
High domestic demand amid COVID-19 led to an increase in prices. The food and non-alcoholic beverages surged in all capital cities, as drought and low seasonal supply forced prices of fruits and vegetables to rise, whereas prices increased for meat and sea-food due to robust demand internationally.
There was a decline in prices for automotive fuel followed by lower oil prices globally which led to a fall in transport in the respective cities.
RBA expects a deflationary scenario
RBA Governor, Philip Lowe in his latest economic and financial update this month, stated that he expected inflation to remain positive, but was preparing for a substantial drop in the June quarter 2020. Lower oil prices, free childcare and reduction in few price increases were being expected to result in negative year-end headline inflation in June. If that happens, it would be the first time that price level would fall over a full year since the early 1960s.
ALSO READ: A Deep Contraction OR Recession - RBA's take on Australian Economy
He also asserted that due to uncertainty on the number of employees that will remain attached to their firm and if people would be looking for employment who have been stood down, the unemployment rate is difficult to predict. RBA forecasts the unemployment rate to remain above 6% over the next 2 years and year-end wage growth to be below 2% before picking up. Hence, inflation is anticipated to continue to be below 2% over the next couple of years.
"A large drop in the aggregate demand is anticipated along with a rise in the unemployment rate that will push inflation towards the downside", stated Hayden Dimes, ANZ Economist. He also added that RBA is already taking measures that are consistent with an anticipated weak annual inflation later this year.
NAB has forecasted a steep 1.9% decline in the headline CPI for Q2, which would see annual deflation of 0.4%.
This will be due to falling oil prices and the announcement of free childcare since April. It also stated that ease in the monetary policy could support the economy as activity recovers during the latter part of the year. The bank asserted for the need for unparalleled fiscal stimulus by the government to lift up the economy, which can push the budget deficit to a record 13% of GDP in the next financial year.
Moody reaffirmed AAA rating
The global credit rating agency, Moody's has reaffirmed AAA rating for Australia on 29 April even after an expected bleak property market. The agency expects Australia's economy to shrink by 4.9% in 2020 and grow by 3.7% in 2021.
The agency has reduced its GDP growth expectations for all G20 members and expects a global recession is on its way. It has predicted that the group of advanced economies will contract by 5.8% in 2020 with oil prices to remain below USD 50.
As per a report by market analyst, "There can be restructuring in the working of economies on a large scale with fundamental changes in the consumption patterns and long-term effects for the global economy."
Moody's stated that even without a lockdown, destruction of businesses and other sectors could be on a large scale with the high unemployment rate, continuing slump in consumption and investment along with loss of several workers.
The recovery for the overall economy can only start if the virus is contained, and subsequently, restrictions are lifted on the commercial activity. The health and economic shocks are expected to linger on in the minds of Australians for some time that can affect spending.
Collapsing oil prices, higher unemployment and shutting down of businesses have put Australia on the verge of deflation.