Cloud computing is a technology in which different services are provided via the internet. These resources comprise of tools and applications such as data storage, databases, servers, networking as well as software.
Keeping files on the local device calls for a lot of system memory space. Thus, reducing the efficiency of the system in terms of speed, performance and most importantly, the safety of the data.
These factors are being crucial for any firm/individual and can be overcome through cloud computing. All the data is found in a virtual space and can be accessed from the virtual space with an internet connection.
The basic types of cloud computing comprise of:
Infrastructure as a Service
Software as a service
Platform as a Service
Desktop as a Service
Cloud computing could be public as well as private. Public cloud computing requires a fee for the services, while private cloud computing provides services to selective people.
rhipe Limited
Acquisition of Network2Share Pty Limited:
rhipe Limited (ASX: RHP), one of the leading cloud computing companies in the APAC region. On 5 August 2019, RHP announced that it had signed a binding legal agreements for the complete acquisition of the share capital of Network2Share Pty Limited, which is an Australia based security software company which has developed user-friendly encryption product ('SmartEncrypt").
With the acquisition of Network2Share Pty Limited, the company has plans to combine 'SmartEncrypt' with Microsoft Office365, Microsoft Azure, and other vendor software licenses. Through SmartEncrypt, the user would be able to encrypt files and documents on-masse with the aid of simple-to-handle encryption keys. It implies that in case of any breach in the network via an unauthorised user, the file which they obtain will be of no use and would be unreadable.
Further, this purchase would provide the company with new and unique Intellectual Property that would be solely available in the APAC region through RHP's PRISM. The resellers would be able to use PRISM to sell, deliver and bill their customers for SmartEncrypt along with other PRISM-features.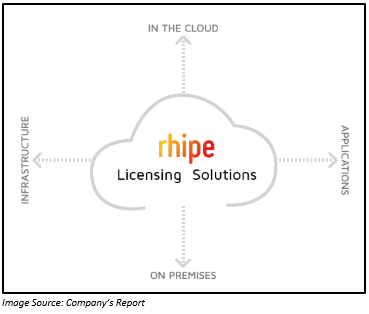 Valuation and Consideration:
The acquisition is presently pre-revenue, upfront consideration payable is limited to $2m in cash, which would support the owners to make repayment of the debt that was built as a result of building the SmartEncrypt product. The remaining amount will be paid in three tranches, each of $1 million which is payable after the sale of monthly licenses of 10,000, 20,000 and 40,000 respectively. Once the monthly licence count reaches 40,000, the payment of $5 million would be made. These additional tranches would be paid both in cash as well as ordinary equity shares of RHP worth ~ $1.25 million.
Apart from the $5 million consideration, the vendors of the product, SmartEncrypt are entitled to receiving further deferred consideration contingent in case of achieving the monthly licensing revenue target above direct cost incurred in the development as well as the marketing process of SmartEncrypt. The earn-out terms come with a five years expiry.
The company does not intend to change its earlier announced operating profit guidance of $16 million for the financial year 2020.
Stock Information:
On 12 August 2019, the shares of RHP were trading at A$2.650, up by 1.533% as compared to its previous closing price (as at AEST: 2:02 PM).
FirstWave Cloud Technology Limited
Provider of technology and cloud service, FirstWave Cloud Technology Limited (ASX: FCT) on 31 July 2019 released its Q4 FY2019 outcome for the FY2019 ended 30 June 2019.
The company follows a three-phase "Enable, Expand, Scale" strategy, and currently, the company is in the Expand phase. During the Q4 FY2019, the business had made progress in the below mentioned operational milestones.
Under the license agreement with Cisco Systems, Inc, Cisco was required to deploy the technology of FCT worldwide. During the quarter, FirstWave completed 1st Telco Proof of Value (POV) in Africa. It started Tier 1 Telco POV in Europe and signed first Telco in APAC region. It also launched a joint investment technology lab in Sydney, wherein Cisco provided $1 million in the form of technology input.
Post the completion of two POV's under the # reseller agreement in the third quarter of FY2019, the company signed its first African Service Provider (SP) Telecel RCA.
It also launched the next generation public cloud platform on AWS in Mumbai.
Investment in the regions of Africa and North America increased with three resources in business development, pre-sales as well as channel development.
Improved working capital by $5.4 million due to prepayment from a major customer.
Jason Singh, the former FCT Finance Director, was appointed as new Chief Financial Officer.
John Grant, the experienced technology executive, was appointed as new Executive Chairman and Board Director.
FY2019 Overview:
The total revenue for the FY2019 ended 30 June 2019 was at $8.8 million, up by 13% as compared to the previous corresponding period (pcp). The SaaS revenue went up by $461k to $7.9 million on pcp.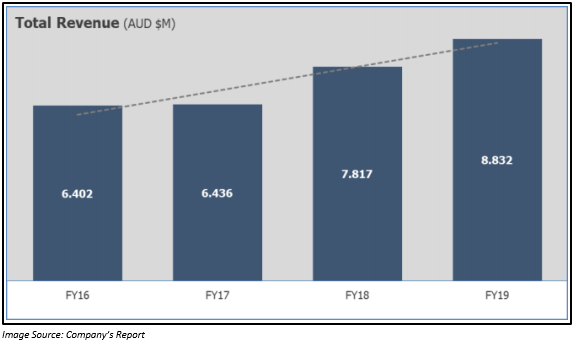 Financial Highlights:
In Q4 FY2019, the company used A$0.994 million in its investing activities. The company generated net cash of A$1.018 million through the operational activities and A$7.312 million through the financing activities.
By the end of Q4 FY2019, FCT had net cash and cash equivalent worth A$8.195 million. The expected cash outflow in Q1, FY2020 is around A$4.957 million.
Stock Information:
On 12 August 2019, FCT shares were trading at A$0.265, down by 3.636% as compared to its previous closing price (as on AEST: 2:25 PM).
ELMO Software Limited
Q4 FY2019 Highlights:
Talent management software, ELMO Software Limited (ASX: ELO) on 25 July 2019 released its Q4 FY2019 results. The company made a record growth in cash receipt in Q4 FY2019 to $15.5 million, up 63% as compared to the previous quarter and 57% up on pcp. The cash receipt for the full year 2019 increased by 60% to $45.1 million on pcp. Annualised Recurring Revenue increased by 48% to $46.0 million on pcp.
Q4 FY2019 Financial Highlights:
In Q4 FY2019, the net cash generated through operating activities was A$4.581 million. The net cash used in investing activities of the company was A$3.363 million, and net cash used in financing activities was A$0.012 million. The net cash and cash equivalent available at the Q4 FY2019 end was A$27.733 million. Breakdown of estimated cash outflow for next quarter is as below: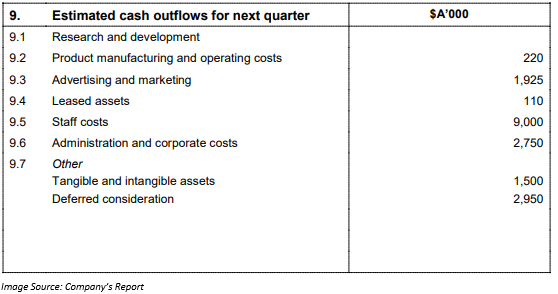 Commenting on the performance of the company, the CEO, Danny Lessem stated that the company is witnessing positive traction in the lower mid- market with the new modules that have been integrated into the company's product offering over the year. He further highlighted that the company is focussed on investing in client services, sales and marketing and R&D to enable innovation and increase customer base.
Stock Information:
On 12 August 2019, ELO shares were trading at $6.900, up by 2.985% as compared to its previous closing price (as at AEST: 2:40 PM).
Carsales.com Limited
Recent Update/s:
Notice of initial substantial holder:
On 9 August 2019, Online automotive advertising company, Carsales.com Limited (ASX: CAR) released an announcement related to the notice of initial substantial holder. Yarra Funds Management Limited, became a substantial holder, with interest in 12,274,081 shares of the company having the voting power of 5.0232%.
Recently, on 13 June 2019, the company released an announcement related to Strategic Review of Stratton followed by FY2019 results update.
Stock Information:
On 12 August 2019, the CAR shares were trading at A$14.395, up by 2.165% as compared to its previous closing price (as at AEST: 2:51 PM).
ReadCloud Limited
Recent Update:
Cleansing Statement:
ReadCloud Limited (ASX: RCL), one of the leading provider of software solutions which includes eBooks, to schools within Australia, provided notice under Section 708A(5)(e) of the Corporations Act 2001 (Cth) (Corporation Act).
The company confirmed that it had issued 5,555,556 fully paid ordinary shares at an issue price of A$0.36 per share to new as well as existing institutional and sophisticated investor. The shares were issued without disclosure to investors under part 6D.2 of the Corporations Act.
On 31 July 2019, the company received commitments from the institutional and sophisticated investors for a single tranche Placement for raising an amount worth $2 million before cost against which the company was supposed to issue ~ 5.6 million new fully paid ordinary shares. The funds raised through this placement would be used for supporting the marketing and system development in Vocational Education and Training ("VET") sector.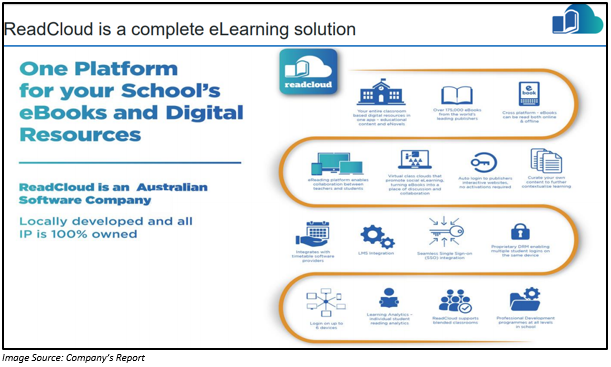 Stock Information:
On 12 August 2019, RCL was trading flat at A$0.380 as compared to its previous closing price (as at AEST: 2:53 PM).
---
Disclaimer
This website is a service of Kalkine Media Pty. Ltd. A.C.N. 629 651 672. The website has been prepared for informational purposes only and is not intended to be used as a complete source of information on any particular company. Kalkine Media does not in any way endorse or recommend individuals, products or services that may be discussed on this site. Our publications are NOT a solicitation or recommendation to buy, sell or hold. We are neither licensed nor qualified to provide investment advice.
There is no investor left unperturbed with the ongoing trade conflicts between US-China and the devastating bushfire in Australia.
Are you wondering if the year 2020 might not have taken the right start? Dividend stocks could be the answer to that question.
As interest rates in Australia are already at record low levels, find out which dividend stocks are viewed as the most attractive investment opportunity in the current scenario in our report.
CLICK HERE FOR YOUR FREE REPORT!