Cast an Eye Over Five Baby Food Stocks - BBN, A2M, BUB, JAT and SM1
Amidst a growing demand for organic and nutrient-added products in Australia, the baby food industry has observed a tremendous growth in the last ten years. Moreover, the technological innovation has supported an omni-channel shift of the popular industry players to the online trading platform.
These factors, along with a growth in the number of infants in Australia, have induced a rise in the sales of baby food across the nation. Given this backdrop, let us discuss five baby food stocks listed on the ASX that have been gaining investors' attention in the industry (see figure below).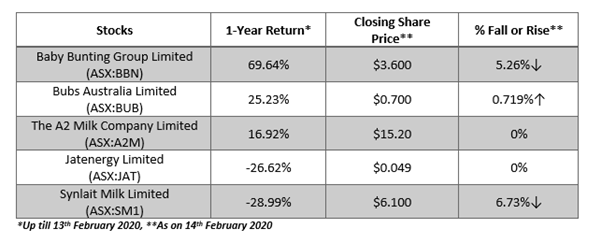 Baby Bunting Achieving Improved Profitability
Australia's one-stop bay shop, Baby Bunting Group Limited (ASX:BBN) has been making robust progress on its operational objectives for the last many years, and the result is visible in its latest 1H FY20 results.
The Company has recently reported its first half results of FY20 (for the 26 weeks to 29th December 2019) on the ASX, which reflect its continued progress in delivering profitability growth. The proforma result for 1H FY20 highlighted the following:
Total sales grew 8.1 per cent up on pcp to $186.4 million, driven by comparable and underlying comparable store sales growth of 1 per cent and 4.1 per cent, respectively.
Pro forma NPAT and pro forma EBITDA were 30.6 per cent and 21.7 per cent up on pcp, to $7.5 million and $14.3 million, respectively.
Gross margin was 223 basis points up on pcp, to 36.9 per cent.
Online sales grew 10.5 per cent, making up 11.7 per cent of total sales.
Announced an interim dividend (fully franked) of 4.1 cents per share.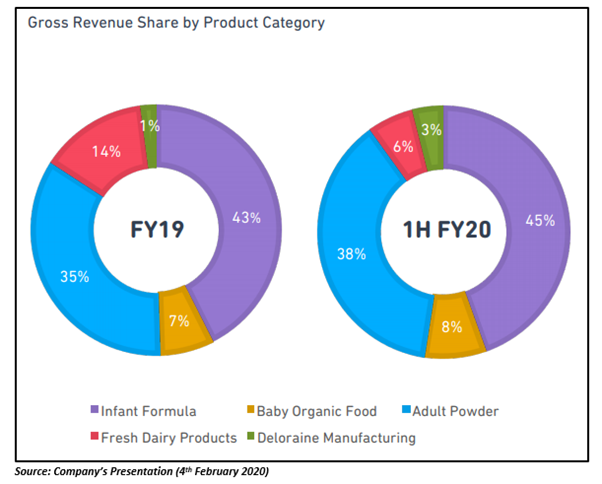 What to Expect in FY20?
Positive momentum is expected for 2H FY20; as at 9th February 2020, comparable store sales growth has been recorded at:

2 per cent year-to-date.
7 per cent for the first 6 weeks of 2H.
22 per cent online sales growth for the first 6 weeks of 2H.

Pro forma NPAT - $20.0 million to $22.0 million in FY20.
Pro forma EBITDA - $34.0 million to $37.0 million in FY20.
Gross margin anticipated to reach 37 per cent for FY20.
Bubs Australia Delivering Consistent Quarterly Growth Since Listing
Baby formula and baby food catering entity, Bubs Australia Limited (ASX:BUB) has been reporting consistent quarterly growth since its listing in 2017 despite a challenging macro environment.
Subsequent to reporting its quarterly results for the period ended 31st December 2019, the Company announced its 1H20 results, which highlighted:
37 per cent growth on pcp in gross revenue to $28.8 million.
Key driving force remained Bubs® Goat Infant Formula, whose sales more than doubled quarter-on-quarter, 118 per cent up in December 2019 quarter.
Sales of Bubs® infant formula and baby food were 77 per cent and 23 per cent up on pcp in 1H FY20.
Goat Milk Powder also delivered healthy revenue growth in 1H FY20, including

Adult Goat Milk Powder – 30 per cent up on pcp
Fresh Milk/Yoghurt – 49 per cent up on pcp

Bubs® products accounted for 53 per cent of total revenue in 1H FY20.
Infant Formula almost doubled in sales revenue in China in 1H FY20, improving by 99 per cent on pcp.
What to Expect in FY20?
Stronger demand for infant formula across all distribution channels in 2H FY20.
1H FY20 investment into the development of new product launches and brand extensions is expected to convert to revenue realisation in the second half.
A2M Maximising Growth, Continuing Strong Momentum
Dairy Nutrition company, The A2 Milk Company Limited (ASX:A2M) has been progressing well in line of becoming a world-class dairy nutrition company. Not only the Company is large, it is more financially robust and is clearer on its strategic priorities.
During the year ended 30th June 2019, the Company reported significant increases of 41.4 per cent and 46.1 per cent in the total revenue and EBITDA for the year to NZD 1.3 billion and NZD 413.6 million, respectively. In addition, the Company recorded EBITDA to sales margin of 31.7 per cent.
The Company's NPAT and Basic EPS were also 47 per cent and 45.4 per cent up on pcp to NZD 287.7 million and 39.25 cents, respectively. Its infant nutrition market share strengthened to 6.4 per cent in China in FY19, with group infant formula revenue rising by 46.9 per cent to NZD 1.1 billion.
Moreover, its US milk revenue got more than doubled, and distribution expanded to 13,100 stores in FY19, and Australian fresh milk revenue grew by 10.7 per cent, recording a market share of 11.2 per cent.
What to Expect in 1H20?
Continued strong revenue growth across its key regions.
Stronger EBITDA margin in the range of 21 to 32 per cent.
Revenue ranging from NZD 780 million to NZD 800 million.
~84 per cent growth in China label infant nutrition sales to ~NZD 135 million.
~110 per cent growth in the US sales to ~NZD 27 million.
~12 per cent growth in Australia fresh milk sales to ~NZD 75 million.
JAT's Infant Boutique Opening Scheduled for March 2020
Australia-China trade specialist, Jatenergy Ltd (ASX: JAT) has positioned itself as a major player in the flourishing Australian consumer goods export industry via sales to Chinese consumers.
The Company intends to boost its infant formula to Asia and achieve its long-term growth plans. The Company has planned to start a maternity and infant boutique in Shanghai in March 2020, in a prime retail location.
The Company believes it will be the first Australian company to conduct the sale of dairy products via its own retail outlet in China and will finalise an end-to-end supply and delivery chain.
The Boutique will be stocked with the Company's full range of its own products including Golden Koala, Neurio, Hopefern and Oz Mia, as well as some new brands currently under development.
Synlait's Earning Guidance Hit its Share Price
Nutritional milk powder manufacturer, Synlait Milk Limited (ASX:SM1) has lowered its earnings guidance for FY20 to about $70 million and $85 million NPAT, as a result of:
Substantially lower than expected infant base powder sales as China's infant nutrition market consolidation is resulting in reduced demand from brand owners that are yet to obtain brand registration.
More volatile lactoferrin prices than previously expected.
Consumer-packaged infant formula sales volumes not expected to register strong results in FY20.
Moreover, the Company expects its NPAT for HY20 to be in the range of $26.5 million to $28.5 million, lower than NPAT of $37.3 million in HY19. Synlait's HY20 result is likely to be affected by:
Higher incremental interest, manufacturing and SG&A (Selling, General and Administrative Expenses) costs linked with advanced liquid dairy packaging facilities and the Pokeno.
Reduced sales volumes of ingredient products than expected due to product mix impacts and sales phasing; and
Decreased sales of infant base powders owing to consolidation of the China infant nutrition market.

---

Disclaimer

This website is a service of Kalkine Media Pty. Ltd. A.C.N. 629 651 672. The website has been prepared for informational purposes only and is not intended to be used as a complete source of information on any particular company. Kalkine Media does not in any way endorse or recommend individuals, products or services that may be discussed on this site. Our publications are NOT a solicitation or recommendation to buy, sell or hold. We are neither licensed nor qualified to provide investment advice.