Summary

PAN and WGO raise funds worth $90 million and $15 million, respectively.
Means of raising the capital includes entitlement offer, institutional placement and two-tranche placement
Panoramic Resources intends to de-risk the restart of its earlier suspended Savannah Nickel mine. PAN is suspended from ASX since 9 April 2020.
WGO to use the funds the drilling and exploration activities in West Erregulla-3 and West Erregulla-4 wells
COVID-19 pandemic has had disruptive outcomes for businesses around the world. Albeit most of the resources sector companies have been comparatively well placed during the COVID-19 turmoil. A few such ASX-listed examples include King River Resources Limited (ASX:KRR) and Middle Island Resources Limited (ASX:MDI), and Perpetual Resources Limited (ASX:PEC), among others.
On the ASX, the S&P/ASX 200 Resources index has generated a significant return of 27.43 per cent on a QTD basis (as on 26 May 2020), almost double the gain of the benchmark index S&P/ASX 200 over the same period (13.85 per cent).
The significant operations within the sector have continued during the lockdown phase. Besides, rising prices of commodities, particularly gold, have had a favourable impact on the resources sector. The Australian government understood the importance of the energy and mining sector for ongoing economic activity. Thus, the country's Department for Energy and Mining has supported the smooth and uninterrupted operation of the resources players.
To fund their existing operations in these times or to fund the expansion of plans, companies seek additional capital.
Let us have a look at two ASX-listed resources sector companies that have raised capital via different means – Panoramic Resources and Warrego Energy.
Panoramic Resources Limited (ASX:PAN)
Founded in 2001, Panoramic Resources is a mining and exploration Company. The Company's flagship project is the Savannah Nickel Project, and PAN also has two platinum projects.
Senior Debt Facility: The outstanding balance of the senior debt facility stood at nearly $25 million, which comprises of around $20 million and $5 million in Tranche 1 and Tranche 2, respectively.
This balance is after the repayment of $7.5 million of the outstanding funds owed in a senior debt facility. The Company made this repayment mainly from the proceeds received from the shipment of Savannah nickel concentrate in April. As a result, the margin on Tranche 2 dropped from 15 per cent to 0.5 per cent per annum.
Capital Raise:
To repay its senior debt facility, and fund development activities at Savannah project, among other reasons, the Company conducted a fully underwritten offer to raise a maximum of ~$90 million. The offer includes the issuance of around 1,288 million new shares, indicating almost 169 per cent of existing shares on issue. These shares will rank like the current shares on issue.
Further detail of the offer is as follows.
Institutional placement: To raise nearly $29 million from the issue of 410 million new fully paid ordinary shares.
Entitlement Offer: To raise almost $61 million from the issue of around 878 million new shares in 1.15 for 1 non-renounceable entitlement offer (accelerated pro-rata).
The offer price of $0.07 per new share signifies the following two:
21 per cent discount to TERP of $0.089
7 per cent discount to the last closing price on 9 April 2020 ($0.12) as it was the last trading day before the Company's trading got suspended.
The aim of raising funds via offer including institutional placement and entitlement offer, are as follows:
To recapitalise the Company for repayment of senior loan (including estimated interest).
Repayment of PAN's subordinated loan repayment (including estimated make whole and interest).
Development and exploration activities required for restart of Savannah North Mine, involving end of critical ventilation infrastructure.
At the recently suspended Savannah Nickel Mine, the costs including care and maintenance, and suspension expenses, for both initial and ongoing activities.
Offer costs and General working capital, which consist of royalties and creditors payments.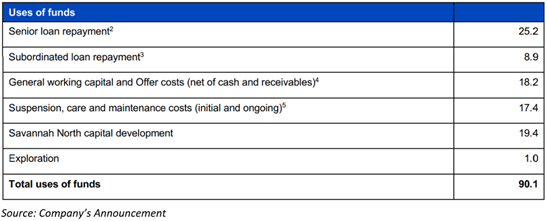 The Offer involved Hartleys Limited as the Co-Manager, and Canaccord Genuity (Australia) Limited and Morgans Corporate Limited as Joint Lead Managers.
Announcement date of the results of Placement and Institutional Entitlement Offer is 27 May 2020. New shares issued under the Retail Entitlement Offer is likely to commerce the normal trading on ASX on 22 June 2020.
Strategic investment:
The offer involves a strategic investment as Western Areas Limited (ASX:WSA) entered in a subscription agreement with Panoramic. WSA will acquire a maximum of 19.9 per cent of PAN's proforma shares on completion of its fully underwritten capital raising. Western Areas participated in the placement and as a sub-underwriter to the retail portion of the Entitlement Offer.
WSA will pay the total cash consideration of $28.6 million, based on the issue price of $0.07 per share in a capital raising. Western Areas is a nickel producer, and PAN is looking forward to work with WSA to increase the development potential at Savannah North.
Warrego Energy Limited (ASX:WGO)
Established in 2007, Warrego Energy is focused on the development of onshore assets in Spain and Western Australia.
Raising Capital via Placement:
On 25 May 2020, WGO notified the market that it had obtained commitments for a $15 million two-tranche placement to sophisticated and institutional investors. Under the Company's listing rule 7.1 capacity, the offer price of the placement was $0.13 per fully paid ordinary new share.
The placement will be completed in two tranches, as mentioned below:
Tranche One: $12.3 million with 94.9 million shares, which is likely to settle on 28 May 2020.
Tranche Two: 20.5 million shares for $2.7 million, which is anticipated to settle in early July 2020. This tranche of the placement is subjected to the approval of shareholder at a general meeting of WGO, which is likely to happen in early July 2020.

Greg Columbus, the Chairman, plans to invest $390,000 in the placement. This is included in Tranche Two and subjected to shareholder approval.
Both new and existing institutional investors (located offshore and domestically), which participated in the transaction have oversubscribed the placement. The Company stated that these new shares issued under the placement would be ranked equally with the current ordinary shares of Warrego.
The proceeds from the placement will be utilised in general working capital and to fully fund the drilling of the West Erregulla-3 appraisal/exploration well in 2020. Also, to arrange funding for long lead items for the West Erregulla-4 appraisal/exploration well.


Difference in Volumetric:
Strike Energy Limited (ASX:STX) recognised that there are differences in volumetric estimates of the resource statement of recently released estimates by Warrego and announcement made by STX on 11 November 2019. Warrego Energy made an announcement on 18 May 2020 regarding the prospective and contingent resource estimate for the West Erregulla gas field which was certified by Perth-based RISC (RISC Advisory Pty Ltd).
WGO owns 50 per cent of the West Erregulla gas field, which is situated in EP 469 in onshore Perth Basin of Western Australia. Recently, the Company agreed with the appraisal plan, work plan and budget of West Erregulla. As per the approved appraisal plan, the West Erregulla 4 well and West Erregulla 5 will be added to the West Erregulla 3 drilling and 3D seismic program.
Stock Information: WGO stock closed the day's trade at $0.175 on 26 May 2020, a decline of 2.778 per cent compared to its previous close.
NOTE: $ denotes Australian Dollar, unless stated otherwise.