In Australia, big telecommunication service providers like Telstra, Optus, and Vodafone have plans to roll out 5G to their Australian customers by 2020, and for this, the planning and testing of infrastructure are underway.
Telstra in Australia is known for investing in its world class networks. In FY2019, the company started the rollout of 5G network. It was the first in Australia, to launch 5G services and also the first company to provide 5G handsets. The company during FY2019 started building out its 5G coverage in 10 cities across the nation.
Telstra, being the first mobile network in Australia that was ready for the 5G network, has invested ~ $8 billion in a time span of 5 years ending 30 June 2019.
About 5G:
The 5G wireless technology is capable of offering its customers with lightning-fast speed, incredibly low latency and carry huge number of connections at the same time.
5G network is not related to increased speed, but it is expected to unleash a huge IoT ecosystem. 5G is expected to meet the communication requirement of billions of connected machines with the right adjustments amongst the speed, latency, as well as cost.
Specification of 5G technology:
Speed up to 10 GBPS.
1000x bandwidth per unit area
Latency of 1-millisecond
Up to 100 times the number of attached devices per unit area.
coverage up to 100%
Availability up 99.99%
90% fall in the network energy usage
Up to 10 years of battery life for low power IoT device.
Advantage of 5G technology:
5G is known as the latest development in the fields of mobile technology which is capable of providing increased speed, better reliability and improved capacity. Around the world, the mobile industry has agreed to the technical specification of the 5G network during 2018 and trials were under progress.
Mobile technology from 1G to 4G has seen progress in terms of speed and more functionality. Telstra is now stepping towards 5G network of wireless technology that would be providing a speed where a movie file of size 3GB for high definition film can be easily downloaded in a few seconds. The speed of 5G is better than the latest 4G LTE technologies which take a minute or two to download a file of the same size.
Another feature of the 5G technology is the latency rate. Latency rate refers to the response time for the data to transmit from source to destination and back to the source again. In other words, latency refers to the response time. With 5G technology, the latency rate would decline from 200 milliseconds that was prevalent in the 4G network to 1 millisecond in the 5G network.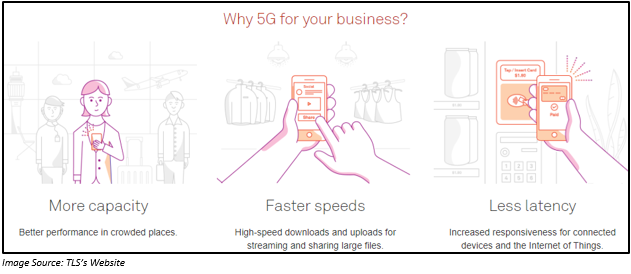 Importance of low latency in the real business application:
In cases where response and reaction times are critical, the importance of low latency can be felt. As highlighted by Deloitte in its study, it was mentioned that most of the Australians understand the importance of the 5G network. Also, more than 78% of the total business leaders in Australia say that businesses would faster, and reliable mobile telecommunication would be beneficial for their businesses. With the enhancement of telecommunications, there would also be an improvement in efficiency. The better network also supports innovation along with the development of new products, services and revenue streams.
The benefit of the latency can be realised in those businesses which embrace technology.
For small and medium business owners, 5G network would provide super-fast and super-reliable mobile networking over a vast distance. Businesses in the regional areas would be benefitted from higher internet speeds. Urban locations would also have huge benefits from the 5G services, and it would bring fierce competition to broadband services in Australia.
Cases of low latency rate:
on-road autonomous vehicle.
Immersive Virtual Reality Gaming
Remote surgical operations
Simultaneous translation
Future of 5G technology in Australia:
As per the recent survey conducted by Deloitte, it was found that by 2030, 5G technology would be contributing $50 billion to Australia's GDP.
How is Telstra Emerging as a Major Player in the 5G network?
During the first week of September 2019, Telstra at the Telstra Vantage 2019, showcased a large variety of innovative products and services starting from 5G to IoT. Aussies at present are well and truly adopting the Internet of Things. More than 3.2 million devices are linked to TLS's IoT network. On a daily basis, an average of more than 2000 devices are added to the network.
At the Telstra Vantage 2019, Australia's first live 5G broadcast was also demonstrated. In partnership with Igloovision, Summit Tech Multimedia Communications along with the Magna Group, Telstra cast a 360° video that was live over the 5G from the Kurrawa beach located in Queensland with 8k resolution.
Telstra is also building one of the largest underground networks for digital mining which would support these companies in becoming more productive and effective in the future. The company has forged a collaboration with South32 Limited for a private 4G LTE network at its North West Queensland mine.
Conclusion:
From the above article, it can be seen that Telstra is playing an essential role in providing the 5G not only to the Australian citizen, but it is also trying to meet the requirement of businesses as well for their better results and productivity.
The company had to face many challenges due to NBN during FY2019. Because of the NBN's recent updated corporate plan, Telstra earlier in August 2019 highlighted that its guidance would be impacted with respect to total income. Its impact was also observed in its share price as well.
However, with the rising demand and the steps taken by Telstra towards the 5G technology, one can expect that the company's prospects and share price would improve in the future.
Stock Performance:
The shares TLS have generated a YTD return of 27.49%. The shares on 08 October 2019 closed at a price of $3.460, down by 0.288% from its previous closing price. TLS has a market capitalisation of $41.27 billion with approximately 11.89 billion outstanding shares, an annual dividend yield of 2.88% and a PE ratio of 19.170X.
---
Disclaimer
This website is a service of Kalkine Media Pty. Ltd. A.C.N. 629 651 672. The website has been prepared for informational purposes only and is not intended to be used as a complete source of information on any particular company. Kalkine Media does not in any way endorse or recommend individuals, products or services that may be discussed on this site. Our publications are NOT a solicitation or recommendation to buy, sell or hold. We are neither licensed nor qualified to provide investment advice.