In the financial universe, there are essentially two types of security instruments: equity and debt. Issuing bonds is a critical way for various kinds of issuers to build money to build capital or fund projects. The most famous bond issuers include federal agencies, federal governments, corporations and municipalities. Though all these entities can issue debt, only a company can issue equity (stock).
One of the essential criteria in which bonds vary from stocks relates to the issuer's commitment to the investor. An investor becomes a part-owner when he/she buys stock in a company. The stock provides an option of dividend payments and capital appreciation to the stockholder, but there is no guarantee that either of these will happen.
On the other hand, a bond makes a promise of a return to the bondholder. The issuer agrees to pay the bondholder a permanent interest payment on a steady basis until the bond matures, and after than the bondholder gets the original value of the bond. A bond certificate is basically "IOU" or a promissory note which lawfully obliges the issuer to pay back the amount paid per the IOU and defines the conditions of the loan. The bondholder would have a leading claim on the insolvency of assets over stockholders if the issuer were to report bankruptcy.
Generally, bonds have three vital components:
Maturity - Maturity indicates the life of a bond, and it ranges from three months to 30 years;
Par value - It is also called face value and is the amount the bondholder will be repaid when the bond reaches maturity;
Coupon rate - Coupon rate (also referred to as interest rate) is the percentage of par value that will be paid to bondholders at regular intervals.
Why should one buy bonds?
Generally, an investor buys bonds to take benefits of their many advantages when compared to alternative investments.
Safety/capital preservation- Because the bond issuer must pay back the bond's face value at maturity, an investor's original principal is preserved, unlike stock where the investor can lose the initial investment value. The degree of safety varies with bonds of different types and ratings;
Fixed return- Investors receive fixed, regular interest payments which provide an element of predictability versus common stocks where the returns are uncertain;
Current income- For investors looking for a steady cash income, bonds provide regular interest payments at set times;
Reduce portfolio risk — Due to their more certain nature compared to equities and their divergent behaviour in tumultuous markets, bonds are a great way to reduce the risk in an investment portfolio;
Capital appreciation — Many investors benefit from trading bonds in the secondary market to take advantage of price increases, much the same way as they would trade stocks.
Risks of investing in bonds
Bonds have some degree of uncertainty, just like any other type of financial instrument. Deciding your risk patience is a critical factor to think when investing in bonds and creating a portfolio plan.
Credit risk- Credit risk is the risk associated with the issuer's ability to make timely principal and interest payments to its creditors;
Interest rate risk- Interest rate risk, also referred to as market risk, is the risk that rising interest rates will cause a bond's price to fall and decrease the value of an investment;
Price risk- Price fluctuates throughout a bond's lifetime and may be higher or lower than its face or principal amount.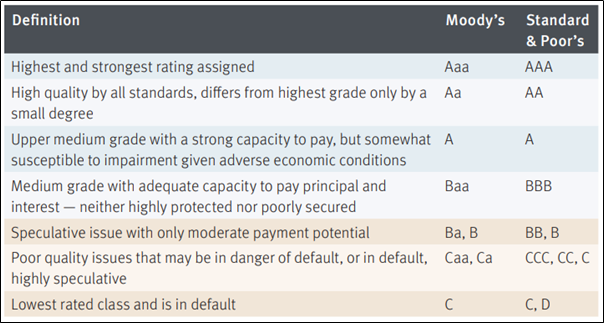 Corporate bond ratings (Source: RBC)
You become a shareholder of a company when you buy shares (also referred to as equities) of that company. They can rise, in terms of value, over a period of time and also provide growth to an investor's portfolio to reach the long-term investment goal. Many research studies have demonstrated that equities have performed better than other forms of investments. These are considered most rewarding and challenging as compared to other investment options. Equities are also regarded as high-risk investments and need to be studied carefully.
Buying a stock is not hard, but it's hard to choose a company that can beat the stock market. Everyone wants to get rich in a quick and easy way. It appears to be human nature to continually search for a hidden key or some mysterious bit of knowledge that can quickly lead to winning a lottery ticket or reach the end of the rainbow. While some people do buy a common stock that doubles or more in a year, it is extremely improbable since trusting one's luck is an investment strategy that only the reckless or most eager would choose.
The entice of quick money always pushes the investor into the lap of stock market trading. But there are very few people who have made it big in stock trading as trading in equities is not everyone's cup of tea. One needs to have patience and discipline, and it also requires thorough research to understand the stock market. With uncertain situations that are ongoing, like the US-China trade war or Brexit, the stock market has been quite volatile in the past few years. This confusion has left many traders in a dilemma of whether they need to sell the stocks they have or buy more stocks.
Types of Equity:
The two major types of equity:
Preferred Stock: Investors holding preferred stock have higher access to earnings and assets of the company and are more likely to get regular dividends as they tend to have a priority over the common shareholders. Preferred stakeholders generally have fixed dividends and may suffer the loss of higher dividends in case of high profits.
Common Stock: These represent a portion of a company's ownership which allows the shareholders to vote on corporate issues and acts as an asset for the stakeholders. These are at the bottom of the priority ladder in terms of payout, if in case the company goes bankrupt. This makes it riskier than the bonds and preferred stocks.
There are certain things that investors should keep in mind before investing in equities. Below we have listed some pointers to consider before investing in equities.
Avoid the herd mentality
For many people, the decision to buy or sell a stock is mostly affected by their colleagues or friends. So, if everyone around them is bullish on a stock, a potential trader also thinks of investing in the same stock. Generally, one should avoid such practices, as these strategies do not run well in the long run. As per the world's greatest investor, Warren Buffet, one needs to be fearful when everyone is greedy and greedy when everyone else is fearful.
Know which type of trader you are
There are generally two types of traders in the stock market: one kind is the speculators, and the other kind follows fundamental investing. The traders who follow fundamental analysis are also called as investors as they give less importance at the current trading position of the company and more to the fundamentals of the company, like price to earnings ratio, earnings per share, business model, growth outlook, etc. One should practice the fundamental method of investing, to make good money in the stock market.
Have a systematic approach for investment
If one had studied the market, he would notice that even in a bullish phase, the markets have given several panic moments to investors. As there is high volatility in the stock market, many investors had lost money even when the market was in a bullish phase. And all those investors, who have put their funds in a disciplined approach have generated overwhelming results. One should practice a systematic approach for investing, to have a long-term gain in mind. One of the methods is to buy stocks when the price corrects and, in this way, it will average out the total cost.
Don't try to time the market
One can lose one's hard-earned money in no time, if someone is trying to time the markets. Many investors advise not to time the market as nobody has done it successfully. It is almost impossible to correctly catch the bottom and top prices of any market. It is strictly advised not to follow such a strategy if someone is planning to invest in delivery.
Have realistic expectations
If an investor's financial goals are unrealistic, it might put the him/her in a predicament. Investors can expect the best from the investments they have made, but if the goals are unrealistic, it might get problematic. It is not logical for an investor to always expect similar or even better returns from an investment based in its past performance. One should always have achievable and realistic goals.