Bitcoin and other cryptocurrencies, along with various dimensions of the budding blockchain technology, have showcased that they are catalysts to develop one's business. A business can completely transform the functionality and structure of its financial services using these tools and methodologies. The technology is booming in the financial space, as it is perhaps one of the most secured and trusted technology, in terms of data protection.
Let us now understand what Blockchain technology is:
Projected forward by Stuart Haber and W. Scott Stornetta in 1991, the simplest method to understand the blockchain technology is splitting the name into two parts- block and chain. The technology, hence, is a mere chain of blocks, which gets built up to form a string together, with each block enacting as a warehouse of digital information, which is eventually stacked at a public database.
To have digital information added to the blockchain, the occurrence of the following events is a mandate:
A transaction is a must.
The transaction must be verified and attain the green signal to proceed towards the next event.
Thereafter, the transaction must be stored in the block.
The block which has the information must be provided with a "hash", which is a unique identifier for that block. Post this, the block is added to the blockchain and is publicly present for anyone to have a look at it.
From the above, it can be deciphered that the aim of blockchain technology is to record and distribute digital information. The technology attracted users after Bitcoin was launched in 2019, based on the crux of blockchain.
Advantages of Blockchain technology:
Upgraded accuracy levels in the verification process.
Secure and private transactions.
Persistent transparency levels.
Disadvantages of Blockchain technology:
Unavoidable technology costs.
Hackers can never be trusted with methodologies to hack the security of the technology.
Delay in transactions especially when placed through a central body, which takes time to eventually settle.
Blockchain technology in Australia
The blockchain economy is on a fast pace to become the fastest growing sector on a global level. With the numerous business opportunities and technological inclination in Australia, there is a huge potential to either amend existing business models or create new and innovative ones.
In the blockchain era with global participants, Australia had had Initial Coin Offerings since 2016 with Australian Securities Exchange being the world's first major trade platform to announce its adoption. The distributed ledger technology platform was created to record, manage, clear and settle share transactions. In 2017, the Commonwealth Bank of Australia (ASX: CBA) issued the country's first ever crypto bond, which made it the first government body of the world to have done so. Last year, in 2018, Australia's Brisbane Airport was recognised as the world's first crypto-friendly airport.
Presently, banking sectors, government bodies, educational institutions and a diverse range of companies, in the retail, healthcare and other sectors, are using blockchain technology to improve their efficiency and transparency.
Let us look at a few companies that are part of the Blockchain revolution in the Aussie land:
Chapmans Limited (ASX: CHP)
Byte Power Group Limited (ASX: BPG)
DigitalX Limited (ASX: DCC)
Fat Fish Blockchain Limited (ASX: FFG)
iSignthis Limited (ASX: ISX)
Novatti Group Limited (ASX: NOV)
REFFIND Limited (ASX: RFN)
Yojee Limited (ASX: YOJ)
Security Matters Limited (ASX: SMX)
Linius Technologies Limited (ASX: LNU)
iCandy Interactive Limited (ASX: ICI)
Interestingly in Australia, the inclination of banks towards the blockchain technology has been increasing. In 2017, two major banks- the Australia and New Zealand Banking Group Limited (ASX: ANZ) and Westpac Banking Corporation (ASX: WBC ) collaborated with IBM and Scentre Group (ASX: SCG) to take the digital route in their processes. A distributed ledger technology was used to replace paperwork, with the aim to detect fraudulent activities and ensure security and efficiency.
In the light of this background, let us now look at the three stocks listed on the Australian Securities Exchange, which have inculcated the blockchain technology in their processes and activities:
Animoca Brands Corporation Limited (ASX: AB1)
Company Profile:
A global developer with the aim to leverage brands, gamification, artificial intelligence, mobile technology and blockchain, AB1 creates engaging applications right from games to the ones providing fitness solutions. The company has two major mediums to generate revenue- the first through the payments of customers who pay for the virtual services provided by a game, and secondly, when AB1 sells in-game advertising across its gaming networks. Listed on ASX in 2007, the company's registered office is in Sydney.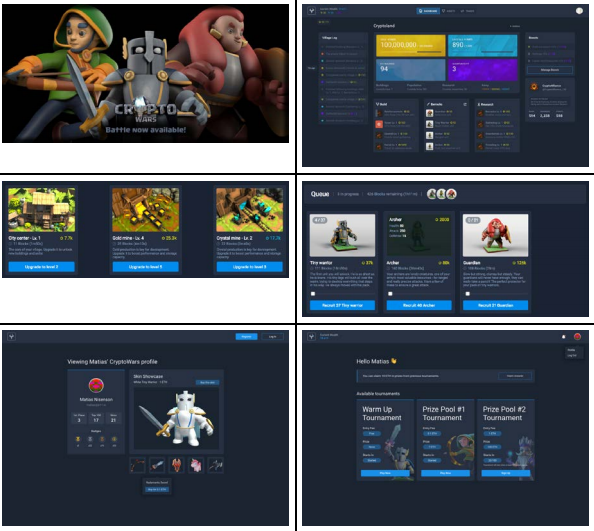 AB1's Brands (Source: Company's Report)
Company update:
On 27 June 2019, the company announced that it had entered into an agreement for the acquisition of Gamma Innovations Inc. through its subsidiary, Animoca Brands Limited, with the goal to expand its customer base and leverage the distributed computing power. The Acquisition price is US$350,000 for 3 years.
Gamma is presently developing the GammaNow computing engine, to help users in taking advantage of their computers' idle processing power, generate Gamma points and acquire in-game rewards for their preferred games. Gamma recently signed up with Razer, a lifestyle brand for gamers, to develop 'Razer SoftMiner', a mining software, to mine for ethereum using the computers' idle processing power.
With AB1's recent agreement, the company can build a commercial relationship with Razer.
In April this year, the company had entered into an agreement with Experimental Group Ltd., a blockchain gaming studio, to take part in the latter's seed round of funding, while both the brands market and promote each other to their respective platforms and networks of partners. The company would also be the advisor for Experimental Group to tap the Asian markets.
The company would lodge its Quarterly Cash Flow Report on 31 July.
Also, Ponderosa Investments (WA) Pty Ltd ATF Ponderosa Trust has become a substantial holder of the company with the voting power of 5.05% and 41,442,638 fully paid ordinary shares effective 25 June 2019.
Share Price Information:
On 27 June 2019, the company's stock traded 16.66 per cent up relative to its previous trade and was valued at A$0.175. With a market cap of A$123.15 million, the stock has generated returns of 50 per cent in the last one, three and six months and a YTD return of 50 per cent as well.
Crowd Media Holdings Limited (ASX: CM8)
Company Profile:
With over 10 years of in-house digital experience, CM8 is a global media and market company which creates influencer and performance marketing solutions for its clients. It provides custom-made and technologically advanced strategies for businesses and help users achieve their marketing goals. The company's core solutions include innovation labs, influencer marketing, performance marketing and creative services. Listed on ASX in 1999, the company has its registered office in Cremorne, Australia.
Strategic Review:
In mid of April, the company had stated that the board, senior management team and an external investment bank would embark a strategic review of all aspects of the business and furnish details in due time. The core objective of this review was said to be the enhancement of shareholder value and return the company to the phase of profitability.
On the same day, on 15 April 2019, the company informed that it had completed its Debt Refinancing with BillFront Ltd, the debt facility of which would be used towards the redemption of the JGB loan in materially improved terms.
Strategic Review Update:
On 7 June 2019, the company provided an update on the completion of the strategic review and stated that a series of cost-cutting measures had been undertaken, to get the company back on track of profitability and this had resulted in an estimated cost saving of around $3.5 million, on an annual basis.
Considering the present trade positioning of the company, CM8 believes that its EBITDA and operating cashflow would be consistent and positive from 1 July 2019. Additionally, to the cost-cutting measures, the company had reduced $1.4m in annualised costs which related to the redundancy. There had been a 50 per cent reduction at the middle and senior levels management levels. To fund these redundancies, the company had secured a Convertible Note (to raise A$0.75 million) to fund the employee exits and also deliver working capital to fund future initiatives.
Moving a step ahead with the cost-cutting measures, the company had proposed a restructuring of the remuneration provided to the CEO and Board. The CEO had agreed to accept 50 per cent of the salary in Crowd Media shares, replacing the cash for FY20. The Chairman and Board would have this move for 25 per cent of their fees.
At the managerial level, CM8 appointed Ms Melanie Mouldenhauer as CFO, post the resignation of Antoaneta Ignatovska.
Below is an extract of the company's H1 2019 Financial Results:

H1 2019 Financial Results (Source: Company's Report)
Outlook:
The Group revenue for FY19 is expected to be $24.6 million (FY18 $38.6 million) and the EBITDA would be a loss of $4 million.
Share Price Information:
On 27 June 2019, the company's stock closed flat at a price of A$0.017. With a market cap of A$4 million, the stock has generated negative return of 56.41 per cent in the last six months; however, in the last 3 months the stock has generated a return of +6.25%.
---
Disclaimer
This website is a service of Kalkine Media Pty. Ltd. A.C.N. 629 651 672. The website has been prepared for informational purposes only and is not intended to be used as a complete source of information on any particular company. Kalkine Media does not in any way endorse or recommend individuals, products or services that may be discussed on this site. Our publications are NOT a solicitation or recommendation to buy, sell or hold. We are neither licensed nor qualified to provide investment advice.