It's nearly 2020, and if you don't already, it's time to wrap your head around Bitcoin. Yeah, it's still a thing, and it's worth about twice what it was a year ago. That means people are talking about it again, and you can't keep nodding your head vaguely at words like "blockchain" and "cryptography." Maybe you've glanced at some headlines over the years, and you're aware that there was a boom and bust in 2017, back when your housemate drank five coffees a day and moaned quietly about "bear markets" in the corner.
But you've never really got it, right? How can a "made-up" currency on the internet be worth so much money? Why do people go crazy over it, and should I be buying coins like everyone else? If you have any, or all, of these questions, we've got you covered.
What is Bitcoin?
Bitcoin is a digital currency or asset that is designed to facilitate online transactions and transfers of wealth. Bitcoin and its imitators are colloquially also known as "cryptocurrencies," due to the high level of encryption that protects stores of wealth and transactional information. You may have heard of some of these other cryptocurrencies, such as Ether and XRP, and there's even some on the ASX, but Bitcoin is considered the OG, and is certainly the most valuable.
Bitcoin is described by its anonymous creator, known as Satoshi Nakamoto, as "a new electronic cash system that's fully peer-to-peer, with no trusted third party." This is referring to the fact that Bitcoin is not administered by any central bank or government in the way that traditional fiat currencies are and is therefore anonymous and unmonitored in use. Instead of a "third party", it is maintained by independent individuals and companies who "mine" bitcoin through opensource blockchain software.
Sorry if that's too much jargon. Don't worry, we're going to break it down.
How does it work?
The "peer-to-peer" system that Satoshi describes is the horizontal organisational structure by which bitcoins are mined, released, verified, and processed for transactions. When Bitcoin is used to buy something, individual "miners" solve complex computational puzzles that verify the transaction. The transaction is then recorded publicly (but anonymously) as a new "block" in the blockchain, meaning that production and tracking of the currency is fully integrated, which helps establish Bitcoin's credibility. Miners are incentivised through the release of new bitcoins, and the transaction fees associated with using Bitcoin. As new blocks are added to the chain, the mining process becomes more complex, and the equipment, software and power required to release new bitcoins becomes more expensive. This caps the speed and regularity with which new bitcoins enter the market.
In this way, the release of Bitcoin is managed through an algorithm, rather than a team of bankers deciding what is best for a given economy.
Why is Bitcoin so popular?
Bitcoin has a few properties that make it more attractive than cash in certain situations. Bitcoin is not tied to any one economy; It is a global currency, anonymous and apolitical, which has led to its reputation in some circles as a "safe haven" asset, like gold. For example, when Venezuela's hyperinflation crisis escalated earlier this year, desperate citizens turned to bitcoin as a store of value. There is also some correlation between uncertainty in the yuan in China and demand for bitcoin, perhaps highlighting the attraction of a truly neutral and independent cryptocurrency in countries with more authoritarian currency controls.
Bitcoin and other Cryptos are also popular for more problematic reasons. The encrypted blockchain by which transactions are processed makes it functionally impossible to trace, making it an ideal currency for purchasing illegal goods and services.
Bitcoin is known to be used for money laundering and other illegal activity on the dark web (it was infamously used as the transactional currency on the Silk Road website) and as such has faced regulatory scrutiny in some countries and financial markets.
However, it is unlikely that either of these reasons are why the cryptocurrency is such a popular topic around the water cooler. Bitcoin has emerged as one of the most successful assets in terms of value growth over the past decade.
In 2011, Bitcoin was at parity with the US dollar. At the end of 2016, it had reached US$1000. A year later, it was worth nearly US$20,000. There are no other asset classes that experienced such growth in the same time period. It didn't stay at that dizzying height for very long, but as of December it is still worth A$10,000. The potential for fast returns is unparalleled, bringing in new investors in droves, as urban legends of quick-selling, crypto-made millionaires spread like wildfire. But it's not all good news; the influx of so many speculative traders have made Bitcoin incredibly volatile.
Why is Bitcoin so volatile?
If you remember the Bitcoin peak in 2017, you likely remember the collapse of 2018. During its most severe drop, Bitcoin lost 50% off its price in 16 days during February 2018, falling to US$7,000. It continued to fall for the rest of the year, along with most other cryptos, before finally turning around early this year.
There are several reasons why Bitcoin is so volatile. It is ripe for speculation because it is not tied to a country's economic fundamentals. It is a currency that does not have any of the usual indicators of value, so it is vulnerable to overvaluation. This creates a correction cycle, in which the limits of the market are tested by investors who believe it could go higher, until it simply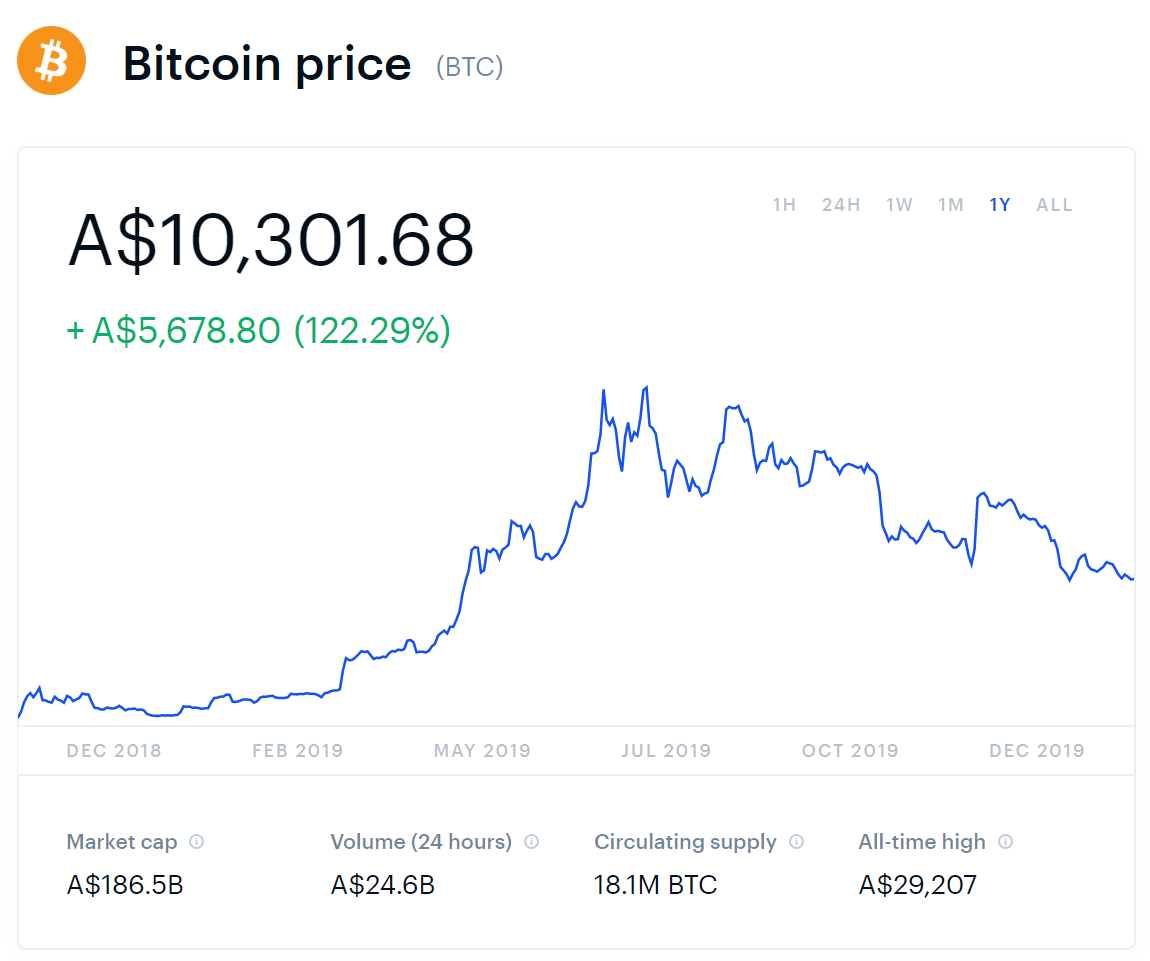 Bitcoin price trends. Source: coinbase.com
cannot, and it must be corrected down. We are currently in a corrective phase after the last speculative rush took prices up above A$18,000 in June.
Bitcoin is also vulnerable to regulatory shocks. One of the main drivers of the 2018 crash was a change in South Korean regulation that required traders to reveal their identity, disrupting the use of the crypto for illicit transactions. Bitcoin remains largely unregulated, which means there could be further shocks in its future as Governments decide how to manage the currency.
The fluctuations in Bitcoin markets are greater than what we've seen in almost any other asset class in recent years. And though they make it an incredibly risky investment, it is also what attracts investors to the market.
While extra money and interest in Bitcoin has pushed up its trading price, it conversely affects the value of Bitcoin as a store of value, and as a transactional currency. If the price of Bitcoin varies wildly from day to day, it becomes too unpredictable with which to trade or save, and its capacity to act as a "safe haven" asset is seriously limited. If it cannot fulfil the most basic requirements of a currency, Bitcoin's true value may become diminished.
Should I buy Bitcoin?
We hope that this article has answered a few questions you have about Bitcoin, but chances are you're not ready to leap headfirst into the market. There are many other blog posts, YouTube videos and editorials out there that go more in-depth on how to actually trade Bitcoin, and we suggest you do a little more research before you take the plunge.
And always remember the cardinal rule of Bitcoin; don't trade money that you haven't got. Bitcoin makes as many losers as it does winners, and there's a fine line between educated trading, and gambling.
---
Disclaimer
This website is a service of Kalkine Media Pty. Ltd. A.C.N. 629 651 672. The website has been prepared for informational purposes only and is not intended to be used as a complete source of information on any particular company. Kalkine Media does not in any way endorse or recommend individuals, products or services that may be discussed on this site. Our publications are NOT a solicitation or recommendation to buy, sell or hold. We are neither licensed nor qualified to provide investment advice.