The effects of the unprecedented COVID 19 pandemic might demonstrate an interesting knock-on effect for Australian property in the coming seasons. While social distancing, work from home, businesses renting probably twice as much space for employees to be appropriately separate, are regarded as the "new normal", the country has begun to restart a post-pandemic normalcy phase, as it flattens the curve and the Government greases the economic wheels via stimulus packages.
When it comes to ASX-listed real estate investment trusts (REITs), in the current market volatility, they are globally recognised as maintaining strong or adequate liquidity to absorb the shock for at least the next few months.
One such REIT is Arena REIT (
ASX:ARF
), an ASX-listed property group engaged in developing and operating social infrastructure properties.
The REIT has been maintaining liquidity in excess of its obligations and is operating well within its lending covenants.
The REIT recently provided its FY20 distribution guidance and informed that its entire portfolio of properties remain open and are trading.
The update fetched its stock investor attention as it traded over 2.83 % on the ASX, quoting $ 2.18 a share post-market close on 21 May 2020. The stock has maintained an annual dividend yield of 6.56 % and a P/E ratio of 9.13x.
Arena REIT's Operational Update & FY20 Distribution Guidance
The REIT's present portfolio of social infrastructure property assets is leased to a varied tenant base in the growing healthcare and early learning sectors.
ARF aims for an efficient partnership with its tenants to guarantee continuity of offering necessary healthcare and early learning services for the Aussie communities and assist attractive and likely distributions to investors over the medium & long term.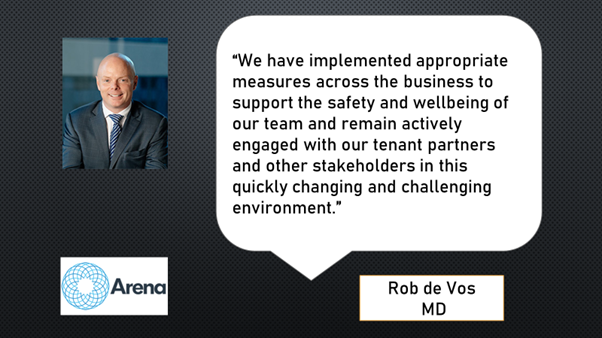 Amid the COVID 19 turmoil too, 100% of its portfolio of properties are open and trading. This translates into the fact that these properties continue to accommodate the provision of essential services to Australian communities. Moreover, ARF has been successful in maintaining liquidity beyond its obligations and remains operational within its lending covenants.
The aid offered by the Australian Federal Government has reaped benefits for ARF as all the early learning centre tenant partners qualify for JobKeeper allowance and Early Childhood Education and Care (ECEC) relief package. Consequently, tenant partners (to 30 June 2020) along with rent relief agreements reached to date where justified.
Another advantage of the Government's support was well-positioning ARF to provide its FY20 distribution guidance, as per which-
Arena foresees paying a final FY20 distribution for the second half of FY20
The distribution is likely to be in the range of 6.75 to 6.85 cents per security
This brings the full year FY20 distribution per security to 13.9 to 14.0 cents (estimated on a status quo basis)
However, early learning operating conditions remain challenging owing to increasing attendances that consequently lead to rising costs being incurred at a time when government funding has been fixed, and operators are unable to charge fees. Adhering to this challenge, the Federal Government is currently reviewing the ECEC relief package and future support of the early learning sector beyond 30 June 2020.
Until an update comes on this front, early learning operating conditions will continue posing uncertainties, ARF states.
Why Did REITs Suffer The Pandemic Blow?
One cannot deny the fact that REITs and their investors have had one of the hardest hits owing to the invisible enemy. Shopping centre and commercial landlords are likely to be under immense pressure as retailers demand rent waivers, deferrals, concessions to weather through a probable recession storm.
What is worrisome is the fact that the hit could extend beyond the lockdown period, especially for commercial landlords, if at all the economic slump intensifies tenant stress and curbs asset sales/ other capital raisings. Even then, the threat of the shift to shopping online and working from home witnessing a longer-term shift, leading to reduced demand for office space, will persist.
Consequently, owing to the Global Virus Crisis (GVC) of 2020, REITs witnessed perhaps their biggest sell-off post the Great Financial Crisis (GFC) of 2008 as the S&P/ASX 200 A-REIT index fell approximately 35% in March. However, April saw a strong recovery as the sector with offshore investors re-emerging on the back of an improving Australian dollar, Government stimulus response and Australia's swift recovery from the pandemic, relative to other nations.
Bottomline
As inferred, the future of shopping malls, office buildings and commercial real estate remains in a dilemma due to the COVID 19 situation. This imposes an added obligation for Australian REITs to reconsider their business models and chart out their respective ways to adapt to the new world, a "new normal", post the pandemic.
People are bound to flock to online shopping with their disposable incomes, retailers are bound to struggle to pay their bills, and with social distancing being the new trend, expansive offices will be a need.
However, despite these tailwinds and a lot of water to go under the bridge, one should recollect that Australian REITs are held by many for the stability of value and income. They are known for their defensive characteristics and their competence to gain from central bank stimulus (which has been pooling in amid the pandemic). They are also known for coming up with innovative solutions in order to combat changing environments.
Moreover, even when shopping malls, office buildings and commercial real estate seem worrisome aspects, essential services, and convenience-focused centres such as supermarkets and pharmacies will continue to experience high demand.
While the uncertainty is being deemed as an opportunity, it will be interesting to gauge ASX-listed REITs unfold their strategies amid the pandemic environment.