With its stock market welcoming investors from across the globe, driven by the rapid domestic acceptance on cannabinoid-based medicines, Australia has proven to be a lucrative hub for the flourishing global cannabis industry, with it being tagged as the fastest-growing medicinal cannabis market in the world, by few market experts, especially after the legalisation of medicinal cannabis in the country in February 2016.
In today's article, we would focus on two pot stocks, listed and trading on the Australian Securities Exchange, which have shown their interest in the South American Cannabis space.
Australia's Attitude Towards South American Cannabis Market
Australia is a significant zone for medical trials pertaining to cannabis, with good rules and a supportive R&D tax scheme toppled with experienced medical professionals. South America, on the other hand, is also referred to as the marijuana capital of the world by few industry experts and has some of the best cannabis cultivators of the world, including Chile, Columbia and Venezuela. The cannabis market in the region is both vast and cheap, making it an attractive hub.
Given the growth in Australia, medical cannabis companies like Creso Pharma Limited (ASX: CPH) and AusCann Group Holdings Limited (ASX: AC8) have grown a robust South American footprint, with the former being the first Australian-listed medicinal cannabis company with direct exposure to the Colombian market, post acquiring Kunna Canada. AusCann, on the other hand, has a South American project and had planted its second medicinal cannabis crop in Chile. Likewise, Global cannabis investment player, MMJ Group Holdings Limited (ASX: MMJ) had also been eyeing the South America business to benefit from its distinct cost advantages around both cultivation and production of extracts.
With this backdrop, let us explore the recent developments of two pot stocks, which have always made buzz in the Australian Cannabis Space and understand their stock performance and returns for shareholders on the Australian Securities Exchange:
Creso Pharma Limited
About Creso Pharma:
The first to import medicinal cannabis into Australia, Creso Pharma Limited (ASX: CPH) was founded by a team of vastly experienced pharma executives. The company launched anibidiol®, which is the first hemp CBD based complementary feed in animal health. The company had launched cannaQIX®, which was the first CBD nutraceutical in human health. Initially, CPH had entered the Canadian market by acquiring Mernova and uses cannabis and hemp derived ingredients for chocolates, alcoholic and non-alcoholic beverages.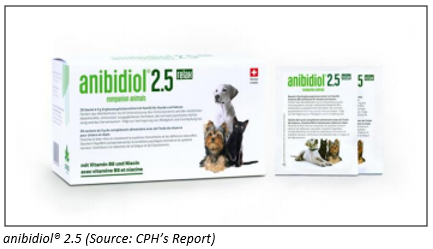 Release of Shares from Voluntary Escrow:
On 4 September 2019, the company announced that ~2,053,027 fully paid ordinary shares, along with 303,027 Performance Shares would be released from voluntary escrow on 20 September 2019. These securities comprise of 2,053,027 Shares of the 8,212,121 Shares and 303,027 Performance Shares of the 1,212,120 Performance Shares issued to the vendors of Kunna Canada Ltd. The Holding locks on these securities would be lifted prior to the commencement of trade on 20 September 2019.
CPH's Business Update:
In June 2019, the company announced that it had received an acquisition offer from PharmaCielo Ltd and the decision is expected by year end. The company had earlier received its first commercial CBD export of CBD isolate from PharmaCielo's Colombian operations.
PharmaCielo would extend A$3.85 mn loan, to aid the company's strategic expansion plans.
CPH has had an increase in the commercialized cannaQIX® and anibidiol® range of products, with their revenues up by 240 per cent to $907,017 for the first half of 2019. As per the company, the R&D program is framing well, while technologies are being developed to maximise absorption and improve the bio availability of cannabis-based supplements. The company had begun sales from the Nova Scotia based Mernova Medical facility, and had sealed multi-year agreements, likely to surge Mernova revenue to C$5 million by the end of 2019.
Entry into South African Market:
Besides, the company had also paved its way into South Africa, through a commercial agreement with Pharma Dynamics, wherein the parties had signed a Commercial Term Sheet granting Pharma Dynamics with distribution rights of CPH's organic, broad spectrum hemp oil nutraceutical, cannaQIX®10, across South Africa, Zimbabwe, Angola, Namibia, Botswana, Lesotho, Mozambique, Swaziland and Uganda.
Stock Performance:
On 05 September 2019, CPH's stock is trading at A$0.365, down by 6.41 per cent, with a market cap of A$59.1 million and ~151.54 million outstanding shares (as at 2:57 PM AEST). The YTD return of the stock is negative 27.78 per cent.
AusCann Group Holdings Limited
About AusCann Group:
Australian Pharma company, AusCann Group Holdings Limited (ASX: AC8) has expertise in all aspects of the medicinal cannabis value chain, be it cultivation, production, manufacture or sale. The company aspires to produce and provide high quality, economical and clinically validated cannabinoid medicines to patients and has a vast international connection. Initially, the target is towards medicines for neuropathic and chronic pain.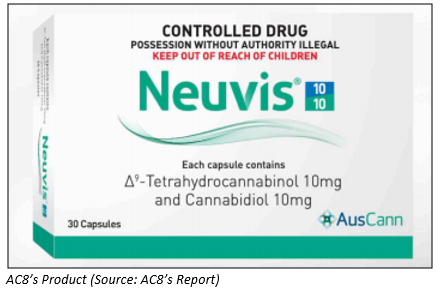 Unaudited Financial Report for FY19:
The company made substantial progress during FY19 and accomplished a capital raising worth $33.4 million through a share placement in July 2018. The journey continued with a further raise of $1.9 million through a SPP in August 2018. AC8 made a significant R&D revolution, successfully completing the product development of its final dose cannabinoid capsules. It had appointed TGA licensed PCI Pharma to produce and release its solid hard-shell capsules for the chronic pain.
On the financial end, the revenue for the year soared by 267 per cent to $1,532,376. The loss from ordinary activities after tax attributable to members was down by 2 per cent to $7,649,221. AC8 welcomed Mr Ido Kanyon as CEO, who commenced his role in 22 May 2019, bringing in over 15 years of pharmaceutical and medical device business experience.
Apart from this, the company bought a dedicated 7,300m2 research and development unit facility in Perth, acquiring it for an amount of $5.25 million. Furthermore, the company launched several online programs to support Australian healthcare professionals in the country.
On its supply chain end, AC8 entered into a supply agreement for the supply of high-grade cannabis resin to be used for the company's hard-shell cannabinoid capsules, with MediPharm Labs Corporation, which is Canada's most experienced and largest supplier of purified, pharma grade cannabis extracts. The works had commenced as MediPharm completed its first commercial shipment of medical cannabis concentrate to the company during the period. This was a historic moment for the company as it is the first ever bulk international shipment of active pharmaceutical ingredient medical cannabis concentrate from Canada to Australia.
South American Market:
AC8 had set its foot in the South American market to enhance its global reach via DayaCann, its 50:50 joint venture with Fundación Daya in Chile, the company that signed a non-binding MoU with Khiron Life Sciences Corp, a Canadian player. It should be noted that DayaCann is the only commercial scale medical cannabis cultivation company in the region to have been granted with medical cannabis production licences in order to complete a couple of harvests, yielding a total of over 1000kg of dried cannabis flower. Even though the Supreme Court of Chile has prohibited the export of medical cannabis outside of Chile, DayaCann is confident of having alternatives ready in its kitty.
Stock Performance:
On 5 September 2019, AC8's stock is trading at A$0.360 with a market cap of A$114.14 million and ~317 million outstanding shares (as at 3:12 PM AEST). The YTD return of the stock is negative 42.86 per cent.
---
Disclaimer
This website is a service of Kalkine Media Pty. Ltd. A.C.N. 629 651 672. The website has been prepared for informational purposes only and is not intended to be used as a complete source of information on any particular company. Kalkine Media does not in any way endorse or recommend individuals, products or services that may be discussed on this site. Our publications are NOT a solicitation or recommendation to buy, sell or hold. We are neither licensed nor qualified to provide investment advice.