Artificial Intelligence (AI) is amongst the top four technologies that would be driving the technology sector in this decade. Artificial Intelligence is a broader term that is used to describe a collection of technologies that solves the problem and perform tasks to attain specified objectives without any human intervention.
AI is capable of automating monotonous tasks. Thus, helping to increase productivity and allow the development of innovative consumer products. Further, this technology is predicted to pour trillions of dollars to the economy in this decade.
Let's look at a few applications of Artificial Intelligence in various sectors:
Health Care Sector:
Using advanced data analytics methods to detect diseases at earlier & more curable stages.
Mining and Metals:
Using automated machines for hauling and drilling on mine sites, increasing productivity and reducing risks to workers.
Legal Segment
Allowing greater application of smart forms that can customize legal information to support individuals to draft a will or settle financial arrangements following a break-up.
Entertainment:
Customizing content on entertainment platforms to meet user choices.
Efforts are being made both in Australia and at a global level to make ethical use of Artificial Intelligence, and it provides a better benefit to society.
Let's touch base with five ASX-listed companies using Artificial Intelligence to deliver services.
Flamingo Ai Limited
Flamingo Ai Limited (ASX: FGO) is an AI native Knowledge Sharing & Collaboration Hub for Enterprise. It helps in increasing the productivity of an individual along with team agility by immediately providing precise, compliant & latest knowledge using artificial intelligence natural language search.
The benefits of Knowledge and Collaboration Hub includes:
Captures organizational tribal knowledge
Eliminates knowledge silos
Augments decision making potential
Works 24/7 as an organization-wide information expert
Fast-tracks speed to competency
Discloses behavioural understandings
Increases productivity by lowering staff search period for information
Lowers risk of non-compliance
Improves operations
Increases internal as well as external customer experience
Let's understand how Flamingo Ai Knowledge Sharing Hub works, Let's say Staff level: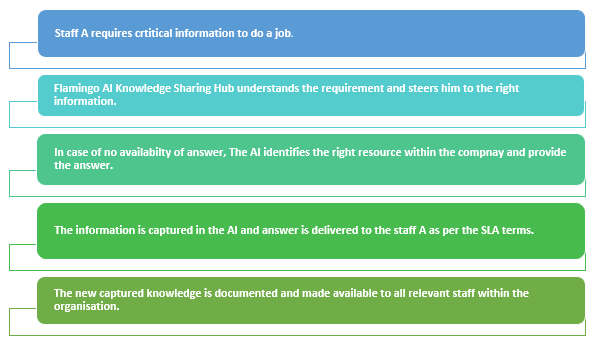 Roolife Group Limited
Roolife Group Limited (ASX: RLG) was earlier known as OpenDNA Limited (OPN). The company offers fully integrated digital marketing & customer acquisition services with a focus on driving online sales of products & services for its clients in Australia and China.
Powered by its proprietary hyper-personalisation & profiling Artificial Intelligence (AI) System, the company offers customised, real-time, targeted marketing.
It's online e-commerce marketplace helps the businesses in directly selling to the Chinese shoppers and accept payment from them through WeChat and Alipay mobile payment platforms.
GooRoo Ventures Limited
GooRoo Ventures Limited (ASX: GOO) uses its patent-pending technology which is based on neuroscience & artificial intelligence, and this technology is used for mapping the way people think and make decisions in their day to day activities and work.
The Company uses its technology in the human capital, marketing and careers space.
Gooroo's core technology makes use of Artificial Intelligence disciplines like machine learning and natural language processing. The technology is hosted on Microsoft Azure & the Workforce Analytics platform and is available through a SaaS subscription model.
The technology is also sold as a SaaS solution for enterprises to understand their employees as well as customers.
Human Capital:
Under human capital, the Company provides an enterprise SaaS platform and human ecosystem that gives integrated & smooth experience for leaders, teams, recruiters, staff & job hunters.
For Enterprises & Teams, Gooroo technology profiles staff & teams, offering them with analytics & tools to assist the transformation of the workforce in becoming more cooperative, adaptive, responsive to transformation, and growth-oriented.
For talent acquisition professionals, the GooRoo technology helps in achieving a better match by matching people to positions & teams.
Marketing:
Gooroo Marketing gives 'meaning' to any dataset associated to people & provide guidance related to the application of that meaning. Having knowledge about the choices and decisions made by a specific audience, the technology facilitates in the more precise & actionable insights for quick and more confident decision-making.
Gooroo Marketing delivers real human insight, meaningful communication, better outcomes. The technology is used in fields of communication strategy, product and portfolio development, customer retention and acquisition and network optimisation.
Careers:
Gooroo Careers offers a SaaS-based platform that caters to students, learning institutions and career advisors, and it sets individual development routes to reskill & upskill. The technology matches individual to their respective career areas, learning and job opportunities and assisting them in taking more control over their lives and future prospects.
BrainChip Holdings Ltd
BrainChip Holdings Ltd (ASX: BRN) is the leading provider of the neuromorphic computing solutions that can learn autonomously, evolve and link information similar to a human brain.
Neuromorphic computing solutions is a kind of AI that is motivated by the human neuron.
The Company's product includes:
Akida Development Environment (ADE): It is a complete machine learning framework that is used to create, train as well as test spiking neural networks, assist in the advancement of systems for edge & enterprise goods on the BRN's AkidaTM NSoC;
Akida Neuromorphic System-on-Chip (NSoC): AkidaTM NSoC is a low cost and low power chip that is suitable for edge applications like advanced driver assistance systems, drones, autonomous vehicles, vision-guided robotics, supervision & machine vision systems;
BrainChip Studio: BrainChip Studio facilitates law enforcement & intelligence organizations to quickly search huge amounts of video material & recognise patterns or faces;
BrainChip Accelerator: It is an 8-lane, PCI-Express add-in card that improves the pace & precision of the object identification feature of BrainChip Studio software by ~ 6 times;
Akida Neuromorphic IP: It is the first neuromorphic IP in the market which is motivated by the biological role of neurons, however, engineered on a digital logic process. The product is designed for low-power neural network processing. It has flexible training methods, scalable neuron fabric and is technology independent.

---

Disclaimer

This website is a service of Kalkine Media Pty. Ltd. A.C.N. 629 651 672. The website has been prepared for informational purposes only and is not intended to be used as a complete source of information on any particular company. Kalkine Media does not in any way endorse or recommend individuals, products or services that may be discussed on this site. Our publications are NOT a solicitation or recommendation to buy, sell or hold. We are neither licensed nor qualified to provide investment advice.