Artificial Intelligence:
Artificial Intelligence is a field of computer science which deals in creating intelligent machine/ intelligent programs, which work like human beings. Artificial Intelligence aims to create an expert system that can show intelligent behaviour, learn, explain as well as assist the users.
Computer programming is a process, in which the coder designs and builds an executable set of codes for a specific task. Advantages of programming with Artificial Intelligence, as against programming without Artificial Intelligence are as follows:
Computer programming with AI can provide answers to generic questions. On the other hand, computer programming without AI responds to a specific question.
Any changes in the computer programming without AI leads to change in the structure of the program. On the other hand, computer programming with AI allow the users to make a smallest change in the program without impacting the structure of the code.
One of the best examples of AI technology is Robotics.
In this piece of article, we would be discussing four AI stocks, two from the US and two from Australia.
The USA
About Amazon: Seattle, Washington based, US major Amazon is close to a trillion-dollar company. Amazon Inc first started its business as e-book retailer in the 1990s. Now, it caters to plethora of products and services from e-commerce, video streaming, cloud computing etc. Further, the company is also active in AI arena. Its principles focus on its customer, innovation, operational excellence and long-term thinking.
The company tries to make a positive influence on the clients/customers, employees, small businesses, economy, as well as communities where it is situated.
The company also focuses on supporting the small businesses as well as entrepreneurs to expand their businesses as well as reach new consumers. Given the present scenario, in the US, there are above 1.9 million businesses, content creators as well as developers who prefer Amazon's product and services to fulfill their respective visions.
Amazon also helps with the creation of job and investment. Thus, it contributes to the economic growth, wherever it functions from.
Amazon's Innovation:
Prime Air drone: Amazon is working hard to build fully electric drones, capable of transporting packages up to 15 miles within 30 mins. The design is efficient, stable and also safe. It is able to perform perpendicular take-offs as well as landings.
It is also efficiently aerodynamic. It can easily transition from the vertical take-off mode to airplane mode and vice-versa.
The drone will be built using the latest AI technologies, which will not only be safe, but would also be independently safe.
Echo Dot Kids Edition: It is the easiest method wherein Alexa can be added to any room. The latest version has rich and 70 percent louder sound quality than the prior generation. Through Echo Dot Kids Edition, families can bring kid-friendly content together. It provides an Alexa experience which is prepared particularly for kids along with kid-friendly replies to queries, educational question and answers and even more.
Google LLC:
Google LLC is an American multinational technology company, which provides internet related product and services. The company aims to organize information across the world that can be accessed universally
Products of Google:
Google Assistant
Google Cloud
Googlers
Photos
Map
Education
Art and culture
Collaboration and work
News
Google search and many more
Amongst various products of Google, the role of AI is seen majorly in Google Assistant- which helps in minimizing the distraction through voice command, so that the user can focus on the road while driving. Through Google Assistant, the user can interact with the user at any point of time.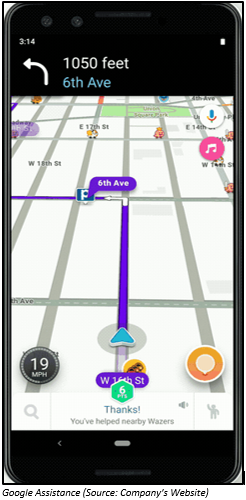 The other one is Google Map, which assist the users in locating a geographical location across the world. It provides the users with the aerial and the satellite view. It also provides routes for all categories of users who are either walking, using a cycle, a two-wheeler or a four-wheeler vehicle. It also provides voice instruction to the user to reach the destination.
Next is Google clips, which is a new method of capturing real and natural instances. It is powered by machine learning and AI. The pixel phone made by Google, intends to provide the users with better smartphone experience. The users of Pixel 2 are provided with unlimited storage for videos and images and has an exclusive preview of Google Lens with the help of artificial intelligence to provide the users with helpful information.
The other product would be, Google Home Mini, which helps in making google assistant more accessible at home and is designed in such a way that it can fit at any corner of the room naturally.
Australia
About Bigtincan Holdings Limited: Bigtincan Holdings Limited (ASX: BTH) is a company that belongs to the Information technology sector, and it provides support to sales and service teams in increasing the win rates and customer satisfaction. The company helps organizations with an intelligent mobile-first solution.
Bigtincan's Products:
Bigtincan Hub: Bigtincan Hub is a leading AI-powered sales enablement platform. It redefines sales, marketing as well as service procedures, which helps the team to work smartly and at an increased rate to obtain the best outcomes. It possesses AI-driven features and automation, which supports in the process of buying. Thus, enabling the team to improve their business results and at the same time, deliver a better customer experience.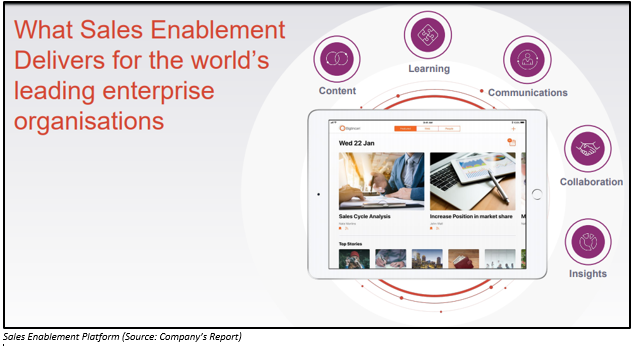 Bigtincan Life Sciences (LS):
Bigtincan Life Sciences helps in optimizing the time with busy clients and prospects. In the life sciences industry, many companies have to face challenges related to complex business along with compliance. Another challenge, salespersons face is the fact that the physicians and decision makers do not spend much time with the salespersons. These along with other factors, make it essential that sales representatives, marketers, as well as the service personnel belonging to the life sciences industry to do everything that is required for optimizing the time spend with clients and prospects. In such a scenario, the role of Bigtincan Hub Sales Enablement Automation Platform comes into the picture.
This platform provides the client-facing professionals, with easy and time-saving methods to approach their clients.
The Features include of the following:
Full Learning Management System as well as providing on-demand learning.
AI-based, automatic push structure, which helps role-based content allocation.
It has a presentation slide builder which possess slide contingency skills.
Full presentation mode, screen sharing followed by co-browsing with patients and providers.
Communicating forms for compliant field data capture.
By the end of the trading session, on 19 June 2019, the shares of BTH was at A$0.520, up by 4% as compared to its previous closing price. BTH holds a market cap of A$135.17 million and approximately 259.94 million outstanding shares.
BrainChip Holdings Ltd
About BrainChip Holdings Ltd: BrainChip Holdings Ltd (ASX: BRN) provides solutions to neuromorphic computing. Neuromorphic computing solutions is a type of AI that is influenced by spiking neural networks. The spiking neural network technology of the company is capable of learning at its own. It has the potential to evolve and link information just as the human mind does.
Technology: The Akida NSoC is a new form of neuromorphic computing devices which is based on functioning of neurons. However, has been engineered based on the digital logic process.
The device is designed so that it could be used as an independent embedded accelerator or a co-processor. It comprises of sensor interfaces for imaging, audio, vision sensors, Lidar, as well as analog signals. It also has high-speed data interface like Universal Serial Bus, PCI-Express as well as Ethernet.
By the end of the trading session on 19 June 2019, the shares of BRN was at A$0.075, up by 1.351% as compared to its previous closing price. BRN holds a market cap of A$77.69 million and approximately 1.05 billion outstanding shares.
---
Disclaimer
This website is a service of Kalkine Media Pty. Ltd. A.C.N. 629 651 672. The website has been prepared for informational purposes only and is not intended to be used as a complete source of information on any particular company. Kalkine Media does not in any way endorse or recommend individuals, products or services that may be discussed on this site. Our publications are NOT a solicitation or recommendation to buy, sell or hold. We are neither licensed nor qualified to provide investment advice.