Corporate Governance:
Corporate governance refers to the set of rules and regulations, practices as well as procedures by which a company is being run, its operations are organized as well as monitored. It drives the operations as well as the performance of the company. It comprises of the relationship between the frameworks to attain the company's goals on one side and the employees, management and the shareholders of the company on the other.
In Australia, the task of regulating the corporate sector is taken care by three entities ASIC, ACCC as well as APRA.
ASIC provides guidance to assist people as well as responsible entities to honor their commitments, make good their decisions and act in a way that is in the investors' best interests.
ASIC regularly connects with the stakeholders in matters related to the corporate governance in the form of articles in outside publications, speeches at events along with the publications of reports, information services and regulatory guides.
APRA is the national regulator of prudential institutions like banks, insurance companies and superannuation fund managers while ACCC is responsible for general consumer protection and has powers to forbid companies from substantially stifling competition.
In this article, we would cover the further announcements related to WTC being allegedly involved in inflating its accounting profits and the rationale behind poor acquisitions made by the company, as cited by J Capital Research.
Allegation Overview and WTC's Response:
WiseTech Global Limited (ASX: WTC), the provider of software solution to the logistic companies has been under J Capital Research's radar since a week. J Capital Research (J Cap), a registered investment advisor with the US SEC, has accused WTC of inflating profits by as much as 178%. J Cap accused WTC alleging that it has manipulated its accounting conventions for boosting its income and growth.
The second allegation by J Cap was related to the acquisition made by the company. J Cap stated that WTC since 2016 had acquired 34 customs and logistics software companies that serve freight-forwarding companies across the globe. However, WTC emphasizes its organic revenue growth model.
Thus, J Cap feels that WTC's business is not performing that well. J Cap also stated that certain acquisitions made by the company were those of freight-forwarding companies around the world which failed in their own countries. Apart from that, WTC overpaid for acquisitions like Prolink and Containerchain and could not invest in these organisations. It also took substantial time to integrate them to its platform.
However, the allegation was rejected by WTC. Post that, the company requested a trading halt on 21 October 2019 to prevent any transaction in an uninformed market after the release of a 2nd short-seller report by J Cap.
WTC's Further response to J Cap's Allegation:
WTC, in its last announcement, rejected the allegations of J Cap stating that there were many wrong and misleading statements in the report. On 23 October 2019, WTC further responded to the key claims in the Report.
Allegations:
Customer attrition and Fall in revenue:
J Cap, in its article, stated that in South Africa, WTC had established EDI-Enterprise (Pty) Ltd when it set up its operations in July 2005. The company later established a joint venture (JV) company and made a 2nd acquisition when it took over the partner's equity. However, the company was unsuccessful in generating profit in this region after 14 years and even after making more than $30.5 million in investments.
J Cap confirmed, based on interviews, that the sales dropped by 20% from their zenith in 2015 and 50% of the clients have left the company. J Cap stated that WTC generates less than 30% revenue in South Africa through CargoWise One, and 70% revenue is generated from its legacy platform.
In South Africa, WTC initially attempted to compete with a top, listed customs-clearing software as well as services company, Compu-Clear. However, finding Customs clearance harder, it withdrew from that location in 2010. The next year, WTC formed a joint venture with Compu-Clear to sell its CargoWise software in South Africa which helped the combined company in growing its revenue to $380,000, with a profit of $150,000 (as reported by Compu-Clear).
In 2015, WTC acquired Compu-clear and its main competitor, Core Freight Systems (Pty) Ltd, having a market share of 20%, for $24.9 million.
After the completion of the acquisition, the Customs-clearance software of Compu-clear was not integrated to CargoWise One. WTC took an additional 18 months to establish Customs-clearing module for its platform CargoWise One. During this time frame, Compu-Clear and CargoWise One sold software as two distinct systems. After the new module was built by WTC, 200 customers (around 55%) switched to CargoWise One platform. Other clients moved away, as Compu-clear was not further enhanced and turn out to be costly as compared to competing software.
Organic Growth:
J Cap accused that the company devised its own reporting metrices that cease to aid investors in understanding WTC's developments. As per J Cap's calculation, the company's organic growth for FY2019 was only 10% which is less than half of what the company has claimed.
Dissatisfied customer:
J Cap conducted an interview of CTOs as well as executive users of WTC's platform, CargoWise, from thirteen client companies through a third-party survey company. 7 out of these 13 customers stated that the service was bad. 4 considered the software to be expensive and 3 are looking for some better software to switch out to. 4 customers claimed that their expenditure on the software is not growing while remaining 9 customers stated that expenditure is growing in between 5% to 10%. 5 customers opined that they were satisfied with the system.
WTC's Response to Allegations:
Global reach and low customer attrition:
Responding to the allegations, WTC stated that it provides services to more than 12,000 logistics companies across 150 nations. All 25 of the leading 25 global freight forwarders are its clients. Out of these 25 customers, 22 are using CargoWise One.
WTC clarified that CargoWise, being an integrated global platform, allows global rollouts for the major logistics providers of the world. It can also be utilized as a unit of an inhouse or legacy system via explicit elements or in specific areas. At present, 10 of the biggest logistics providers of the world are in full global freight forwarding rollout or are in the course of rolling out on its platform, CargoWise One.
WTC also rejects the claim related to customer attrition. WTC stated that in FY2019, the platform has less than 1% attrition.
Organic Growth:
WTC rejects the statement provided by J Cap related to organic growth. In FY2019 and FY2018, the company's organic growth was 33% and 37% respectively.
Transaction and Revenue Growth:
The company's commercial model helps in driving its transaction and revenue growth. The CargoWise licensing model offers its client software on-demand, and as a service which they access and make payment for its monthly usage. In certain circumstances, the company offers transitional pricing arrangements and might pilot test other licence arrangements as well. It includes those for onboarding or legacy conversion, which forms a part of its commercial model. The reference provided by J Cap is an example of such pilot testing, and it does not reflect its global style to pricing.
Significant Investment in Technology and Product Development:
WTC stated that the claims that the company does not invest in its technology as well as in its acquired strategic assets are incorrect. In FY2019, WTC invested $ 113 million in the maintenance as well as the addition of new development into the products and technology pipeline for both CargoWise One and its adjacency plus geographic acquisitions.
WTC also cleared through the announcement that it not only buys strategically useful assets, but it also spends in these businesses. Also, the company's integration approach is well structured.
WTC further rejects claims related to
Failed acquisitions and slow growth in China.
Failed acquisition in South Africa and high customer attrition.
SmartFreight Australia revenue and profit, which J Cap claimed to decline.
CargoSphere being expensive and slow. AS per WTC, CargoSphere's development is under process.
TradeFox appears fake. WTC cleared that TradeFox was a smaller owner-managed business in Australia and its assets, staff and small customer base was acquired by the company.
Stock Information:
By the end of the day's trading on 24 October 2019, the closing price of the shares of WTC was $26.580, down 6.835% from its previous closing price. WTC has a market cap of $9.08 billion with 318.19 million outstanding shares and PE ratio 161.190X.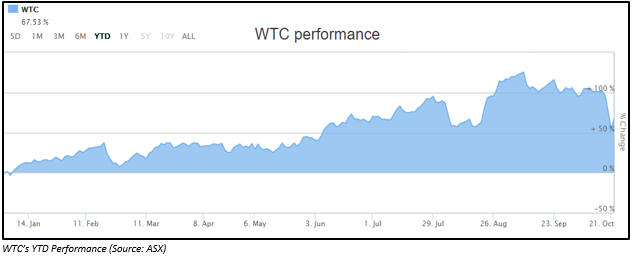 ---
Disclaimer
This website is a service of Kalkine Media Pty. Ltd. A.C.N. 629 651 672. The website has been prepared for informational purposes only and is not intended to be used as a complete source of information on any particular company. Kalkine Media does not in any way endorse or recommend individuals, products or services that may be discussed on this site. Our publications are NOT a solicitation or recommendation to buy, sell or hold. We are neither licensed nor qualified to provide investment advice.