When a company issues its shares for the first time on the stock market, that process is known as Initial Public Offering (IPO). The IPO roadshow makes media houses and investors very excited, as they wait for the unfolding of a new story on the stock exchange. In Australia, IPO's have perhaps been an event of maximum investor traction and for a lot of market participants approaching IPOs are the favorite research subject.
To Know More, Do Read: Understanding IPO
Amidst high volatility in the secondary capital market, the primary market is emerging as a grubstaker for investors. With many companies in line to be going ahead with IPO and few already been listed, the IPO space has gained the attention of investors worldwide. In this article, we will discuss the recent and upcoming IPOs in the healthcare sector on the Australian Securities Exchange. Let quickly brush our understanding of IPO through the following companies- LGP, EMD, AT1, ICR
Little Green Pharma Ltd (ASX:LGP)
A medicinal cannabis company Little Green Pharma Ltd (ASX:LGP), listed on 20 February 2020 at ASX, is engaged in the cultivation and production of cannabis through to manufacturing and distribution. In Western Australia, the Company has an indoor cultivation facility and an exclusive partnership with a TGAGMP-licensed pharmaceutical manufacturer for producing medicinal cannabis products of its own-brand.
COVID-19 Business update-
On 2 April 2020, Little Green Pharma updated the market that it is closely monitoring the progress of the COVID-19 pandemic and highlighted its key actions. As being into a business of producing and supplying medicinal cannabis, the Company falls under essential services to the society. It also informed about receiving of First Planting license, sales as well as financial position.
It is noteworthy that despite the COVID-19 pandemic the Company sold 1,580 bottles in March which is the highest monthly sales of LGP to date whereas there was a 21 per cent rise on the number of bottles sold in February which was also a record sales month.
Financial and operation highlights H1FY2020-
Revenue for the first half of the fiscal year 2020 was reported to be $716,000 up by 188% as compared to the previous corresponding period (pcp);
Biological Assets of the Company for the first half reported to be $667,570 increased by 30%;
New Product- LGP Classic CBD 50
Little Green Pharma announced the launch of LGP Classic CBD 50;
LGP Classic CBD 50 is the Company's first CBD only product which offers access to new market seeking CBD dominant products and targets large addressable market- 23% of all products prescribed in Australia are CBD products.
LGP Classic CBD 50 is categorised as Schedule 4 drug. As it does not require any approval from State Health and Therapeutic Goods Administration (TGA) it simplifies the prescription pathway for medical practitioners in Australia. Moreover, the drug is currently seeking a listing on the Australian Register of Therapeutic Goods (ARTG) as an export product.
Future Products-
Little Green Pharma is pondering capsules, suppositories, sprays and dry flower as potential upcoming products. The Plus Range would use ARISE technology to create a small particle formulation that is to require lower dosing for equivalent clinical effect.
Stock Information- On 3 April 2020, the LGP stock last traded at $0.300 down by 6.25 % from its previous close. With almost 133.5 million shares outstanding, the company's market capitalisation stood at nearly $42.72 million.
Emerald Clinics Limited (ASX:EMD)
An ASX listed real-world data company Emerald Clinics Limited (ASX:EMD) operates a network of specialist medical clinics and utilizes purpose-built software as well as technology for collecting high quality clinical information from informed and consenting patients to create solid and ethically-sourced evidence. In Australia, the Company has established four medical centres in Melbourne, Perth, Northern Rivers NSW and Sydney.
COVID-19 update-
On 26 March 2020, the Company provided an update in response to the global COVID-19 pandemic and highlighted-
The Company has minimal impact on its Clinics business as the number of patients to date remain strong with nearly 80% of recent appointments supported by telehealth which can integrate remote patient health monitoring tools, medication management, patient medical records and other data gathering tools;
Moreover, Emerald is extending its Real World Evidence platform for providing support to the growing requirement of monitoring coronavirus patients and those who are self-isolating themselves.
It is noteworthy to mention that the Company's system can help to test and observe several new therapies and care methods that are being trialled across the globe for assisting patients in the absence of a vaccine for COVID-19.
Emerald's clinical service-
Four clinical services operating across Australia and several new sites under consideration for 2020;
Emerald investigating options for a London clinic and letter of intent (LOI) with UK partner;
Validated assessments active, Linear Clinical Research supporting data management in FDA-compliant system and completed data deals confirm the value.
Emerald's evidence generating care model-
Emerald provides clinical and data services for creating strong and ethically sourced real-world evidence (RWE) with patients. Its RWE can help assess the safety and efficacy of unregistered medicines including cannabinoid medicines.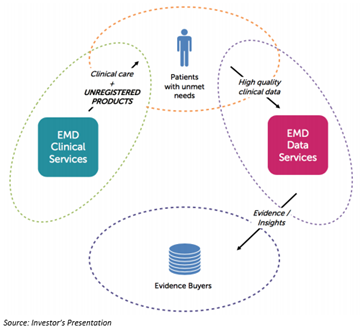 Stock Information- On 2 April 2020, the EMD stock last traded at $ 0.077. With almost 12.87 million shares outstanding, the company's market capitalisation stood at nearly $ 183.9 million.
Let us now have a look at the upcoming healthcare IPOs-
Atomo Diagnostics Limited (ASX:AT1)
An Australian medical device manufacturer Atomo Diagnostics is a global leader in the design of medical devices for blood-based rapid testing for professional use and self-testing. Atomo's innovative rapid diagnostic test (RDT) platform specially designed for self-testing, simplifying procedures, mitigating common user errors and improve test performance. The Company through an IPO will issue 150,000,000 shares at $0.20 price per share for gross proceeds of $30 million with prospective ticker to be AT1.
Binding supply agreement with NG Biotech
Atomo Diagnostics has entered into a binding supply agreement with existing OEM consumer NG Biotech under which the Company has agreed to supply its devices and other components for use by NG Biotech in the manufacture of its blood-based lateral flow rapid test to detect Covid-19 virus. The agreement will terminate on 31 December 2020 unless extended by the parties.
Business Focus
The Company's intended use of funds raised under the Offer includes $11.7 million for expansion of manufacturing and distribution activities.
Regulatory Approvals
The RDT devices of Atomo Diagnostics have been established in the market through the development, regulatory approval and commercialisation of a range of blood-based rapid test applications for infectious disease, including the Company's own HIV Self-Test product which has received prequalification from the WHO, as well as securing approval by the Therapeutic Goods Administration in Australia and CE Mark for Europe.
Moreover, Covid-19 rapid diagnostic test of NG Biotech has been CE Marked for professional use in Europe.
Intelicare Holdings Limited
An aged Care IoT Monitoring Solution provider Intelicare holdings limited is engaged in offering solution to address the personal, social, economic and geographic challenges faced by the ageing population.
The InteliCare product enables senior citizens to share their wellbeing information with members of their care team, like family, friends, aged services and Home Care Package providers. The care team will receive app notifications each day if everything is normal or when there is a decline in the routine of the aged person.
InteliCare provides a low-cost, subscription service application for families and caregivers that can sense a broad range of in-home activity and therefore can identify any unusual incidents. By determining whether there might be a problem in real-time, out-of-home care providers can be notified instantly, and worries can be alleviated.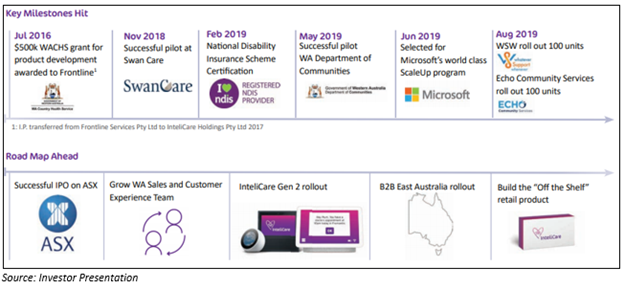 Moreover, Intelicare is currently looking to secure $5.5 million through an IPO and listing
on the Australian Securities Exchange (ASX)with a prospective ticker to be ICR. The market capitalisation of the Company Post IPO is expected to be $15.1 million.
---
Disclaimer
This website is a service of Kalkine Media Pty. Ltd. A.C.N. 629 651 672. The website has been prepared for informational purposes only and is not intended to be used as a complete source of information on any particular company. Kalkine Media does not in any way endorse or recommend individuals, products or services that may be discussed on this site. Our publications are NOT a solicitation or recommendation to buy, sell or hold. We are neither licensed nor qualified to provide investment advice.