Melbourne, Australia-headquartered global biopharmaceutical company, CLINUVEL Pharmaceuticals Limited (ASX: CUV) conducts extensive R&D into developing treatments for patients suffering with severe genetic and skin disorders of various kinds. The company's operations span across Europe, Singapore and the United States of America while it is also listed on NASDAQ (CLVLY) in the US and on Xetra Stock Exchange (UR9).
Now a pioneer in the field of photomedicine and understanding the interaction of light and human biology, CLINUVEL has so far created advanced treatments for patient groups of 5,000 to 45 million, globally, that required clinical photoprotection and re-pigmentation.
CLINUVEL Pharmaceuticals' market capitalisation stands at around AUD 1.8 billion with ~ 48.96 million shares outstanding. The CUV stock price rallied in the last five-day period (past week) by over 35%, owing to the recent approval for SCENESSE® given by the US FDA.
However, on 14 October 2019 (AEST 01:00 PM), the CUV stock was trading at AUD 36.120, down 1.848% by AUD 0.680 with ~ 179,192 shares traded, perhaps due to profit-booking.
In addition, CUV has delivered outstanding positive returns of 104.44% year-to-date, 41.54% in the last six months, 2.08% in the last three months and 51.50% in the last one month.
US FDA Approves SCENESSE®
The company announced on 9 October 2019 that the US Food and Drug Administration (FDA) had approved its lead SCENESSE® (afamelanotide, 16mg) as the first global systemic photoprotective drug for a rare genetic metabolic disorder - erythropoietic protoporphyria (EPP), which causes absolute intolerance to light. SCENESSE® boosts pain-free light exposure in adults who had phototoxic reactions (historically) from EPP. The European Medicines Agency approved SCENESSE® for EPP in 2014.
EPP is an inherited metabolic disorder of the heme biosynthesis pathway which may cause lifelong phototoxicity as the compound protoporphyrin IX (PPIX) gets accumulated and stored in the blood and tissues. When a person with erythropoietic protoporphyria is exposed to visible light and near-visible UV radiation, PPIX gets activated, inflicting damage to surrounding tissue, owing to which these patients report to have experienced an excruciating burning pain underneath their skin that may last for days or weeks, forcing them to stay away from light. It has been estimated that there are 5,000 to 10,000 EPP patients around the globe.
Thus, EPP patients have to live a restricted life. Novel drug and formulation, SCENESSE® (acting as a potent anti-oxidative and melanogenic agent) would provide photoprotection to EPP patients, enabling them to bear the light exposure, thus rescuing them from a confined way of living and offering them a freedom that they never had.
CLINUVEL's Chief Scientific Officer, Dr Dennis Wright pleasingly remarked on the recent milestone and stated that it was a memorable day for EPP patients, their families, and also the global medical community, all of whom thoroughly supported the development and US approval of the drug for this debilitating condition.
CLINUVEL's Journey with SCENESSE®
Reflecting back, the company added that it embarked on the regulatory path for SCENESSE® a decade ago–
Clinical trials for the drug started in 2006 in Europe.
In 2008, SCENESSE® received the Orphan Drug Designation from the FDA, which recognised the unmet need in EPP.
Consequently, through years of trials, SCENESSE® was allotted a Fast Track Status in May 2017 and was also recommended to be reviewed on priority by the FDA in January 2019.
On 8 October 2019, the FDA's Center for Drug Evaluation and Research approved the NDA (new drug application) for SCENESSE® while granting 7 years of market exclusivity from other related pharma players under the Orphan Drug Act of 1983. Going forth, a further extension of 2 years may be granted upon approval of a paediatric product.
The Office of Surveillance and Epidemiology has been charged with the responsibility of supervising the safe use of the drug during commercial distribution.
Renewal of CEO Employment Agreement
CLINUVEL Pharmaceuticals, on 7 October 2019, announced to have renewed the Employment Agreement with Dr Philippe Wolgen, life science executive and Managing Director. The renewal is for a three-year period to 1 July 2022.
According to the company's Head of Remuneration Committee Mr Willem Blijdorp, the company arrived at a total compensation package for Dr Wolgen for rewarding him for achieving long-term goals, in addition to awarding part of the incentives of Dr Wolgen in equity.
The key terms of CEO Employment Agreement have been given in detail in the related ASX announcement.
Final Annual Dividend Declaration
On 28 August 2019, the pharmaceutical company announced its second consecutive annual unfranked ordinary dividend (final) of AUD 0.025 (Record date: 05 September 2019; Ex-Dividend date: 17 September 2019; Payment date: 19 September 2019), post the disclosure of its full year financial results for the 12 months to 30 June 2019 (FY19), subject to maintaining sufficient reserves for the company.
The latest annual dividend figure depicts a 25% increase over the maiden unfranked dividend of AUD 0.02 paid out for the financial year ended 30 June 2018 (FY18), and which was paid to shareholders on 8 October 2018.
Let's take a detailed look at the company's full year results.
Full Year Results 2019
On 28 August 2019, CLINUVEL Pharmaceuticals disclosed its Preliminary Financial Report for the year ended 30 June 2019, which marked the third full year of distribution of SCENESSE® (afamelanotide 16mg) to patients with erythropoietic protoporphyria (EPP) in Europe.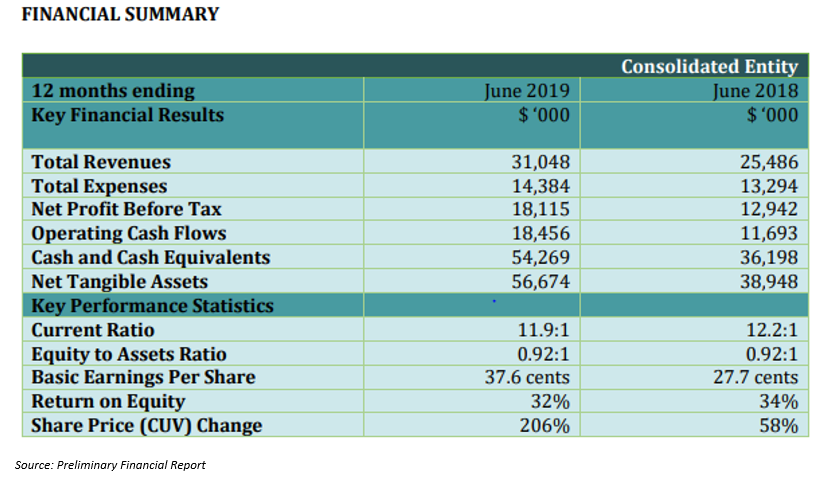 The company has delivered consistent, annual increases in revenue and profitability since the drug got launched in June 2016 in Europe. The total revenue for the period amounted to AUD 31.05 million, up 22% on AUD 25.49 million recorded in the prior corresponding period (PCP). The company's total expenses were around AUD 14.38 million, up 8% as compared to AUD 13.29 million recorded in the PCP. The year also marked the achievement of a record net profit before tax result of AUD 18.12 million, a 40% increase over PCP while the company's earnings per share were up 35.7% year-on-year.
The company also experienced an increase in its enterprise value during the 2018-19 financial year and declared the maiden unranked dividend to its shareholders, instilling confidence about the future positive prospects for growth.
The return on equity remained consistent with the prior year and CLINUVEL Pharmaceuticals got included in the S&P/ASX 200 Index in June 2019.
Outlook
CLINUVEL Pharmaceuticals' European business generates a solid base of earnings for the company to finance its expansion in the following arenas of focus-
Further growth in the company's European distribution activities;
Advance its pipeline of product development for a range of skin related conditions.
CLINUVEL's Annual General Meeting 2019 for shareholders is scheduled for 20 November 2019.
---
Disclaimer
This website is a service of Kalkine Media Pty. Ltd. A.C.N. 629 651 672. The website has been prepared for informational purposes only and is not intended to be used as a complete source of information on any particular company. Kalkine Media does not in any way endorse or recommend individuals, products or services that may be discussed on this site. Our publications are NOT a solicitation or recommendation to buy, sell or hold. We are neither licensed nor qualified to provide investment advice.