Fighting a war against an uninvited and invisible enemy is a fundamental problem. Coronavirus is both a health and economic emergency that is going to be waged over at least six months and over in an unthinkable way. The governments must balance it out between lives and livelihoods, financial need to kickstart the economy versus the necessity of staying at home.
Australia hit the daily incidence peak on 28 March, and since then the number of cases being reported has been slowing down with the rate of growth dropping from 35% to recording just 18 cases now.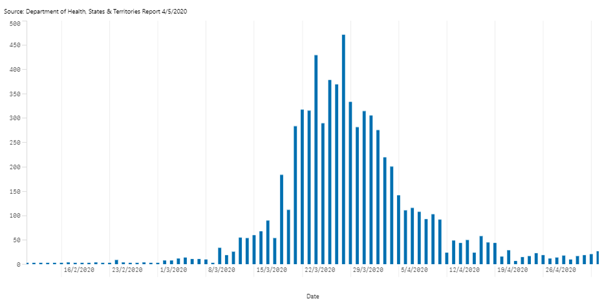 Source: Department of Health
The country eased some restrictions on 1 May with several states allowing their residents new freedoms. However, the risk of the second wave still applies to Australia. Hence, a controlled adaptation strategy is crucial for the country. Here is a 10-point plan that Australia has an advantage and can pursue in the coming months-
More testing and tracing capabilities: One of the steps towards the road out is to extend testing beyond those who show symptoms of COVID-19. Greater tracing abilities are also needed to track the spread of the virus. To slow the spread of the virus, the Australian government has urged its people to download Covidsafe app to trace the virus, which is a welcome step.
Some social distancing still needs to be in-place: The Morrison government is due to decide on easing of restrictions on 8 May as Australia's coronavirus curve flattens. It has still not lifted entire restrictions and has gone for social distancing.
Northern Territory and New south wales have been first to lift restrictions on 1 May. They have allowed park and household visits maintaining a distance of 1.5m from others, reopened beaches with plans to open restaurants and pubs for dining and permit shopping for non-essential goods in mid-May. Other states are also in line to lift restrictions with certain conditions. Victoria has planned to stick to its existing lockdown until a national review on 8 May.
Hence, lifting of restrictions needs to be gradual with continues social distancing measures to keep the virus at bay.
Safe and effective vaccine: Vaccine development is critical to fight against coronavirus pandemic. Scientists at Australia's national science agency CSIRO have begun testing and have asserted that the vaccinewould take 10-15 months for widespread use. The agency is testing two vaccines, one from the US and one from the UK.
Travel restrictions: Prime Minister Scott Morrison has invited New Zealand PM to join a meeting to discuss on slowly lifting restrictions on flights between the two nations. Jacinda Ardern, PM of New Zealand, stated," As both, the countries began to roll back their lockdown restrictions, opening flights between the 2 countries can offer huge advantages to reinvigorate their economies."
However, she stated that the opening of international travel still remains far from both countries. Australia must refrain from opening up travel restrictions for a few weeks.
Prepare early: Coronavirus is a grey rhinothat represents a highly vulnerable and distinct event but was still neglected. Bill Gates had predicted the pandemic in 2015, claiming that if there is one thing that can destroy more than 10 million people in the next few decades is a virus than a war.
Apart from pandemics, climate change, cyberwar, water scarcity, and many other natural disasters haunt us that can cripple the systems. We have neglected and underestimated their potential impacts. Hence, Australia must take measures to prepare in advance and enhance alleviation efforts.
Loosening of ASX rules helped: Capital is often called the bloodline of an economy, the ease of access to capital in times like these is paramount. On this backdrop, the Australian stock exchange operator ASX Limited lifted its limit on raising new equity from investors. The listed companies have been allowed more flexibility to strengthen the financial standing by emergency capital raisings. All companies could raise up to twenty- five per cent of their market cap provided they run a share purchase plan for retail class of stockholders. The step has helped entities to tap the equity market to strengthen their balance sheet.
Support through fiscal stimulus: Australian government has taken stimulusmeasures worth $320 billion, including a wage subsidy program to help millions of workers who have become jobless and has extended support to Australian households and businesses.
RBA's extensive stimulus: RBA has cut its rates to record low of 0.25% and has maintained it in the latest policy decision on 5 May. The central bank has been successful in its bond-buying program ($50 billion till date), daily open market operations and keeping the yield on 3-year Australian government securities at a target of 25 basis points to improve the functioning of the bond market.
ALSO READ: Australian economy likely to slip into Deflation in the coming quarter
The bank will not deviate from its target until its goals of full employment and inflation are reached, which is necessary for the smooth functioning of the economy.
Working differently: Coronavirus lockdowns have taught us how to have virtual meetings and work remotely by avoiding costly flights and travel time. After the lockdown, employers must be able to give more flexibility to employees and should work on creating more secure work and job guarantees with government and unions.
Valuing care: Coronavirus has surely shown that the work done by teachers, nurses, childcare and disability workers must be respected and valued. The federation can be restructured to guarantee care for all, especially in early childhood education.
Josh Frydenberg has asserted that the restrictions adopted by the government due to COVID-19 are resulting in a decrease in economic activity of $4 billion per week.
Macquarie CEO has stated that Australian economy is well placed to get through the crisis in long-term mentioning RBA's extensive stimulus, government support, strong balance sheet, links to Asia and new capital raisings by big businesses.
She asserted that technological change and urbanisation would resurge as drivers of growth for a longer-term period once the crisis gets over. This approach will help Australia to drive global demand and investment.
Australia might have become successful in flattening the virus but its economy still lies in danger due to its dependency on exports and imports. To that extent the recovery story outside our borders also matter for us to get back on our feet soon.