Mid-cap stocks generally follow a diverse pattern than the small-cap and large-cap stocks and offer a broad range of investment choices for investors. Such stocks are shares of those listed companies that have a market capitalisation ranging between $2 billion and $10 billion. These companies are usually in the process of enlarging in industries that are likely to experience speedy growth.
Though the mid-cap stocks are stocks of established companies, they tend to be not as established as large-cap ones, thus carry a higher level of risk. Given that mid-caps are considered to be riskier, it's important to talk about investment strategies that could help an investor mitigate risks associated with such stocks.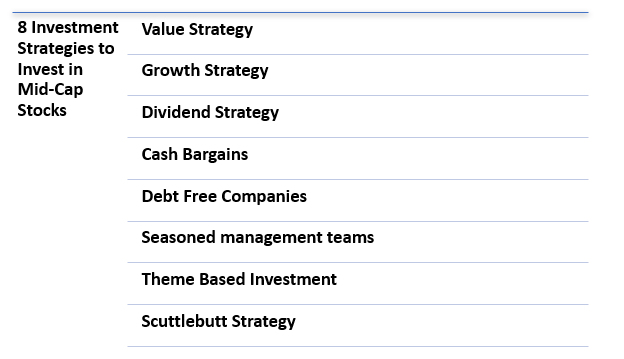 Value Strategy
Under value strategy, those stocks are picked that appear to be trading below their book or intrinsic value, i.e. underestimated stocks. This strategy involves buying undervalued stocks and selling the overvalued ones, irrespective of index movements.
British-born American investor, Mr Benjamin Graham is believed to be the father of value investing. Another renowned investor, Mr Warren Buffet, also follows Mr Graham's principle of value investing and has been consistently securing high ranks on Forbes' list of billionaires.
Investors can evaluate a mid-cap stock's intrinsic value by a valuation method and compare the value with the price of the stock afterwards. If the intrinsic value surpasses the market value by a pre-decided amount, the investor can purchase that stock.
Growth Strategy
The growth strategy involves investing in those companies that demonstrate signs of above-average growth. Under this strategy, the investment is made in stocks of companies whose earnings are likely to improve at an above-average rate relative to the overall market or their respective industry sector.
American stock investor, Philip Fisher is considered to be the father of growth investing. Other prominent successful growth investors are Mr Thomas Rowe Price Jr. and Mr William O'Neil.
The growth investing technique is considered entirely opposite to value investing technique. Investors can buy mid-cap stocks of the companies with attractive characteristics, including competitive growth rates in earnings and/or sales, strong customer loyalty, a challenging competitive moat, etc.
Dividend Strategy
Dividend investing strategy requires purchasing shares of those firms that pay decent, quality dividends, carrying the potential to grow their dividends significantly in future. Dividends are usually a sign of financial health of a company that are generally paid on a per-share basis.
To add stability to their portfolio, investors can choose mid-cap stocks of those established companies that have a history of paying good dividends. Many investing legends consider dividend-paying stocks as a crucial part of their investment portfolio.
To choose the best mid-cap dividend stocks, an investor can look for stocks of companies carrying the following attributes:
Long-term growth prospects
Strong financials
Investor-friendly management teams
Competitive position
Robust dividend history
Cash Bargains
Sometimes, the companies face severe headwinds due to various reasons, that result in excessive selling of their shares. This excessive selling takes the company's market capitalisation to a level below the balance on its balance sheet. This condition is termed as cash bargain.
In other words, cash bargain is a situation wherein a business is available at a value below than the cash balance on its balance sheet. Investors can assess these cash bargain situations before making an investment decision.
Debt Free Companies
Investors can adopt debt free strategy, investing in mid-cap stocks of debt free firms or a firm with minimal debt, as they are not burdened with any repayment of a loan. A company can become debt free if it:
Collects customer receivables sooner
Enhances the efficiency of revenue generating processes
Reduces the inventory balance and operating expenses
Lengthens supplier payment terms, and
Raises gross margin of products or services.
These actions enable the firm to prepare a comprehensive financial plan that will help in determining when a business can become debt free. A debt free company generally possesses higher solvency, higher profit margin and lower break-even point.
During an economic slowdown, the companies with higher debts suffer due to payment of fixed interest and falling sales, while debt free companies need not worry about the same. This makes them an appealing form of investment.
Seasoned Management Team
A management team is considered to be the backbone of a business that enables it to grow and develop. It is essential for a company to have a right set of people to complement and strengthen the growth of its business. Most of the world-renowned investors are of the belief that one should invest in a business that has sustainable competitive advantages.
These competitive advantages are derived from the management team of investee companies. With a sound management team, a company can:
Address strategies, issues, and other business ideas from multiple angles, that helps companies in making better and more informed decisions.
Divide the burden of tasks.
Get greater productivity, resulting in more efficient business practices.
Theme Based Investment
An investment strategy that is commonly used by investors before making an investment decision is choosing sector-specific stocks. For selecting mid-cap stocks, investors can choose stocks of flourishing sectors offering higher prospects of growth. For instance, the cannabis stocks are becoming an appealing form of investment in Australia, with the rapid growth of the industry and the legalisation of medicinal cannabis in multiple countries.
Scuttlebutt Strategy
Another investment strategy which is originally invented by Mr Phillip Fisher is Scuttlebutt investing strategy, under which an investor research more about the company to make a sound investment. Under this strategy, the investor studies the fundamental merits of the firm, even if it requires talking to each and every individual of the company before taking an investment decision.
This strategy is followed to get an unbiased view of the company, which prudent understanding of financials might not deliver. It can also be referred as conducting primary research instead of trusting the secondary information available on site.
It is worth noting that beside these strategies, there are a number of other investment strategies available that can help an investor assess a mid-cap stock. However, an investor should review his needs and goals and make a comprehensive investment plan before selecting the appropriate strategy.
---
Disclaimer
This website is a service of Kalkine Media Pty. Ltd. A.C.N. 629 651 672. The website has been prepared for informational purposes only and is not intended to be used as a complete source of information on any particular company. Kalkine Media does not in any way endorse or recommend individuals, products or services that may be discussed on this site. Our publications are NOT a solicitation or recommendation to buy, sell or hold. We are neither licensed nor qualified to provide investment advice.