These are truly tough times with alarming level of health, financial and economic crisis, and the spread of COVID-19 is directly to be blamed.
As per the data collected from WHO, there are more than 4.5 million confirmed cases of coronavirus infection worldwide with deaths of over 0.3 million as on 18 May 2020
Amidst unprecedented market turmoil, investors are interested in lucrative stocks that have the highest quality in the market. While the Australian economy seems to be on track to recover with strong control over the COVID-19 pandemic, this is probably the chance investors may want to tap to enhance their portfolio. Adding some ASX-listed healthcare stocks in the diversified portfolio considering the current increasing demand of medical needs and equipments due to COVID-19 pandemic seems to be a good opportunity at the moment.
DO READ: Style-Up Your Investment Portfolio Amidst COVID-19 Crisis
In this article, we will acquaint you with five highlights from ASX biotech space amid COVID-19 pandemic- FPH, MSB, SPL, IMM, PXS.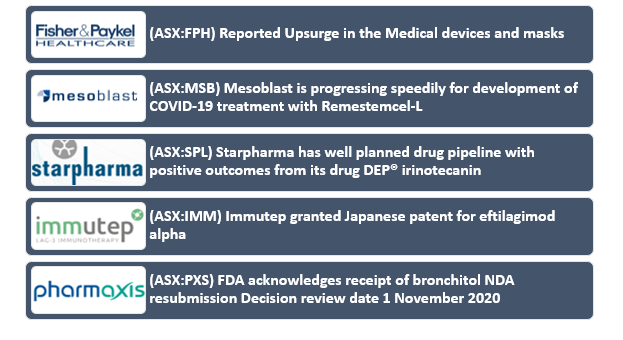 Fisher & Paykel Healthcare To Experience Increased Medical Device Demand Amid COVID-19
A dual listed (ASX and NZX) medical device manufacturer Fisher & Paykel Healthcare Corporation Limited (ASX:FPH) is engaged in offering equipments to cater to the respiratory system and is a leader in the development and marketing of these systems and products.
Fisher & Paykel Healthcare has witnessed an upsurge in its sales and share price as a consequence of the COVID-19 crisis. During the pandemic, there has been an additional requirement for the medical devices, respiratory humidifiers and masks of the Company, while the fall in the New Zealand dollar specifies that FPH is getting funded more for them from overseas customers.
Notably, the Company is probably to experience increased demand due to the increasing need for masks and other medical devices as per the current situation of the pandemic.
On 18 May 2020 (12:23 PM AEST), FPH stock traded at AU$28.210 with a market cap of AU$16.28 billion.
Mesoblast Is Progressing Rapidly To Develop COVID-19 Treatment With Remestemcel-L
ASX-listed Melbourne-headquartered company, Mesoblast Limited is a global leader in developing cellular medicines for inflammatory diseases and has a robust emerging product pipeline with three programs currently in Phase III clinical studies.
On 13 May 2020, Mesoblast Limited (ASX:MSB) revealed successful completion of the capital raising of AU$138 million via a placement of 43 million shares at a share price of AU$3.20/share to its existing as well as new institutional investors,.
According to ASX announcement dated on 6 May 2020, Mesoblast revealed dosing of first patients in the Phase 2/3 trial. This trial is a randomized placebo-controlled trial in 300 patients administered with Mesoblast's allogeneic cellular medicine remestemcel-L. MSB is working on COVID-19 patients with ARDS (acute respiratory distress syndrome) and relying on ventilator support.
TO KNOW MORE, DO READ: How MSB Becomes a Healthcare Market Darling Amid COVID-19?
On 18 May 2020 (12:23 PM AEST), MSB stock traded at AU$3.810, up ~6% with a market cap of AU$2.12 billion. In the past three months, MSB has generated a positive return of ~ 34.19%.
Starpharma- DEP® Irinotecan Phase 2 Commences After Positive Phase 1 Results
ASX-listed biotech company Starpharma Holdings Limited is a leader across the world for developing therapeutic dendrimer formulations. The Company is working towards women health, and its VivaGel® BV formulation for women is based on SPL7013- a proprietary dendrimer. SPL7013 has been established to inactivate nearly 99.9% of HSV, HPV and HIV in laboratory studies.
Starpharma Holdings Limited (ASX:SPL) recently revealed that the phase 1 part of the DEP® irinotecan phase 1/2 trial was completed successfully, with phase 2 commencing immediately.
SPL notified that this part of the trial enrolled seven patients having pancreatic, colorectal and breast carcinoma, administered with up to ten-cycles of DEP® irinotecan. It was observed that DEP® irinotecan was well-tolerated, and patients experienced less severe side effects, without any cases of severe diarrhoea.
Starpharma disclosed that the phase 2 part of the DEP® irinotecan trial is now underway at The Christie, The Royal Marsden and Newcastle Freeman Hospital.
SPL7013 Against SARS-COV-2: SPL7013 is approved and marketed in products in Europe, Australia, and parts of Asia. The Company already has a great deal of regulatory and manufacturing data on hand and will be seeking to leverage this to fast-track product development and approvals. Starpharma is already in discussion with regulators regarding the regulatory path, and ways to expedite approvals.
On 18 May 2020 (12:23 PM AEST), SPL stock traded at AU$0.990, up 3.13%.
Immutep Granted Japanese Patent for Eftilagimod alpha
A globally active biotechnology company, Immutep Ltd (ASX:IMM) is a frontrunner in the development of immunotherapeutic drug products related to LAG-3 for treating cancer and other autoimmune diseases.
On 7 May 2020, Immutep revealed that it has been granted a new Japanese patent that is entitled as "Combined Preparations for the Treatment of Cancer" by the Patent Office of Japan.
The Company disclosed that new patent highlights the wider potential of eftilagimod alpha as an immunostimulant. With this grant, Immutep received patent protection in Japan for various novel and relevant chemo-immunotherapies that feature efti that might be tracked in the upcoming years.
The Expiry date of the patent is 19 December 2034.
On 18 May 2020 (12:23 PM AEST), IMM stock traded at AU$0.150, up 3.5%.
Pharmaxis' bronchitol NDA resubmission acknowledged by FDA
ASX-listed healthcare company Pharmaxis Limited (ASX:PXS) is a leader across the globe in drug development for inflammation and fibrotic diseases.
Pharmaxis manufactures a dry powder mannitol formulation - Bronchitol, approved to clear help clear phlegm from the lungs of patients having cystic fibrosis. The Company has performed several clinical studies for Bronchitol as part of the regulatory approval method.
On 13 May 2020, Pharmaxis revealed that its US licensee Chiesi Farmaceutici S.p.A. has received acknowledgement of receipt of the NDA resubmission of Bronchitol from the US FDA.
FDA has classified the resubmission as Class 2 which changes the FDA review period from a projected 2-months to 6-months and sets a goal action date of 1 November 2020.
Moreover, Pharmaxis disclosed that if Bronchitol is approved by the FDA, the Company would receive the US$10 million milestone payment on the supply of Bronchitol for commercial launch in the US.
On 18 May 2020 (12:23 PM AEST), PXS stock traded at AU$0.088, up ~6%.