With bushfires tearing through nearly every state, Australia is in the grips of one of its worst ever peace-time crises. The costs of human suffering, loss of life, and damage to our precious ecosystem will continue to be felt long after the fires are extinguished, which unfortunately is unlikely to be anytime soon.
But with the temporary respite of milder weather that this new week has brought, we thought it might be a good time to consider some of the subtler, less discussed costs of this disaster. So, what are some of the effects of the bushfires that are less headline grabbing, but still very costly to those who are affected?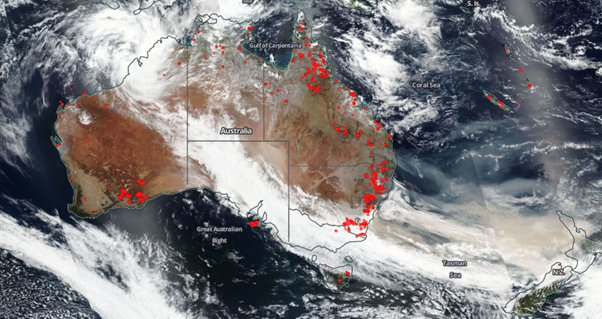 Fires burning and smoke pollution as of 5/01/20 12:00pm, Source: NASA Worldview
Perished Livestock
Fleeing kangaroos and the burned koalas have widely become the face of Australia's bushfire crisis, as some of the native wildlife unique to Australia that is under threat from loss of habitat, as well as the loss of precious native animals, affected regions have also experienced a drastic loss of livestock. Though not as widely reported as the loss of homes and bushland, many of the affected regions also contain large areas of scorched agricultural land. Some 13,000 properties are believed to be affected across NSW, as reported by the Department of Primary Industries, with 2,900 livestock confirmed dead already.
Most obviously, this will impact agricultural profits in the region, and damage farmers livelihoods. In the more immediate short-term, farmers and relief workers are faced with the grim task of burying the dead animals as quickly as possible, to limit the biosecurity risks of rotting carcasses, which can spread infection and disease. The newly announced national bushfire recovery agency is expected to help affected farmers carry out the task.
Holiday rental cancellations
Those in tourism industries in the fire-affected areas are some of the worst hit by this crisis. Road closures and evacuation protocols have put a huge dent in what is generally the high season for holiday towns in Victoria and NSW. Some who have lost holiday rentals in the fires will have relied on rent as a primary income stream. Airbnb providers throughout both states have been hit by cancellations for the rest of the summer, as the end of the fire risk is unclear. Though third-party service Airbnb provides insurance for damages caused by guests, they do not cover natural disasters.
Holiday makers are also out of pocket, as many cancelled or abandoned their trips to NSW's South Coast last week after the catastrophic fire warnings were released. The wide scale nature of the cancellations has left rental providers in a difficult position – who should be left to carry the cost of the disaster? While holiday makers are seeking refunds after being forced to cancel due to circumstances outside of their control, hosts will be left heavily out of pocket if they comply. It is a morally dubious situation that is unlikely to leave any winners.
Long-term energy outages
Residents of the NSW South Coast have been advised to prepare for "extended outages" by the NSW regional distributor Essential Energy, due to fire damage sustained by their electricity network. More than 24,000 NSW energy customers are without service, with some expected to remain in the dark for a week or longer, as whole sections of the grid require rebuilding. Lack of power is further economic bad news for a region already suffering due to reduced tourism income, as many businesses are unable to operate without power.
Rolling blackouts across NSW were only narrowly avoided on Saturday when the state's power supply came under threat, after fires cut the connection to Victoria, and energy demand soared with rising temperatures. Emergency reserves were needed to prevent widespread disruption, which could have brought Australia's most populous region to a standstill. The price of electricity temporarily skyrocketed to a wholesale price of $14,700 a megawatt-hour, leading large-scale electricity users to halt production temporarily. The connection to Victoria has now been re-established, ending the immediate threat to NSW's power supply. But as fire fighters across the country continue to warn, the worst of the season has not yet begun, and further interruptions to energy users could be imminent.
Smoke slowdown
Though the fires have so far remained in rural areas with comparatively low population, smoke pollution has affected many more people. The cloud of smoke seen from space has been described as half the size of Europe and is covering many large population areas. Sydney has been experiencing the effects of smoke pollution from NSW fires for months now, and the smoke has since spread. Skies are now darkening as far as New Zealand, with haze affecting air quality in Wellington, Melbourne, and Canberra.
Though the long-term health and financial impacts of smoke pollution are not yet evident, in the short term, people with respiratory problems such as asthma have been endangered, and hospitalisations have spiked. Canberra, which at times over the last week has reported the worst air quality in the world, has been brought to a standstill as of the weekend. One woman is reported to have died as a result of air pollution. Flights been cancelled and businesses have closed their doors, including, ironically, the Department of Home Affairs, who are the national body responsible for coordinating Australia's disaster response. The loss of productivity due to the smoke is likely to emerge in the next quarterly GDP report.
These are only a few of the more financial costs of the Australian bushfires, the full extent of which will only be evident after the fires have died down. As those on the ground continue to grapple with the fallout in days and weeks to come, there are also stories of hope. Public donations from around the world have been flooding into Australia since the fires sparked international headlines. One fundraiser launched by comedian Celeste Barber has raised more than $30 million for the NSW Rural Fire Service and Brigade. Global support for this crisis will ease the burden on Australian emergency workers, though some losses cannot be mended with money.
If you are concerned about the bushfire crisis and would like to donate to relief services, you can check out the resource like planetkind project apart from many such projects which can be looked upon.
---
Disclaimer
This website is a service of Kalkine Media Pty. Ltd. A.C.N. 629 651 672. The website has been prepared for informational purposes only and is not intended to be used as a complete source of information on any particular company. Kalkine Media does not in any way endorse or recommend individuals, products or services that may be discussed on this site. Our publications are NOT a solicitation or recommendation to buy, sell or hold. We are neither licensed nor qualified to provide investment advice.