The ever-increasing machine learning (ML) initiatives holds potential in the near term as well as in the long haul. Machine learning is vouched to be one of the extremely impactful technologies in the artificial intelligence space. With its algorithm's capabilities, ML applications are competent enough to support devices to learn, enhance and make choices spontaneously, without any human participation or specific programming. Moreover, these technological advantages are expected to aid the companies in rapidly entering the worldwide ML market.
The use of ML has grown immensely over the last few years, bringing out the power of data in entirely a whole new way. Few of the most popular examples of application of ML includes devices and gadgets functioning on voice commands, real-time commercials on web pages, proposals from online search engines, cyber theft exposure and image recognition.
Going driverless is the next big era the technology sector is eyeing on to. Several automakers are recommending a broad range of driver-assist aspects such as lane changing, traffic jam assistant and many others. Such features are most important to the self-driving car technology. Notably, Alphabet Inc. is utilizing ML skills and techniques to power its self-driving vehicle, Waymo.
Also, the application of machine learning into the business platform, can transform the traditional ERP system, thereby helping, Cloud ERP providers to bridge the gap between the legacy ERP systems and the new digital business models.
Consequently, this advanced technology is being implemented by every other organisation, regardless of their industry kind, to make business functions more efficient and effective.
ML Forecasts for 2020 Shows Bright Prospects
Per media resources, both artificial intelligence and machine learning are expected to generate a total value of $2.6 trillion in sales and marketing along with a new era of technology by 2020. Further, they are also expected to add up to $2 trillion in manufacturing and supply chain planning during the same time frame.
Markedly, the business value generated by AI systems is predicted to achieve $3.9 trillion in 2022. The primary reason behind the adoption of ML in 2020 is due to the enhanced customer experience and personalization.
Also, advancements in big data analytics are encouraging the innovation of smaller data sets, which, in turn, are aiding to make the machine learning process quicker and easier. This apart, technologies such as blockchain, cloud computing, hyper-automation, empowered edge, augmented reality and IoT are expected to continue helping the expansion of ML in 2020.
3 Trendy Stocks
With a positive outlook for the ML space, investors might want to consider a few tech-focused stocks to their portfolios. We have identified three stocks with strong fundamentals and machine learnings capabilities that investors might want to ponder for 2020.
Telstra Corporation Limited (ASX: TLS)
Australia's top technology and telecommunication company, Telstra Corporation Limited offers a comprehensive array of telecommunication and information services. These incorporates internet and pay television, along with mobile services. The company's operating segment delivers complete planning, designing, manufacturing and construction of Telstra systems, networks, expertise and information technology solution.
The company is growing future for proficiency and expertise in products and technologies that comprise the machine learning, Internet of Things, cloud computing and artificial intelligence and big data analysis.
Telstra Corporation strategy happens to rotate around four approaches. Firstly, the company aims to simplify product offerings along with the establishment of digital experiences. Secondly, it focuses on the establishment of a separate infrastructure business division along with setting up of optionality after the rollout of nbn co. (national broadband network). Thirdly, the company is persuaded towards the simplification of the overall business structure and the way people work to make a healthy business environment, to better serve the customers. Last but not the least, the strategy rotates around giving the cost-saving programs along with healthy portfolio management.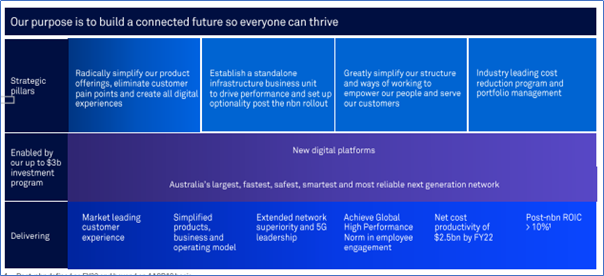 T22 Strategy (Source: Company Reports)
Stock Performance
Telstra Corporation has a market cap of $42.7 billion with ~ 11.89 billion outstanding shares. The company's stock price closed at $3.625 on 06 January 2020, up by 0.975% relative to the previous close.
Appen Limited (ASX: APX)
Appen Limited is involved in providing quality data solutions, human annotated datasets and services for machine learning and artificial intelligence applications for worldwide technology companies, auto manufacturers and government agencies. The company tops in 180 languages and more along with approx. 1 million experienced contractors.
Financial Takeaways for H1FY19 Period Ended June 30, 2019
The company provided the financial performance for the half year ended 30th June 2019:
Appen Limited's revenues for the period stood at $245.1 million, soaring 60% year over year. Relevance revenue went up 48% during the period and arrived in at $193.7 million. Underlying EBITDA stood at $46.3 million, up 81% year over year. Underlying EBITDA margins increased from 16.8% to 18.9% for the period. The company declared a dividend of 4 cents per share for the period (partially franked).
H1FY19 Financial Metrics (Source: Company Reports)
Stock Performance
Appen Limited has a market cap of $2.73 billion with ~ 121.11 million outstanding shares. The company's stock price closed at $22.175 on 06 January 2020, down by 1.532% relative to the previous close.
Nearmap Ltd (ASX: NEA)
The company is involved in providing technology for integrated geospatial map for enterprises, businesses and governments. Its goal is to empower all types of businesses without the focus on industry and size with reliable aerial data.
Recent Updates
On 12 December 2019, the company announced the acquisition of intellectual property and technology from Primitive LLC. This step is a part of the company's plan to achieve and produce roof geometry from its capabilities and boost the overall customer experience. The price consideration of the acquisition was US$3.5 million, which was financed through $70 million equity raised in September 2018.
On 16 December 2019, the company announced that Robert Melville Newman, one of the Directors in the company, has acquired 666,667 fully paid ordinary shares for a consideration of $1.06 per share.
FY2019 Highlights for the Period Ended on 30 June 2019:
The company delivered revenues of $77.64 million for the period, soaring 45% year over year. Subscriptions came in at 9,800, up 11% year over year. The company stated an upsurge of 23% in group average revenue per subscription (ARPS). Group annualised contract value for the period stood at $90.2 million, an increase 36% year over year. Group customer churn decreased to 5.3% as compared to 7.5% reported in the year-ago period. The company saw a strong Group sales team contribution ratio (STCR) of 106%. The company reported a gross margin of 71% during the period. EBITDA tax increased to $15.5 million in FY2019.
Cash balance at the end of FY19 was $75.9 million. Cash flow from operations for the period stood at $24.9 million, up from $13.7 million reported in the year-ago period.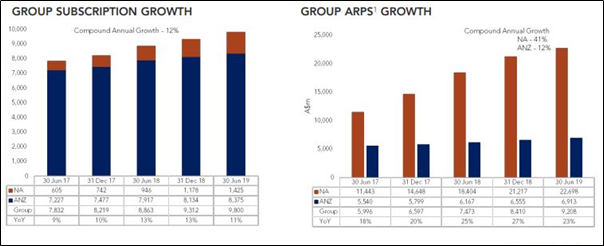 Company Financials (Source: Company Report)
Outlook
The company anticipates executing on its growth approaches and predicts annualised contract value for the group in the range of $116 million to $120 million for FY2020.
Stock Performance
Nearmap has a market cap of $1.14 billion with ~ 452.46 million outstanding shares. The company's stock closed at $2.495 on 06 January 2020, down by 0.992% relative to the previous close.
---
Disclaimer
This website is a service of Kalkine Media Pty. Ltd. A.C.N. 629 651 672. The website has been prepared for informational purposes only and is not intended to be used as a complete source of information on any particular company. Kalkine Media does not in any way endorse or recommend individuals, products or services that may be discussed on this site. Our publications are NOT a solicitation or recommendation to buy, sell or hold. We are neither licensed nor qualified to provide investment advice.