Leading biotech giant CSL Limited (ASX:CSL) is involved in the development, manufacturing and marketing of pharmaceutical and diagnostic products, human plasma fractions and cell culture media. The company's expertise lies in the areas of rare and critical diseases as well as influenza vaccines.
CSL operates in two core businesses: CSL Behring, a company dealing in biotherapeutics with wide-ranging quality products, and Seqirus, a company dealing in influenza virus. The company employs ~25,000 people and provides life-saving medicines to more than 70 countries. The unique combination of focus on research & development, operational excellence and commercial strength enables the company to develop and deliver innovations so that the patients can improve their conditions and live life to the fullest.
In the last one year, CSL had an enormous growth with its share price increasing more than 50% from less than $200 to more than $300 on 22 January 2020.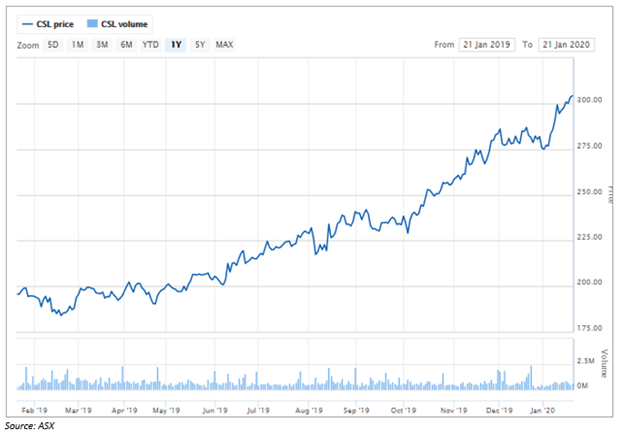 On 22 January 2020, the stock of CSL closed the day's trade at $308.905, up by 1.5% from its previous close. The company's market capitalisation stood at nearly $138.13 billion, with almost 453.87 million shares outstanding. The company has delivered a positive return of 55.45% in the last year.
Let us now discuss, the achievements of CSL in 2019-
CSL Behring - CSL Behring focuses on developing and delivering the broadest range of products in the industry for the treatment of severe and rare diseases like primary immune deficiencies (PI), von Willebrand disease (vWD), chronic inflammatory demyelinating polyneuropathy (CIDP), inherited respiratory disease, haemophilia and hereditary angioedema (HAE). The products provided by CSL Behring are also applied in burn treatment, cardiac surgery and for urgent warfarin reversal.
For the financial year 2019, CSL Behring recorded an overall sales growth of 11% at constant currency.
The core products of the company immunoglobulins and albumin grew by 16% and 15%, respectively.
Specialty products recorded a growth of 6% while haemophilia delivered a moderate drop of 3%.
Moreover, in the financial year 2020, CSL Behring is planning to open around 40 new centres.
Seqirus: influenza vaccines business
Seqirus is a key contributor to the prevention of influenza globally and manages state-of-the-art manufacturing facilities in Australia, the US, and the UK. Seqirus has leading research and development (R&D) capabilities, a comprehensive and differentiated product portfolio, and commercial operations in ~20 countries.
In the financial year 2019, Seqirus delivered another impressive performance with total revenue growth of 12%, supported by the increase in sales of seasonal influenza vaccines, which was up by 19%.
Seqirus' portfolio of products continues to shift to the higher valued quadrivalent influenza vaccines. The sales of the adjuvanted influenza vaccine, FLUAD, more than doubled, driving the 51% sales growth in the European market.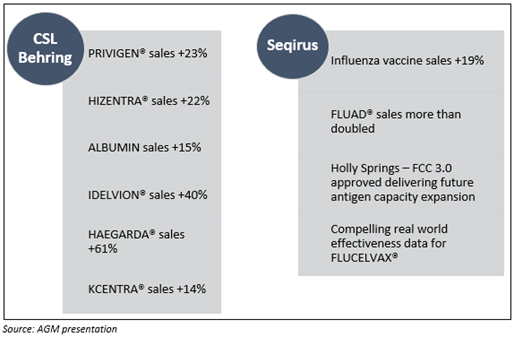 Investment in research and development pipeline
The research and development portfolio of the company is divided into six therapeutic areas:
In 2018/19, CSL invested USD 832 million in research and development (R&D) efforts across its businesses.
CSL's global R&D activities focus on the development of innovative and improved products as well as on the manufacturing processes, thereby ensuring the continued growth of the company.
New product launch in the Financial year 2019
In FY2019, 24 product registrations or new indications for severe diseases were launched. Robust progress was made in CSL Behring's immunology and neurology portfolio throughout the past year.
In Japan, intravenous immunoglobulin, PRIVIGEN® was approved for acute as well as maintenance therapy of chronic inflammatory demyelinating polyneuropathy (CIDP).
Japan's Ministry of Health, Labour and Welfare, in March 2019, approved two of CSL's immunoglobulin therapies for CIDP patients.
HIZENTRA®, formerly approved to treat primary immunodeficiency, has become first and only subcutaneous immunoglobulin approved for maintenance therapy for the treatment of CIDP in Japan.
In April 2019, CSL Behring gained US FDA approval of convenient single-vial administrations for ZEMAIRA®, Human α1-Proteinase Inhibitor.
For Seqirus, in December 2018, marketing approval from the European Commission for its cell-based seasonal influenza vaccine, FLUCELVAX® TETRA was achieved.
In February 2019, influenza vaccine AFLURIA® QUAD was also granted an expanded indication for use in people six months of age and older in Australia, extending influenza vaccine offerings of Seqirus.
In FY2019, Seqirus supplied about 10 million doses of FLUAD for the entire 65 years and above population in the UK.
Clinical trials and regulatory inspections
In 2018/19, CSL had 34 clinical trials in operation across all therapeutic areas. Of those, three had a first patient enrolled in the trial during the financial year.
A total ten inspections including three for CSL Behring and seven for Seqirus were undertaken by regulatory agencies such as the US Food and Drug Administration (FDA), the Paul Ehrlich Institute (PEI) and the Pharmaceuticals and Medical Devices Agency of Japan (PMDA).
All inspections verified adherence with the requirements of good clinical practice (GCP), validated the data integrity of our clinical trials and had no impact on clinical trial licences or operations.
FY2020 Outlook
For FY 2020, the company is expecting a net profit after tax (NPAT) of nearly US$2,050 million to US$2,110 million at constant currencies, up by approximately 7-10% on the financial year 2019.
The company expects revenue growth of nearly 6 per cent up by ~10% adjusted for GSP.
CSL anticipates continuous strong demand for plasma and recombinant products, and there would be a one-off effect on albumin sales arising from the transition to a new distributor model in China.
CSL's Seqirus portfolio to result in line with prior guidance and continues to benefit from product differentiation and process improvement.
Slight margin growth from plasma product mix shift, recombinant products growth & conclusion of HELIXATE®.
The company is expanding the market for Flucelvax by launching in Europe in the 2019/20 northern hemisphere season and have submitted a dossier to the Therapeutic Good Administration (TGA) in Australia.
If the momentum continues in 2020 as seen in the financial year 2019, which is expected by the investors and analysts - CSL would be well-positioned in forthcoming years, and it could be one of the topmost valuable listed companies on the Australian Securities Exchange (ASX).
---
Disclaimer
This website is a service of Kalkine Media Pty. Ltd. A.C.N. 629 651 672. The website has been prepared for informational purposes only and is not intended to be used as a complete source of information on any particular company. Kalkine Media does not in any way endorse or recommend individuals, products or services that may be discussed on this site. Our publications are NOT a solicitation or recommendation to buy, sell or hold. We are neither licensed nor qualified to provide investment advice.