Australia based resource exploration company, Blina Minerals NL (ASX: BDI) holds interest in one of the world's premier mineral provinces, Burkina Faso. The company also owns a significant tenement position in West Africa's Birimian Gold Province, through which it is establishing exploration projects on gold and numerous other commodities.
Blina holds significant interests in Maintirano Copper Project, Madagascar and Diakouli Gold Project, Burkina Faso. Let us take a look at the company's key projects in some detail below:
Maintirano Copper Project, Madagascar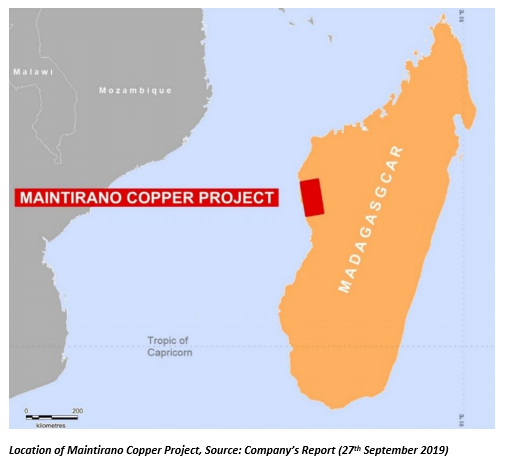 The Maintirano Copper Project is located in western Madagascar with a strategic landholding of 1,757 sq. km, covering extensively spread copper occurrences hosted in Cretaceous volcanic rocks. The strategic land holding contains epithermal, low-sulphide copper mineralisation hosted in flood basalts which broke out during periods of continental rifting related to the break-up of the supercontinent Gondwana during the Cretaceous period.
The copper mineralisation observed at the project bears identical structural setting and style of mineralisation as the Keweenaw Copper Province in Michigan, USA, where 11 billion pounds of refined copper from ores grading between 1.5 per cent and 3 per cent copper was produced over a period of 100 years.
The project has more than 30 known copper occurrences detected at the surface in an un-explored area. Out of these occurrences, some mined on artisanal-scale are known and distributed throughout Cretaceous basalts as secondary copper carbonates and native copper in vesicles and porous zones such as flow top breccias and steeply dipping veins which cover secondary copper carbonates, chalcocite and cuprite.
The majority of known copper occurrences on tenements are held by a local company, Mada Hanra SARL.
Acquisition of Maintirano Project
Blina informed about its intention to acquire Madacu Resources Pty Ltd and the right to commence exploration on the Maintirano Copper Project in Madagascar in November 2018. Both the companies entered into a Binding Option Agreement, which was subject to the ASX Listing Rules with BDI obtaining any necessary shareholder approvals and the completion of satisfactory due diligence.
Blina conducted two field campaigns at the Maintirano Copper Project which demonstrated high grade copper mineralisation in most of the 113 rock chip samples collected by the company, with values surpassing 11 per cent copper in some samples. The samples that returned more than 1 per cent copper from the 2018/2019 campaigns are summarised in the below table:
Following the satisfactory completion of commercial and technical due diligence, Blina exercised the option to acquire 100 per cent interest in the shares of Madacu on 22nd February 2019.
The company is further planning to commence geological and geophysical surveys over the sulphide bearing veins and the large vesicular copper targets which may cover strata bound deposits.
Diakouli Gold Project, Burkina Faso
The Diakouli Gold Project is a joint venture, whereby Blina holds the right to acquire 80 per cent stake by spending USD 1,000,000 over a period of 4 years. Blina has so far spent USD 370,000 on exploration at the project.
Diakouli and Diakouli Exploration Licences in Burkina Faso were renewed as two separate tenements for an initial period of 3 years of a term of 9 years in 2018, one in the name of Sphinx Exploration of Burkina SARL and other in the name of Blina Mineral Burkina SARL.
Diakouli East Licence No 2018/DF-0/PR-18/2874 has an area of 140.23 sq. km and the Diakouli Exploration Licence No 2018/DF-0/PR-18/2875 has an area of 116.39 sq. km.
Project Location
Diakouli is situated at 350km to the southeast of Ouagadougou in the eastern Burkina Faso's Tapoa region, covering an area of about 145km2. It is located at about 15km to the north-northeast of Orbis Gold Ltd's gold discovery of 1.8 million ounces at Natougou, and around 33km from the regional township of Kant Chari on the RN19 route to Diapaga.
Blina was fascinated by the exploration results at the Diakouli area from a previous explorer, in which the soil sampling demonstrated high gold values above 50 parts per billion. The company is planning to conduct an ambitious and extensive programme to completely explore the geological, geophysical and geochemical data on the license.
Backed by its significant projects in outstanding locations, Blina seems to be well positioned to progress further with the development of its exploration projects.
BDI last traded at $0.001 on 14th October 2019.
---
Disclaimer
This website is a service of Kalkine Media Pty. Ltd. A.C.N. 629 651 672. The website has been prepared for informational purposes only and is not intended to be used as a complete source of information on any particular company. The above article is sponsored but NOT a solicitation or recommendation to buy, sell or hold the stock of the company (or companies) under discussion. We are neither licensed nor qualified to provide investment advice through this platform.