Zelda Therapeutics Ltd (ASX: ZLD)
Cannabis Group Zelda Therapeutics released its quarterly results for the three months ended 30 June 2019. The company reported a continued progress in its core clinical and preclinical programs and is in the process of mapping strategies to rapidly commercialise its medicinal cannabis products.
The company closed the June Quarter with a cash position of $3.1 million, including the cash refund of $769,000 it received in May 2019 under the Federal Government's Research and Development Tax Incentive Scheme.
Zelda further confirmed its sound financial position to undertake clinical programs including its study in opioids reduction that aims to assess the effectiveness of medicinal cannabis to reduce opioid dependence in patients with chronic non-cancer pain.
In early July, the company announced that its Opioid Reduction Trial has been formally approved by the St Vincent's Hospital Ethics and Governance Committees. The report further read that the Phase 1 trial will start immediately, with final results expected by Q4 2019.
Looking forward, Zelda asserted that it is on track to report on the outcome from its clinical trials for insomnia, autism and opioid reduction in the second half of 2019. Zelda's insomnia clinical trial is first in the world to have a primary endpoint assessing the impact of a full-spectrum cannabis extract on sleep.
ZLD stock price declined 4.706% to close at $0.081 on 31 July 2019.
Micro-X Limited (ASX: MX1)
Micro-X Limited is an Australian hi-tech company that provides cold x-ray technology for the health and security markets globally. This ASX-listed healthcare player had the best quarter of Fiscal 2019 in the last three months.
MX1 experienced a continued growth in customer receipts for the Carestream DRX Revolution Nano product that led its quarterly cash receipts from customers to grow to $0.94 million, up ~40% on March quarter. This lead product of the company, Nano, is now operating in ten countries that include the USA, Canada, UK, Germany, France, Italy, UAE, Singapore, Thailand and South Korea.
The company is primarily into the development of proprietary x-ray tube containing a carbon nanotube (CNT). During the quarter, it completed the next stage of its facility expansion at the Tonsley Innovation District in Adelaide. This expansion added a further 700m2 to the facility with new dedicated production and engineering areas for the Rover and future products, expanded production and handling areas for the Nano and a shielded room for customer x-ray demonstrations.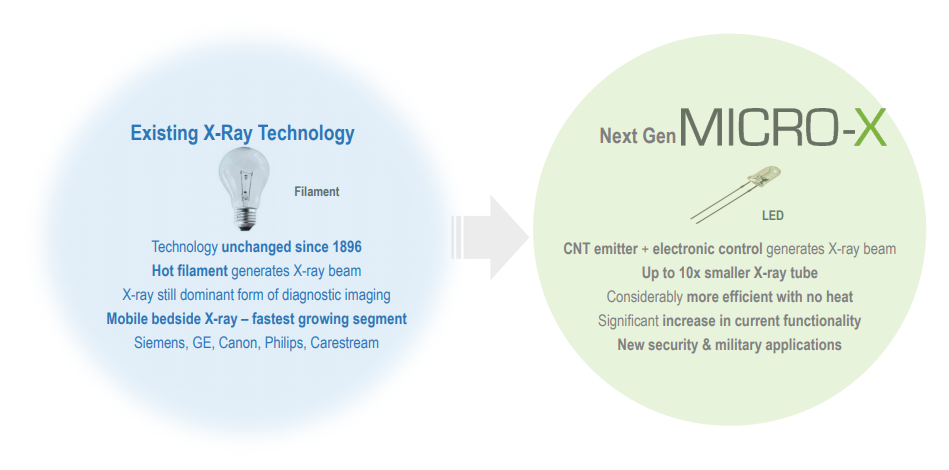 Micro-X next generation x-ray technology (Source: Company Presentation)
Post the end of June 2019 Quarter, the company reported the completion of design verification and safety testing of its new, in-house produced x-ray tube for Nano.
Micro-X Managing Director Peter Rowland stated that the company now has an expanded world class manufacturing capability and its own carbon nanotube emitter which gives us control of our destiny and a far better product and margin.
More interestingly, the company completed a $10 million investment by global technology giant, Thales Group, during the quarter ended 30 June 2019. Under the transaction Thales will manufacture the multi-emitter x-ray tube designed for the mobile backscatter image (MBI) as part of the company's third product aimed at the unmanned assessment of potential improvised explosive devices (IEDs).
MX1 reported a cash balance of $1.60 million as at 30 June 2019 plus $5 million received from Thales on 5th July 2019.
The stock price surged up 3.077% to last trade at $0.335 on 31 July 2019.
Simavita (ASX: SVA)
MedTech company, Simavita announced the significant reduction of 2.86% in its cash outflow to $0.99 million for the quarter ended 30 June 2019. Its closing cash reserves stood at AU$689k, reflecting a tight control on the ongoing operating cost.
However, the company forecast negative operating cash flows to continue and, accordingly, projects its cash outflows for the coming quarter to be $1.45 million, including additional commercialisation and one-off software development costs.
On 24 June 2019 the company received the approval of shareholders at a Special General Meeting for a $3.14 million financing by way of Convertible Notes. Under this program, Simavita received $1.39 million during the quarter and a further $750k in July 2019. The remaining funds of $1 million are reported to be received in November this year, subject to certain milestones.
The company intends to utilise these funds towards the key commercialisation activities in major markets, sales and marketing, the completion of some regulatory approvals and the delivery of key product lines in conjunction with manufacturing partners, among other areas.
SVA stock last traded at $0.017. Over the past 12 months, the stock has declined by 5.56% including a negative price change of 19.05% in the past three months.
Also read Simavita secures $3 million funding commitment for AlertPLUS™ commercialisation
Cogstate Ltd (ASX: CGS)
Cogstate Ltd, a neuroscience company, today announced the execution of a sales contract for provision of technology and services to the open label extension of an ongoing phase 2 clinical trial in Alzheimer's disease. The execution of this latest sales contract takes the total value of sales contracts executed since 1 July 2019 to $4.9 million.
Cogstate is currently managing the cognitive assessments in the ongoing phase 2 clinical trial. Under the new contract, Cogstate will expand the services currently provided to include the assessments required for the open label extension of the clinical trial.
For the year to 30 June 2019, Cogstate executed Clinical Trials sales contracts with a collective total value of $18.0 million, a 50% decrease from $36.1 million of sales contracts executed during the 2018 financial year.
CGS stock price edged up by 2.703% to last trade at $0.190 on 31 July 2019.
Bionomics Limited (ASX: BNO)
During the June 2019 quarter, Bionomics Limited presented results from the Phase 2 Post-Traumatic Stress Disorder (PTSD) Trial using BNC210. Under the study, the demonstration by pharmacometric exposure-response modelling indicated that BNC210 has the potential to treat PTSD provided that the blood exposure levels predicted by the modelling can be achieved.
The company aims to achieve steady state concentrations of ~25 mg.hr/L using the solid dose formulation of BNC210. It therefore has invested in a single ascending dose pharmacokinetic study, which is estimated to cost $300,000 and results are anticipated to be available by Q4 CY2019.
Bionomics' CNS Discovery Engine (Source: Company Presentation)
As at 30 June 2019, Bionomics' cash balance stood at $13.98 million, incorporating the cash receipts from customers of $1.92 million in total. During the quarter, the company reported an increase of 33% in research and development costs compared to the previous quarter, broadly driven by the cost associated with the BNC210 Clinical Trial for the treatment of Agitation, now completed.
Bionomics anticipates a feedback from its Type C meeting with the FDA in early CY4Q 2019. Whilst the internal focus and current R&D spend is restricted to CNS programs, Bionomics continues limited activities to maximize the value of its legacy oncology programs through divestment and/or out-licensing both BNC101 and BNC105.
Bionomics' stock price declined by 4.878% to close at $0.039 on 31 July 2019.
To read Bionomics' Strategic Review Results, please click here.
Telix Pharmaceuticals Limited (ASX: TLX)
Telix Pharmaceutical today announced a sales update for the TLX591-CDx (68Ga-PSMA11) kit, branded in the United States as illumetTM. The company reported a 30% increase in sales to A$792,000 in June 2019 quarter compared to Q1 2019.
Clinical-stage biopharmaceutical company, Telix Pharmaceutical is focused on the development of therapeutic and diagnostic products based on molecularly targeted radiation (MTR) or targeted radiopharmaceuticals. In the second quarter, the Group booked orders of A$1.2 million, with A$792,000 of revenue recognised and A$942,000 cash reported.
Telix Revenue and Cash Generation Quarter on Quarter (Source: Company Announcement)
The report read that the number of Kits deployed on a monthly basis has grown from approximately 400 units/month at end-Q1 to ~800 units/month at end-Q2. However, the proportion of Kits deployed that can be attributed to clinical collaborations and samples provided to prospective clinical sites for customer evaluation (business development) has also increased to 24% of total deployed units.
TLX share price dropped by 5.686% to close at $1.410 on 31 July 2019.
OncoSil Medical Ltd (ASX: OSL)
During the quarter, OncoSil Medical Ltd shared positive Overall Survival data for its PanCo study at the American Society of Clinical Oncology (ASCO) Annual Meeting 2019 in Chicago.
The PanCo study is an international multi-institutional, single arm study that aims to r investigate the safety, efficacy, feasibility and performance of the OncoSil device when implanted intra-tumorally in patients with unresectable locally advanced pancreatic cancer (LAPC).
Medical device company, OncoSil reported that the study has shown promising survival estimates with mean overall survival of 16 months. However, the accepted population median overall survival estimates of patients with LAPC is just 9-11 months, as per the company's information.
The company had the cash outflows from operations of $2.5 million during the quarter that resulted in a cash balance as at 30 June 2019 of $7.7 million.
OSL stock price edged up by 4.762% to close at $0.066 on 31 July 2019.
---
Disclaimer
This website is a service of Kalkine Media Pty. Ltd. A.C.N. 629 651 672. The website has been prepared for informational purposes only and is not intended to be used as a complete source of information on any particular company. Kalkine Media does not in any way endorse or recommend individuals, products or services that may be discussed on this site. Our publications are NOT a solicitation or recommendation to buy, sell or hold. We are neither licensed nor qualified to provide investment advice.