Cash flow management and liquidity are important considerations for investors approaching retirement as they experience many changes in their lives related to their health, income, lifestyle and financials, when they no longer work. The priorities shift from accumulating retirement savings to generating steady sources of income which calls for smart retirement financial planning.
With increasing longevity, retirees need to ensure that their assets last as long as they live, and cash keeps coming in to meet the monthly expenses. In developed countries, a typical individual may still anticipate living for 20 years or more after he/she retires in their 60s. The age-old wisdom to survive on the interest and dividends paid on the investments while not disturbing the principal is turning obsolete. Lately, with handy extensive research and multiple investment tools available, cash flow management is more flexible and responsive.
Retirement income may come from a variety of sources and at different times, which necessitates the need to manage that income efficiently.
Cashflow Management Strategies
Annuities
An annuity is a contract signed with an insurance company, whereby an individual has to make a lump sum payment or a series of payments in lieu of obtaining regular disbursements, perhaps monthly checks, beginning at a time mentioned in the contact (immediately or at some point in the future).
Unless a person is a retired public service employee or receiving some traditional pension from the company that they worked for, which is rare, it is difficult to ensure monthly liquidity. Thus, an annuity ensures a steady stream of income after retirement.
The different types of annuities include: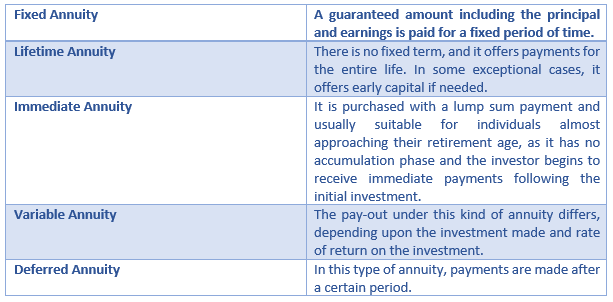 One can even buy an annuity with survivor benefits whereby the person?s spouse receives the regular pay checks after his/her death but for that they have to accept smaller monthly pay-outs in the beginning. Immediate annuities are good value considerations for those individuals who are trying to make their money last and are not sure if their savings will actually be sufficient for their lifetime.
Diversification of Portfolio
In finance, an intelligent risk management strategy for investors is to diversify their portfolio by allocating capital across a variety of different assets, which reduces the exposure to any specific asset.
Some popular financial instruments to invest in include bonds, stocks, exchange-traded funds (ETFs), commodities, and real estate investment trusts (REITs).
However, lately in Australia, interest rates continue to fall and as a result more than $ 300 billion could be in flux as households and investors contemplate what to do with their savings and investments. Since, bond prices are more responsive to interest rate changes, they are not the best investment to consider for the people approaching retirement.
Investors may also look to adding index funds or fixed-income funds to the basket as investing in securities that track various indexes are a long-term diversification investment. Also, doing this can largely help hedging one?s portfolio against market volatility.
Equities, also popularly known as stocks, are a wonderful criterion to earn some potentially high returns. The best practice is to put the money across stocks from different sectors that are reliable in the long run or the investor may can even form his/her own fund comprising a limited number of stocks.
Good Dividend Income Streams
Dividend is a payment made to the shareholders as a proportion of the company?s profits or surplus. The ability to pay steady dividends over time provides a fair clue about the company?s financial health as well as prospects. Investors may look to buying and holding high quality businesses that reliably pay higher or consistent dividends year-after-year, thereby helping them to build wealth over a period than instantly through other riskier investment alternatives.
In Australia, the leading banks top the investors? list and for a good reason that they offer fully-franked dividend yields over 5%. These include Commonwealth Bank of Australia (ASX: CBA), Westpac Banking Corp (ASX: WBC), National Australia Bank Limited (ASX: NAB), Bendigo and Adelaide Bank Limited (ASX: BEN), Bank of Queensland Limited (ASX: BOQ) and Australia and New Zealand Banking Group Limited (ASX: ANZ).
Other companies in Australia that pay fairly high dividends include IT player? Dicker Data Limited (ASX: DDR), financials company WAM Capital Limited (ASX: WAM), and entertainment company Tabcorp Holdings Limited (ASX: TAH).
Adding dividend paying stocks to the retirement portfolio can be much reliable. The recent trends suggest that the Global Dividends have been rising since the onset of 2019 and broke all time quarterly records in Canada and the United States. Even amidst the international macro-economic uncertainty, global dividend payout grew 7.8% to a first-quarter record of USD263.3 billion, according to Janus Henderson.
The top regions that contributed to the global dividend growth comprised of Asia Pacific with 14.7%, including Australia, for Q1 2019 compared to Q1 2018, followed by the UK and Europe.
Talking of Australia in particular, there was a dividend growth of 5.4% in I Q1 2019, driven by the larger dividends from commodity companies like Woodside Petroleum (ASX: WPL) and BHP Group Limited (ASX: BHP).
Pension Funds
According to the Australia Trade and Investment Commission, Australia?s pension funds rank the third largest in the world with total assets of approximately USD 1.5 trillion in 2015. Australia pension funds industry accounted for 5.7% of the world?s total pension funds in 2014.
Pension funds are called by the name superannuation fund. They are investment pools (plan, fund, or scheme) that pay for an employee?s retirement commitments. Certain corporations and all levels of government offer pensions.?The pool of funds is invested by the organisation on the employee's behalf, and the return on the investments become a source of income for the worker when he decides to retire.
In Australia, some of the superannuation pension funds include account-based pension, transition-to-retirement pension (TTR) and death benefit pension.
Things to consider while monitoring your finances
As an investor starts to plan for retirement and monitor his/her finances, there are certain potential disruptions or developments that may arise and need to be adjusted for.
For instance, interest rate changes, as is the current scenario in Australia, and market moves may influence a decrease or increase in income from savings/investments. If interest rates decline, an individual must tone down his/her expenses if a fixed percentage from the investment assets is being periodically withdrawn. Alternatively, an investor may look to tweaking the investment mix to pursue other potential sources of income.
There may also be amendments in the central, state, and local tax rates and regimes. Other variables that may impact retirement planning assumptions include inflation and health care costs.
Significant life events say, death of a spouse, addition or loss of a dependent, marriage may also impact one?s cash flow.
A Clear Path to Financial Stability
With these tools in place, a future free of surprises can be planned. Efficient cash flow strategies pay off both in the present and into the future.
---
Disclaimer
This website is a service of Kalkine Media Pty. Ltd. A.C.N. 629 651 672. The website has been prepared for informational purposes only and is not intended to be used as a complete source of information on any particular company. Kalkine Media does not in any way endorse or recommend individuals, products or services that may be discussed on this site. Our publications are NOT a solicitation or recommendation to buy, sell or hold. We are neither licensed nor qualified to provide investment advice.