Highlights:

Miami, Florida-based Carnival Corporation (CCL) is a cruise company.
The company's revenue increased by 50% QoQ in the second quarter of 2022.
It expects a net loss for Q3, 2022 and the full year of 2022.
Carnival Corporation (NYSE: CCL) stock was up on Friday after the company provided financial updates for the second quarter ended May 31, 2022.
The stock jumped 8.68% to US$10.48 at 10:34 am ET, with trading volume rising to 50,527,004 from its 90-day average volume of 40,421,188.
The Miami, Florida-based cruise company operated a fleet of 91 ships at the end of fiscal 2021. It has a market capitalization of US$12.27 billion.
Also Read: Five penny stocks to consider in July: DLNG, SREV, GASS, TEDU & STEK
Business Updates:
The company's revenue increased by around 50% QoQ to US$2.4 billion in the second quarter of 2022, while its GAAP net loss was US$1.8 billion or US$1.61 per diluted share for Q2, 2022.
However, it reported an increase in occupancy in the second quarter. The occupancy was 69% in Q2, 2022, compared to 54% in the prior quarter. Carnival said that the period between March 28 and April 3 was the busiest booking week in the company's history.
Also Read: DAL to UAL: Five S&P 500 airlines stocks to explore this summer
The company said its booking volumes for future sailings nearly doubled in Q2 compared to the first quarter of 2022, noting that it was the best quarterly booking volume since the pandemic.
Its customer deposits also increased to US$5.1 billion as of May 31, 2022, from US$3.7 billion at the end of the previous quarter. Yet, it expects a net loss for Q3 and the full year of 2022.
Also Read: Can these 5 utility stocks weather inflation? DUK, SO, D, AEP & SRE
The company reported a significant reduction in carbon emissions. It had achieved its 2020 goals three years early in 2017.
It has now updated the baseline year from 2008 to 2019 to better measure and communicate its climate goals' progress to stockholders and investors.
Also Read: 5 natural gas stocks to explore in Q3: LNG, DCP, KMI, EQT & SWN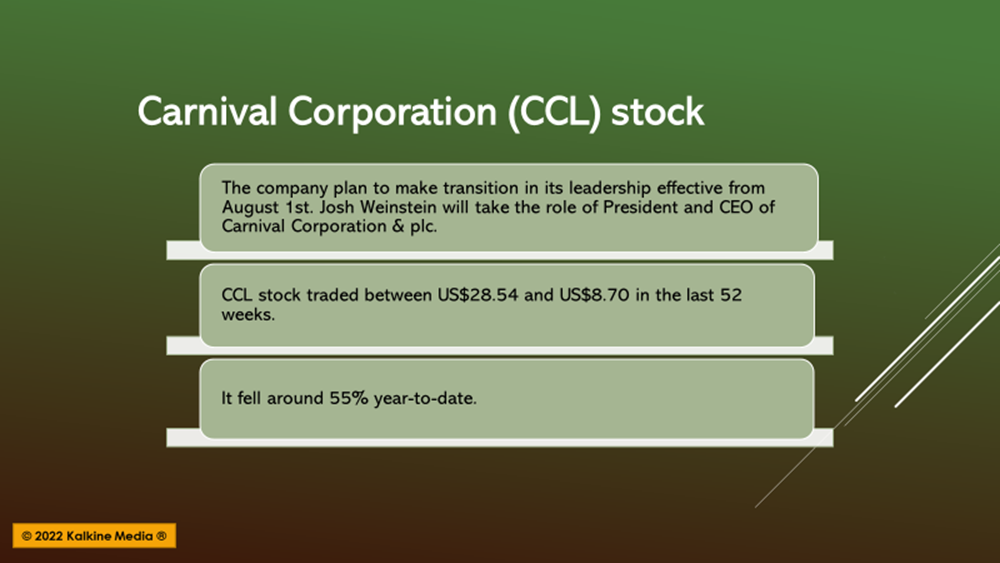 Also Read: GOGO to LPTV: Five communication stocks to watch in July
The company reiterated its plan for leadership transition from August 1. Arnold Donald, President and CEO, will be appointed Vice-Chair of the Boards of Directors, and Josh Weinstein, the current COO of the company, will take the role of President and CEO of Carnival Corporation & plc.
The CCL stock touched the highest of US$28.54 and the lowest of US$8.70 in the last 52 weeks.
Also Read: HST to VTR: Should you explore these 5 REITs as inflation shoots up?
Bottom line:
The pandemic has put a pause on outdoor activities, including cruising. Though the tough social distancing measures are no longer there, the losses the industry suffered due to restrictions may take a long time to recover. The improved booking figures bettered the company's own estimates. However, investors should apply due diligence before investing in stocks.