Source: optimarc, Shutterstock
Summary

Gold price touched all time high of US$2,089.2 per ounce in August, 2020.
Barrick's gold revenues in 2020 grew 27% year over year.
Newmont targets 2021 gold production to be 6.5 million ounces.
Kinross' expects annual gold equivalent production to be 2.4 million ounces in 2021.
Gold price soared over 24 percent in 2020. The yellow metal, which started trading at US$1,521 per ounce at the start of 2020, touched all time high of US$2,089.2 per ounce in the next eight months.
The COVID-related economic downturn fuelled the precious metals' price rise as investors hedged money on gold. However, it came under pressure following the availability of coronavirus vaccines.
Gold price dropped to US$1,895.1 per ounce on December 31. The price further fell by around 9 percent year-to-date. The metal was trading at US$ 1,712.70 per ounce on March 29.
Barrick Gold Corporation (NYSE:GOLD), Newmont Corporation (NYSE: NEM) and Kinross Gold Corporation (NYSE: KGC) are among the NYSE-listed gold miners that saw their stocks rally in 2020.
The companies reported robust results in 2020.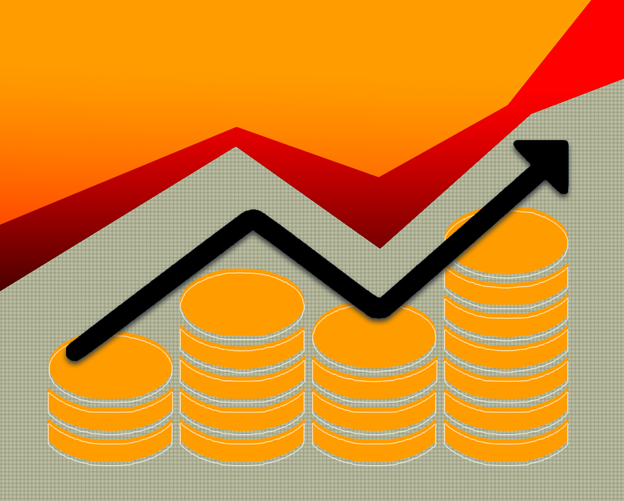 Copyright © 2021 Kalkine Media LLC
Barrick's gold revenue up 27 percent in 2020
The Toronto-based Barrick's gold production in 2020 totaled 4.76 million ounces, down from 5.47 million ounces in 2019.
Barrick's revenue rose 30 percent year-over-year to around US$12.59 billion. Gold revenues during the year soared 27 percent year-over-year, after recording a full year of production from Nevada Gold Mines.
Adjusted net earnings during the period jumped 125 percent to US$1.15 per share from 51 cents in 2019. In addition, the company noted that it ended the year with zero debt.
In 2021, Barrick expects its gold production in the range of 4.4 million ounces to 4.7 million ounces. Capital expenditure is forecasted between US$1.80 billion to US$2.10 billion, higher than US$1.65 billion in 2020.
Barrick's stock which opened at US$17.21 on Jan. 1, 2020, grew over 32 percent during the year to close at US$22.78 on December 31.

Image Source: Refinitiv, Barrick's share performance in 2020
Newmont target 2021 gold production at 6.5 million ounces
Newmont's 2020 revenue grew 18 percent year-over-year to US$11.49 billion. Attributable gold production declined 6 percent to 5.9 million ounces primarily due to the COVID-19 impact at its Yanacocha and Cerro Negro operations.
The company's adjusted net income in 2020 was US$2,140 million or US$2.66 per diluted share, up from $970 million or US$1.32 per diluted share in 2019.
The Colorado-based Newmont also declared a quarterly dividend of 55 cents per share, up 38 percent from the previous quarter dividend.
In 2021, Newmont anticipates its attributable gold production to reach 6.5 million ounces. The company aims to produce gold in the range of 6.2 million ounces to 6.7 million ounces through 2023 and 6.5 million ounces to 7 million ounces by 2025.
Newmont stock rose over 37 percent in 2020 to close at US$59.89 on Dec. 31, 2020.
Kinross's net earnings doubled in 2020
Kinross' posted revenue decline by 20 percent YoY to US$4.21 billion in 2020. The attributable gold equivalent production dropped to 2.37 million ounces from 2.51 million ounces in 2020.
The company said its adjusted net earnings in 2020 more than doubled to US$966.8 million, or 77 cents per share, from US$422.9 million, or 34 cents per share in 2019.
Meanwhile, Kinross expects its annual gold equivalent production in 2021 to be 2.4 million ounces. In 2022, the production is projected to increase to 2.7 millon ounces and further to 2.9 million ounces in 2023. Capital expenditure in 2021 is anticipated in to be US$900 million.
In 2020, the Canadian gold mining company saw its stock rally over 54 percent on NYSE to close at US$7.34 on Dec. 31, 2020.