Highlights

Marriott International reported strong fourth-quarter earnings despite Omicron surge.


Its revenue more than doubled in the quarter.


The Marriott MAR stock returned more than 31% gains in the past 12 months.
Hotel chain Marriott International (NASDAQ: MAR) on Tuesday posted a fourth-quarter profit of US$458 million in a strong comeback from its losses as travel bookings picked up.
After the results, the Marriott (MAR) stock was up over 5% in intraday trading.
The JW Marriott and Ritz-Carlton owner said business and leisure travel bookings saw robust growth in the holiday season despite the Omicron surge at the time, beating estimates.
Also Read: Intel Corporation (INTC) acquires Tower (TSEM) for US$5.4 billion
Factors that have helped Marriott earnings:
The Maryland-based company benefitted from the increased occupancy rates in its hotels as rapid vaccinations reduced people's fears for holiday travel.
Also Read: On 20th anniversary, PayPal (PYPL) caps era of growth, sets new goals
North American and Europe had begun relaxing the covid travel restrictions in the fourth quarter. Marriott's market cap is around US$58.13 billion and runs some 8,000 properties globally.
Marriott CEO Anthony Capuano said each region saw a significant recovery in revenue per available room (RevPAR) in the final quarter, compared to the previous quarter. However, China's zero COVID policy stalled the recovery in mainland China, he added.
Also Read: From AMZN to DLTR: Will these stocks bring cheer to subdued market?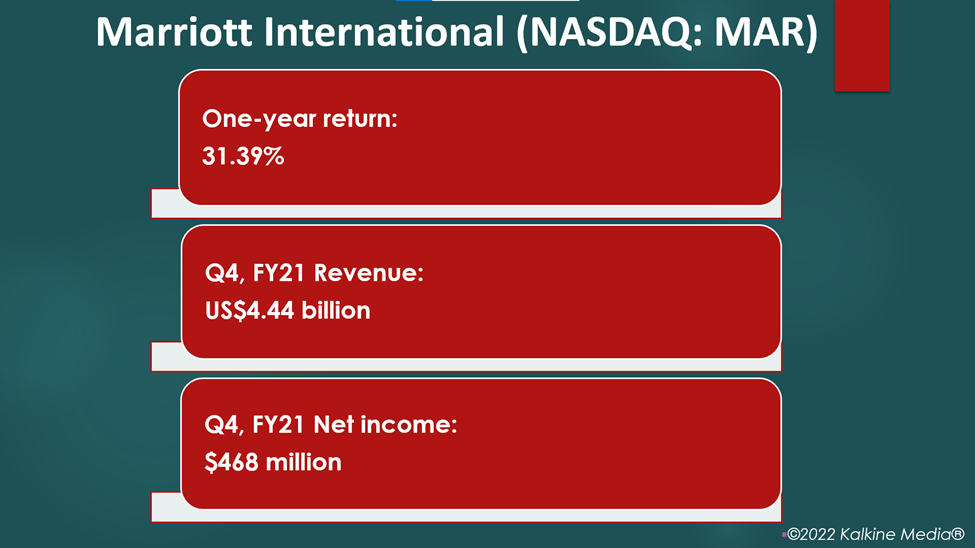 Also Read: What made Wallbox (WBX), Cue Health (HLTH), Polestar pop on Monday?
Fourth-quarter results:
The company reported revenue of US$4.44 billion in the holiday quarter, up 105% from US$2.17 billion in the year-ago quarter. Its net income came in at US$468 million, or US$1.42 per diluted share, against a loss of US$164 million, or US$0.50 per diluted share in Q4, FY20.
Both the metrics topped analysts' estimates. The occupancy in Marriott's key regions, the US and Canada, was at 60% in Q4, versus 35.1% in the prior year's comparable quarter.
Also Read: AMD finalizes US$50-billion Xilinx purchase in industry's biggest deal
Bottomline
The Marriott (MAR) stock was priced at US$180.94 at 11:09 am ET on February 15, up 5.61% from its previous close. Over the past 12 months, the stock returned 31.39% gains.
Marriott CEO Anthony Capuano said the new bookings across the customer segments have recovered to pre-omicron level despite a hitch in January. He expressed optimism over a global rebound in travel demand in 2022.