Highlights:

The HIMS stock was up over 20 per cent on Tuesday.
Hims & Hers Health reported its Q3 FY22 earnings results on November 7.
The company's revenue soared 95 per cent YoY in the quarter.
The stocks of the telehealth firm, Hims & Hers Health, Inc. (NYSE: HIMS) seem to have gained traction among Wall Street investors on Tuesday, November 8. It was among the top percentage gainers in the morning hours on November 8.
Soon after trading started on Tuesday, the HIMS stock ticked up over 20 per cent, a day after the telehealth firm reported its latest quarter financial results.
Let's take a quick tour of its latest quarter earnings highlights, while exploring its recent stock performance for more insights:
Earnings highlights of Hims & Hers Health:
Hims & Hers Health is an online telehealth company based in San Francisco. The company mainly focuses on selling prescription drugs and over-the-counter medicines through online solutions. Besides, the company also connects patients with licensed healthcare professionals in various locations.
The company posted its third-quarter earnings results on November 7, after the market close, while raising its guidance for fiscal 2022 as well as the running quarter.
Hims and Hers Health noted a significant growth of 95 per cent year-over-year in its Q3 FY22 revenue of US$ 144.8 million, of which US$ 139.78 million came only from its online segment.
The company said that its consumer-focused strategy helped in gaining 100K+ subscriptions for the third consecutive quarter.
The healthcare firm has ended the third quarter with a total of 991,000 subscriptions, reflecting a surge of 80 per cent YoY.
However, the online telehealth solutions provider's net loss shrank to US$ 18.8 million in the latest quarter, versus US$ 15.9 million in Q3 FY21. The company's gross margin was 79 per cent in Q3 FY22, against 74 per cent in the year-ago period.
For the ongoing quarter, Hims & Hers expects its revenue to be between US$ 159 million and US$ 162 million. It also raised its annual revenue guidance to be in the range of US$ 519 million and US$ 522 million.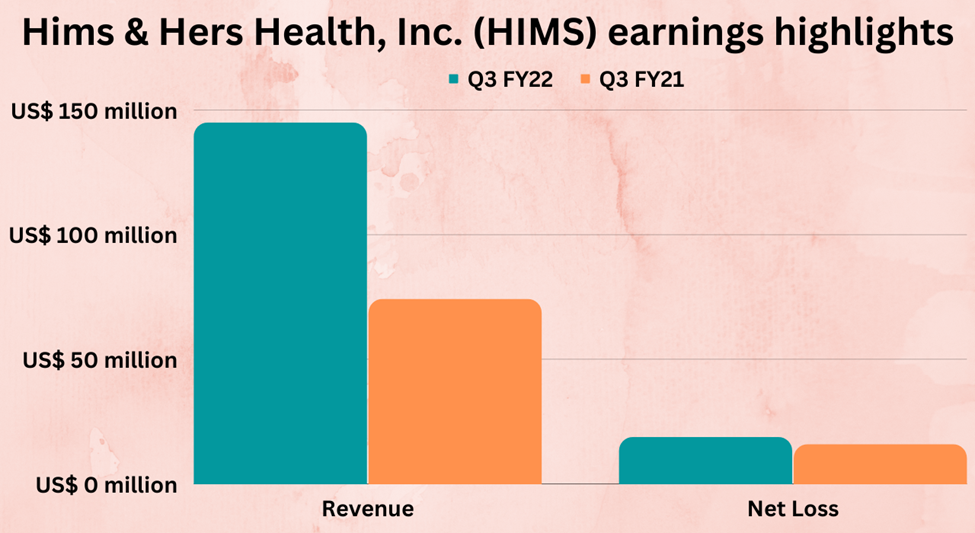 Source: ©Kalkine Media®; © Canva via Canva.com
Bottom line:
The price of the HIMS stock soared 20.24 per cent to US$ 5.5552 at 9:41 am ET on November 8, while its volume was about 1.70 million during writing. The stock of the US$ 1.13 billion market cap company closed at US$ 4.62 in the preceding session.
Meanwhile, the telehealth reported that its net new subscriptions have reached an all-time high of more than 170,000 in Q3 FY22.