Highlights:

The EDU stock jumped over 20 per cent in the morning trading hours on Wednesday.
The company reported its earnings before the opening bell.
New Oriental's net income grew in the first quarter of fiscal 2023.
The stocks of the educational services firm, New Oriental Education & Technology Group, Inc. (NYSE: EDU) were among the top percentage gainers in the morning hours on Wednesday, October 26.
The EDU stock jumped over 20 per cent just after the market opened on October 26, following its earnings release for the quarter that ended on August 31, 2022.
So let's take a quick tour of the earnings highlights of the educational services company and see how its stock has performed in recent months:
New Oriental Q1 2023 earnings highlights:
New Oriental Education and Technology Group is a Chinese private educational services firm that provides education and other skills-related services for students to have an advantage in a competitive workplace. The company also claims to improve the quality of life of the students through its services.
The US$ 4.25 billion market cap company reported its first quarter of fiscal 2023 earnings results on Wednesday, which showed a YoY decline of 43.1 per cent in its revenue of US$ 744.8 million.
However, it has attained a notable YoY growth of 140.5 per cent in its operating income of US$ 78 million in Q1 FY23, while its net income available to the company rose nine per cent YoY to US$ 66 million in the quarter.
According to its Q1 FY23 earnings release, the net income per ADS attributable to New Oriental (diluted) rose 6.8 per cent YoY to US$ 0.38 apiece.
The company said that its total number of schools and learning centers was 706 as of August 31 this year, marking a decrease of 38 from 744 in the prior quarter end and a decline of 850 from 1,556 from the year-ago period.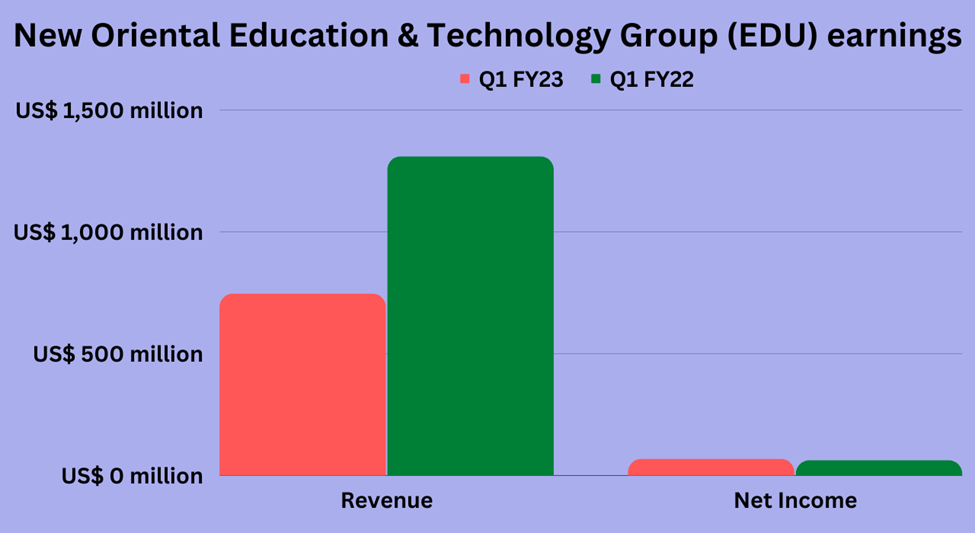 Source: ©Kalkine Media®; © Canva via Canva.com
Bottom line:
The price of the EDU stock jumped 20.23 per cent at 9:37 am ET on October 26, to trade at US$ 25.32, and during writing, its volume was about 1.73 million. The stock closed over 10 per cent higher to US$ 21.06 in the prior session.
The company said that it accumulatively repurchased around 1.6 million ADSs for about US$ 39.6 million from the open market through Tuesday, October 25. As of writing, the stocks of New Oriental were up over 15 per cent for the year and nearly 11 per cent YoY.
However, its price was still down around 18 per cent from its 52-week high of US$ 29.80 noted on August 31 this year.