Highlights:

Cronos Group Inc. (NASDAQ: CRON) posted Q1 FY22 revenue of US$25.03 million.
SNDL Inc. (NASDAQ: SNDL) has a market cap of US$5.36 billion.
Cannabis stocks have not performed well this year, barring some as they reported revenue growth.
Cannabis stocks have underperformed in the broader market this year, and people may want to keep the pots stocks at arm's length. However, is it all bad with marijuana stocks amid all these market noises?

The size of the legal marijuana market in the world was estimated at US$ 13.2 billion in 2021, according to a Grand View Research report. The legal cannabis market is said to rise at a CAGR (compound annual growth rate) of 25.5 per cent between 2022 to 2030.
Here, we look at two cannabis stocks and their performances and see whether they are worth exploring:
Cronos Group Inc. (NASDAQ: CRON)
Cronos Group is a Canada-based company that sells recreational and medicinal cannabis via its pharma brand. It was the first marijuana stock to get listed on the Nasdaq.
In the US, Cronos directly sells Cannabidiol (CBD) and it is among the cannabis companies that have registered the highest year-over-year sales and revenue growth in the latest quarter.
In the quarter ended March 2022, Cronos reported total revenue of US$ 25.03 million. It was almost a 100 per cent growth from Q1 2021. In collaboration with Ginkgo Bioworks Holdings Inc., a cell programming company, Cronos is working to produce eight cultured cannabinoids.
The CRON stock closed at C$ 3.96 per share after it declined significantly by 13.9 per cent during the trading session on August 9.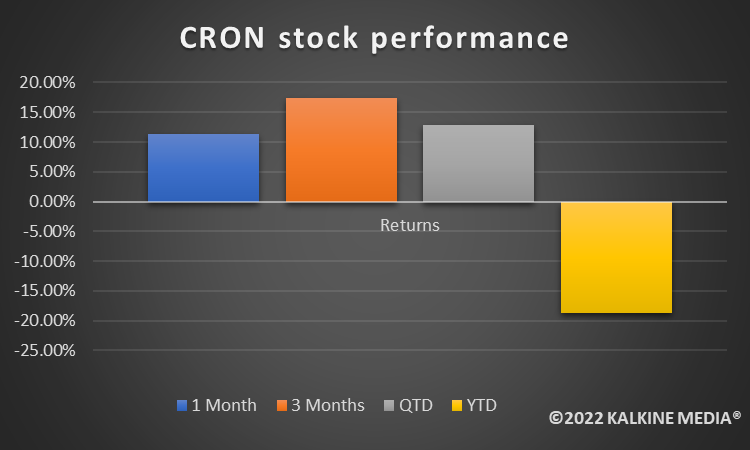 SNDL Inc. (NASDAQ: SNDL)
SNDL, which produces and sells cannabis in the adult-use market, reported its first-quarter earnings for fiscal 2022 on May 16. Its net losses in the reported quarter declined because revenue posted year-over-year (YoY) growth.
The cannabis producer said it acquired Alcanna Inc. on March 31 to expand by creating a solid cannabis and liquor retail network in Canada.
The company claims that it is Canada's leading platform for regulated products after the acquisition of Alcanna. Sundial expects to continue its post-acquisition integration work in 2022. SNDL reported net revenue of C$ 17.6 million in Q1 FY22, up by 78 per cent YoY.
Bottom line:
Although cannabis stocks have not been performing well this year, investors with long-term goals could explore cannabis stocks and pick their stocks after due diligence as the market is highly volatile and economic uncertainties are looming over the world.