Highlights

Lucid Group, Inc. (NASDAQ: LCID) revenue was US$232,000 in Q3, FY21.


The company sets a vehicle production target of 20,000 units in 2022.


Air Sedan bookings rose to more than 17000 from 13000 in Q3, FY21.
Lucid Group, Inc. (NASDAQ: LCID) stock gained traction on Tuesday after reporting its third-quarter earnings a day before. The stock was up 5.59% to US$47.39 at 7:24 am ET on Tuesday.
The company reported a significant increase in vehicle bookings while affirming its production target for 2022. Lucid Group began delivering its first cars to customers last month. Lucid has been gaining investors' attention because of its superior vehicle performance.
For instance, Lucid's Air sedan can run up to 520 miles in a single charge, nearly 100 miles more than Tesla's Model S.
Also Read: Q3 Outlook: Walmart (WMT), Target (TGT) to report modest sales growth
Lucid has been designing and manufacturing batteries for more than 10 years, which has helped refine its battery technology over the years.
Lucid CEO and chief technology officer Peter Rawlinson, who previously served as the chief engineer for Tesla's Model S, has been the driving force for the company. Rawlinson has been in the auto industry for more than 30 years.
Lucid has set different price ranges for its vehicles. For example, Lucid's Dream Edition costs US$169,000 and Lucid Air Pure costs US$77,400. The EV maker also plans to add an SUV named Gravity to its product portfolio. The company plans to start its production by the end of 2023.
Also Read: From Alibaba, Lucid to NetEase: Top stocks to watch out this week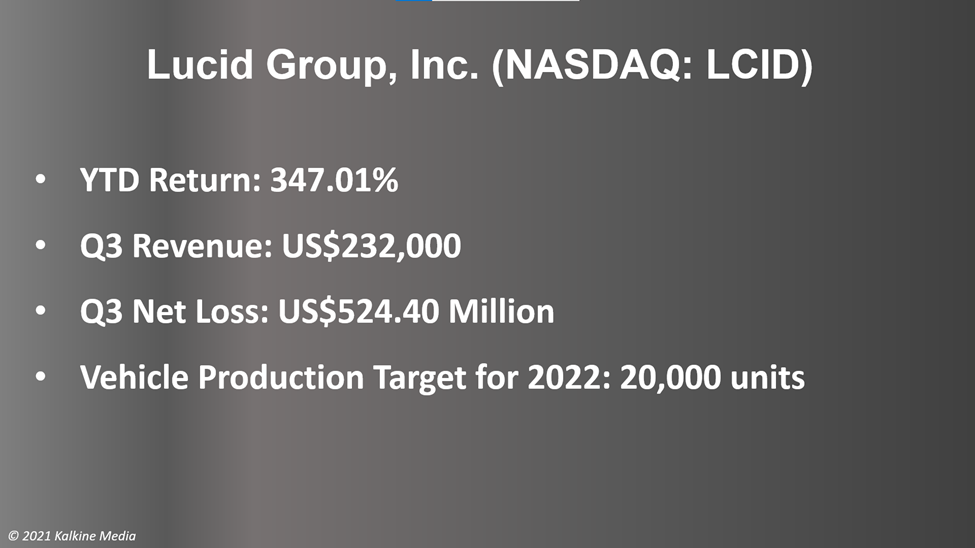 Image Description: Lucid Group (LCID) reported its third quarter financial results on Nov 15, after the market close
Also Read: Home Depot (HD) Q3 earnings: EPS growth, sales, stock price outlook
Stock performance and third-quarter highlights:
The EV startup went public in July through a SPAC deal. Lucid's market cap is about US$72.60 billion. Its 52-week highest and lowest stock prices were US$64.86 and US$9.67, respectively.
In the third quarter of fiscal 2021, the revenue was US$232,000 compared to US$334,000 in the previous year's third quarter. In addition, its net loss was US$524.40 million compared to a loss of US$161.23 million in the year-ago quarter. Most of the revenue came from a battery deal with Formula E electric racing league, said chief financial officer (CFO) Sherry House.
Also Read: StatusPro IPO: How to buy the stock?
Meanwhile, Rawlinson reiterated the company will manufacture 20,000 vehicles in 2022, although supply hurdles remain a major concern. The company expects to generate revenue of US$2.2 billion from the sale of these vehicles. Lucid also said it booked orders for over 17,000 Air sedan vehicles, worth US$1.3 billion, up from 13,000 units through the third quarter.
Also Read: 7 rising tech stocks under US$49 – should you consider them?
Bottomline
The global EV market has been growing rapidly over the past few years as the focus shifts to emissions-free vehicles to combat climate change. Today, all major automobile giants are investing heavily in EV production to meet future needs. The Lucid stock's remarkable gains - 347.01% YTD – might be a tell-tale sign of this growing interest in the sector.