Highlights:

Exxon Mobil Corporation (NYSE: XOM) declared a third-quarter cash dividend of US$ 0.88 per share.
Coca-Cola Company (NYSE: KO) revenue jumped 12 per cent on a year-over-year (YoY) basis in Q2 FY22.
XOM stock showed gains of around 55 per cent YoY.
Investors typically look for opportunities in mega-cap companies due to their reputation and stable business model. The companies that have more than a US$ 200 billion market cap come under the mega-cap section.
Exxon Mobil Corporation (NYSE: XOM) and Coca-Cola Company (NYSE: KO) are among the major players in their corresponding sectors. Both companies fulfill the basic requirements of mega-cap stocks, having market caps of over US$ 200 billion.
Let's explore the stock performances and financial details of these companies.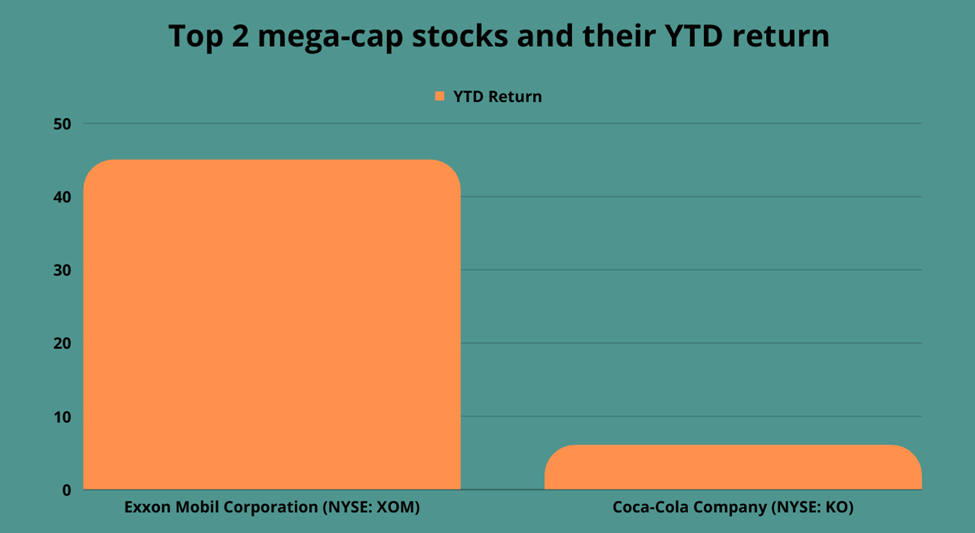 Source: ©Kalkine Media®; © Canva Creative Studio via Canva.com
Exxon Mobil Corporation (NYSE: XOM)
XOM stock witnessed a rise of about 40 per cent on year-to-date (YTD) basis. while increasing nearly 55 per cent on an annual basis. It noted a 52-week high of US$ 105.57 on June 8, 2022, and a 52-week low of US$ 52.10 on August 19, 2021.
The oil and gas firm had an RSI of about 57.05 as of August 9, 2022. It indicates that the stock is stable at the moment.
Talking about its financials, the US$ 375.05 billion market cap firm witnessed a significant surge in its second quarter fiscal 2022 revenue of US$ 115.68 billion. Its attributable net income in Q2 FY22 2022 was US$ 17.85 billion. In Q2 FY21, Exxon Mobil's attributable net income was US$ 4.69 billion on revenue of US$ 67.74 billion.
Coca-Cola Company (NYSE: KO)
The US$ 274.14 market cap company has a dividend yield of 2.77 per cent, and its annualized dividend is US$ 1.76. KO stock witnessed a six per cent rise this year. The leading beverage firm announced a dividend of US$ 0.44 per share on its common stock on July 21, 2022.
In the second quarter of fiscal 2022, Coca-Cola registered a 12 per cent increase in its revenue of US$ 11.32 billion, against US$ 10.12 billion in the corresponding period of the previous year.
Its attributable net income to common shareowners was US$ 1.90 billion, or US$ 0.44 per diluted share in Q2 FY22, relatively lesser than US$ 2.64 billion, or US$ 0.61 per diluted share, noted on Q2 FY21.
In addition to that, Coca-Cola said that its current president and Chief Operating Officer, Brian Smith would retire but remain with the firm as a senior executive through February next year. On the other hand, John Murphy would be appointed as the president and Chief Financial Officer of the company, effective October 1, 2022.
Bottom line:
The mega-cap stocks have also witnessed a rocky year so far amid a flurry of macroeconomic upheavals in the market. However, some investors still expect the segment to maintain a steady momentum in the coming quarters, given its established business and revenue model. Moreover, mega-cap stocks are likely to be less volatile when compared to small-cap stocks.
The Dow Jones Industrial Average, which comprises the top 30 US companies, fell over nine per cent YTD while gaining about six per cent QTD.