Source: DavidEwingPhotography, Shutterstock
2021 started on a very volatile note for stock exchanges with overall bullish momentum in the air. Technology companies continued with strong performances. The stimulus package announcement also added much-needed anticipation to the market. In recent weeks, a short-squeeze frenzy also created more volatility. Amid all frivolity, wise investors are eyeing developments and stock performances.
On that note, let us glance at these five stocks which can be explored in February 2021.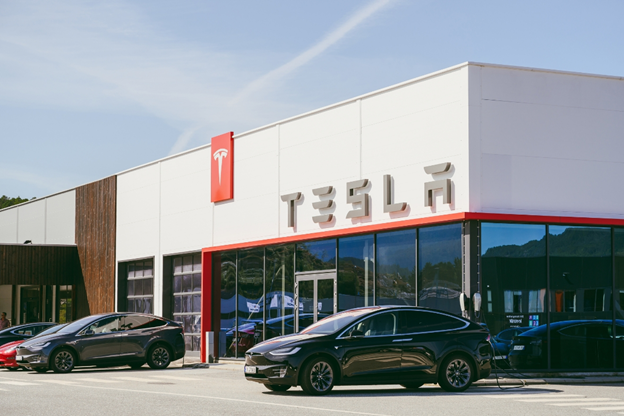 Source: © Nejaunet | Megapixl.com
Tesla, Inc. (NASDAQ:TSLA)
According to a filing with the US Securities & Exchange Commission, Kimbal Musk sold 30,000 Tesla shares on February 9, 2020. He is the younger brother of Elon Musk and a board member of Tesla, Inc. At an average share price of USD 852.12, he sold USD 25.6 millions of shares in the electric carmaker. After the news broke, Tesla shares tanked on Wednesday. However, this wasn't the only reason affecting Tesla share price. Media reported that Tesla's electric car rival, Rivian, was planning to launch an IPO in September. The EV startup is backed by Amazon.com, Inc. and Ford Motor Co.
On the other hand, Tesla's announcement of purchasing cryptocurrencies had pushed the bitcoin's value at the start of the week. The EV giant bought USD 1.5 billion worth cryptos and planned to accept it as a payment method for its products.
Well, despite the current market dynamics, Tesla is operating in an industry that is expected to gear up to new heights in the coming years, driven by the preference for green environment.
Tesla, Inc. (NASDAQ:TSLA) share price last traded at USD 804.82, down 5.26% as on February 10 2021, 4:00 PM EST.
Source: © Rafaelhenriquepress | Megapixl.com
Moderna Inc. (NASDAQ:MRNA)
Moderna Inc. in January announced selling 100 million more doses of its vaccine to the US government. However, the initiative is still under discussions. According to the recent data, Moderna's vaccines appear to be more effective than its competitors such as Johnson & Johnson and AstraZeneca. The shot is also showing strong results against the latest variant of COVID-19.
Notably, since the beginning of the year, Moderna's share price has rallied by over 75%. Another announcement which made round is that the pharmaceutical and biotechnology giant was expanding its drug pipeline.
The company is developing three new vaccine candidates for seasonal flu, HIV, and the Nipah virus. These diseases have eluded vaccines in the past, hence, making it a courageous effort. The company also made various other announcements since the start of 2021, marking the progress in its product developments.
Moderna Inc. (NASDAQ:MRNA) share price last traded at USD 179.34, down 0.10% as on February 10, 2021, 4:00 PM EST.
Source: © Wirulsos | Megapixl.com
Shopify Inc. (NYSE:SHOP)
Shopify, launched as an online snowboard shop by snowboarding enthusiasts a decade ago, is another stock to explore in February 2021. Its platform offers e-commerce solutions to small businesses in need to sell products and services online. Shopify, through its innovative strategies, also helps these businesses build a brand. The company released its awe-inspiring third-quarter results in October 2020. The fourth-quarter financial results are expected to be released in mid-February 2021.
During Q3, the e-commerce software leader reported a 96% increase in revenue. Moreover, its gross merchandise volume jumped 109%. Its sales accelerated during the coronavirus pandemic-related restrictions and lockdown; many brick-and-mortar businesses realised the need for online presence. However, the company noted that the performance during the pandemic might not reflect in the fourth quarter and, citing macroeconomic uncertainty, Shopify did not provide an outlook for the fourth quarter and the full-year 2020 financial results.
Shopify Inc. (NYSE:SHOP) share price last traded at USD 1462.42, an uptick of 2.05% as on February 10, 2021, 4:00 PM EST.
Source: © Kaspiic | Megapixl.com
Airbnb, Inc. (NASDAQ:ABNB)
Before the coronavirus pandemic struck, investors had waited eagerly for vacation rental home giant Airbnb to launch its IPO. Airbnb's business module is innovative as well as disruptive. Customers also gave a thumbs up to the brand across the world, and investors cheered it during the IPO launch last December. However, the coronavirus pandemic halted travel everywhere; high-contact businesses suffered massively, impacting the company's revenues as reservations dwindled.
Despite the struggle on the business front, Airbnb shares swung to higher levels in January. The popular online vacation rental marketplace also takes extra measures to safeguard its customers' health during the stay. It will let go of the rental listings which are without a formal registration number in various areas in France, including Paris. Recently, Airbnb conducted a survey demonstrating consumers' appetite to travel in 2021. Travel activity is what Americans missed the most during COVID-19. Therefore, expecting a positive outlook towards 2021, investors are eagerly awaiting Airbnb to release its fourth-quarter and full-year 2020 financial report.
Airbnb, Inc. (NASDAQ:ABNB) share price last traded at USD 211.66, up 5.89% as on February 10 2021, 4:00 PM EST.
Source: © Andreistanescu | Megapixl.com
Beyond Meat Inc. (NASDAQ:BYND)
This plant-based meat substitutes producer Beyond Meat recently announced its collaboration with PepsiCo - The PLANeT Partnership, LLC (TPP). Both the companies will reach out to more consumers with new product lines and robust distribution channels. PepsiCo and Beyond Meat are planning to launch snacks and beverages made from plant-based protein under the joint venture.
However, despite ramping up its efforts, its total revenue grew only by 2.7% YOY, reaching USD 94.4 million in the third quarter of FY20. The environmentally friendly food-based company noted severe impacts of COVID-19 shutdown. Due to the restricted service, Beyond Meat faced lower demand from the restaurants it supplies the products. Notably, its revenues for the retail channel increased 39% YOY amid the negative impacts of COVID-19.
Beyond Meat Inc. (NASDAQ:BYND) share price last traded at USD 171.53, up 2.92% as on February 10, 2021, 4:00 PM EST.