US stocks closed the week on a positive note on Friday, July 15, after upbeat retail sales data lifted the investors' sagging confidence in the economy, helping sectors such as healthcare, technology, and consumer discretionary make a strong rebound.
The S&P 500 rose 1.92% to 3,863.16. The Dow Jones was up 2.15% to 31,288.26. The NASDAQ Composite added 1.79% to 11,452.42, and the small-cap Russell 2000 ticked up 2.16% to 1,744.37.
The Commerce Department on Friday said that US retail sales rose 1% in June after falling 0.1% in the previous month. Its data shows that it grew 8.4% annually in June and a whopping 18% from the pre-pandemic level. Americans spent more on gasoline and other essential goods.
On the monetary front, senior Fed officials on Thursday said they support a further 75 basis point hike in the interest rates in July to tame the wild inflation. Yet, some others have noted that quickly raising the rates could stifle the positive trends in the economy.
Meanwhile, the quarterly earnings of most companies came above expectations on Friday.
The top movers of the S&P 500 index were the healthcare, technology, and consumer discretionary segments. Ten of the 11 sectors stayed in the green. Utility stocks were the laggards.
Shares of UnitedHealth Group Incorporated (UNH) rose 5.71% after raising its guidance for the second-consecutive quarter, following strong revenue and profit growth.
Wells Fargo & Company (WFC) stock gained 6.35% after reporting a 48% drop in its second-quarter profit. The BlackRock, Inc. (BLK) stock rose 1.83% after it said its profit dropped 22%.
Pinterest shares soared over 15% after reports that Elliot Management has taken a significant stake in the image-sharing social media firm.
In the technology sector, Apple Inc. (AAPL) increased by 1.15%, Microsoft Corporation (MSFT) rose 1.04%, and NVIDIA Corporation (NVDA) soared 2.34%. Broadcom Inc. (AVGO) and ASML Holding N.V. (ASML) advanced 2.03% and 4.10%, respectively.
In healthcare stocks, Johnson & Johnson (JNJ) surged 1.45%, Eli Lilly and Company (LLY) gained 1.44%, and Pfizer Inc. (PFE) added 0.70%. AbbVie Inc. (ABBV) and Novo Nordisk A/S (NVO) ticked up 2.11% and 4.37%, respectively.
In the consumer discretionary stocks, Amazon.com, Inc. (AMZN) jumped 2.64%, The Home Depot, Inc. (HD) rose 1.01%, and Tesla, Inc. (TSLA) surged 0.74%. Toyota Motor Corporation (TM) and Nike, Inc. (NKE) gained 2.32% and 1.43%, respectively.
Futures & Commodities
Gold futures were down 0.06% to US$1,704.80 per ounce. Silver increased by 2.18% to US$18.622 per ounce, while copper rose 1.00% to US$3.2437.
Brent oil futures increased by 1.83% to US$100.91 per barrel and WTI crude was up 1.79% to US$97.49.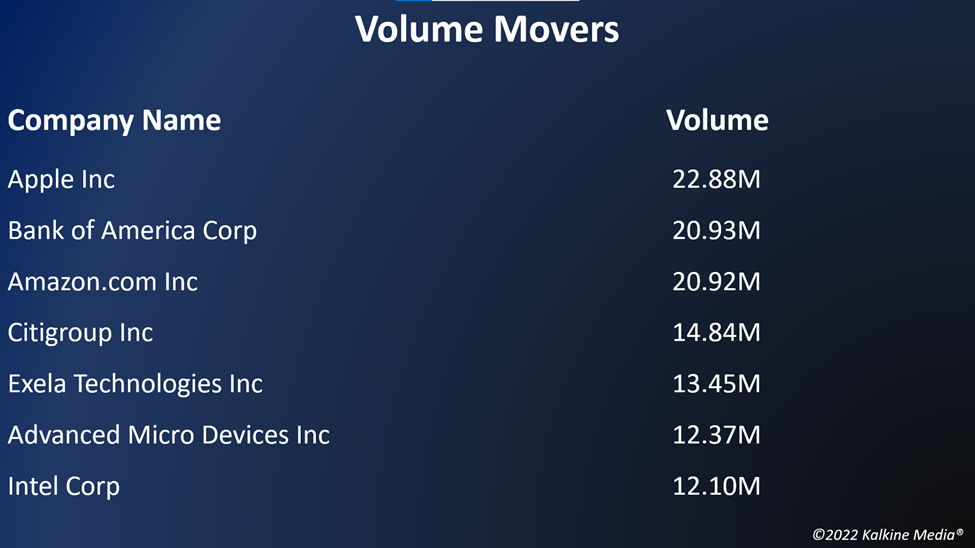 Bond Market
The 30-year Treasury bond yields were down 0.56% to 3.087, while the 10-year bond yields fell 1.04% to 2.928.
US Dollar Futures Index decreased by 0.51% to US$107.850.