US stocks closed the first trading day of June in the negative territory on Wednesday as the latest economic data provided mixed signals, which didn't help ease investors' rate fears.
The S&P 500 was down 0.75% to 4,101.23. The Dow Jones fell 0.54% to 32,813.23. The NASDAQ Composite declined 0.72% to 11,994.46, and the small-cap Russell 2000 was down 0.49% to 1,854.82.
US Job openings, which help gauge labor demand, decreased by 455,000 to 11.4 million in April from 11.855 million in the previous month.
Despite the drop, the Labor Department noted that the numbers remained higher, helped by wage hikes as worker shortages weighed on businesses. But it also pushed the inflation higher.
Meanwhile, San Francisco Federal Reserve President Mary Daly on Wednesday echoed the expectations of her peers about increasing the rates by 50-basis points at the central bank's next few policy meetings sequentially to bring down inflation near the appropriate 2% mark.
On Tuesday, the energy and information technology sectors were the top movers on the S&P 500 index. Eight out of the 11 sectors of the index stayed in the red. The consumer staples and financial segments were the laggards.
Software company Salesforce, Inc. (CRM) stock jumped 11.24% after raising its fiscal year profit guidance. It rejected concerns of any material impact from the market uncertainties.
Shares of lingerie brand Victoria's Secret rose 9.89% in intraday trading after first-quarter profits topped Wall Street estimates.
Global technology company HP Inc. (HPQ) stock soared 4.12% after reporting better-than-expected first-quarter results in the extended market session on Tuesday.
In the technology sector, ServiceNow, Inc. (NOW) increased by 1.61%, VMWare, Inc. (VMW) rose 1.02%, and Atlassian Corporation Plc (TEAM) surged 1.09%. Dell Technologies Inc. (DELL) and Datadog, Inc. (DDOG) ticked up 1.54% and 2.21%, respectively
In energy stocks, Exxon Mobil Corporation (XOM) gained 1.99%, ConocoPhillips (COP) added 3.01%, and EOG Resources, Inc. (EOG) soared 2.16%. Both Occidental Petroleum Corporation (OXY) and Schlumberger Limited (SLB) advanced 1.61% each.
In the consumer staples sector, The Procter & Gamble Company (PG) decreased by 1.56%, Walmart Inc. (WMT) fell 2.46%, and Costco Wholesale Corporation (COST) declined by 1.98%. Unilever PLC (UL) and Diageo plc (DEO) plummeted by 4.30% and 1.84%, respectively.
In the crypto space, Bitcoin (BTC) and Ethereum (ETH) plunged 5.09% and 6.54%, respectively. The global crypto market cap dropped by 4.60% to US$1.24 trillion at 4:16 pm ET on June 1.
Also Read: AAPL to ADBE: Should you consider these 5 tech stocks amid inflation?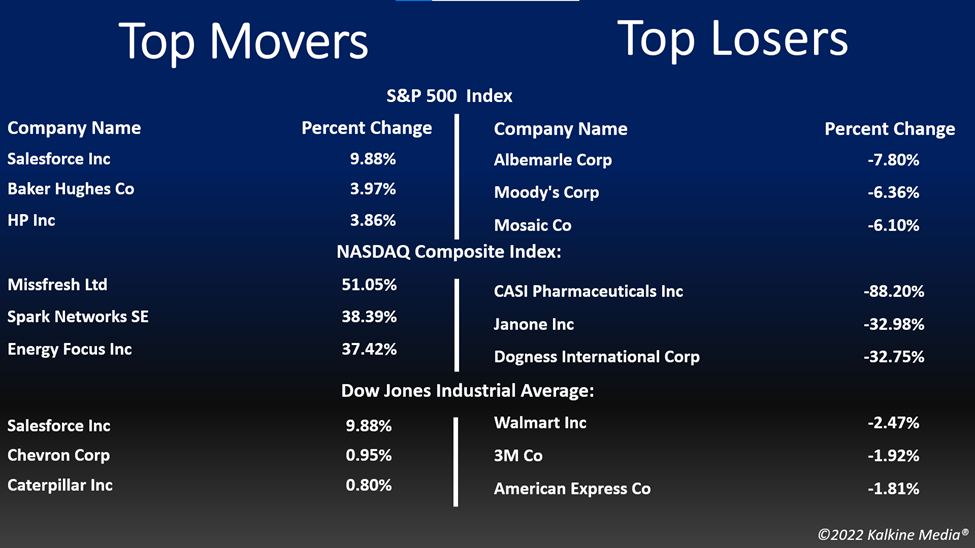 Also Read: Why is Everdome (DOME) crypto gaining attention?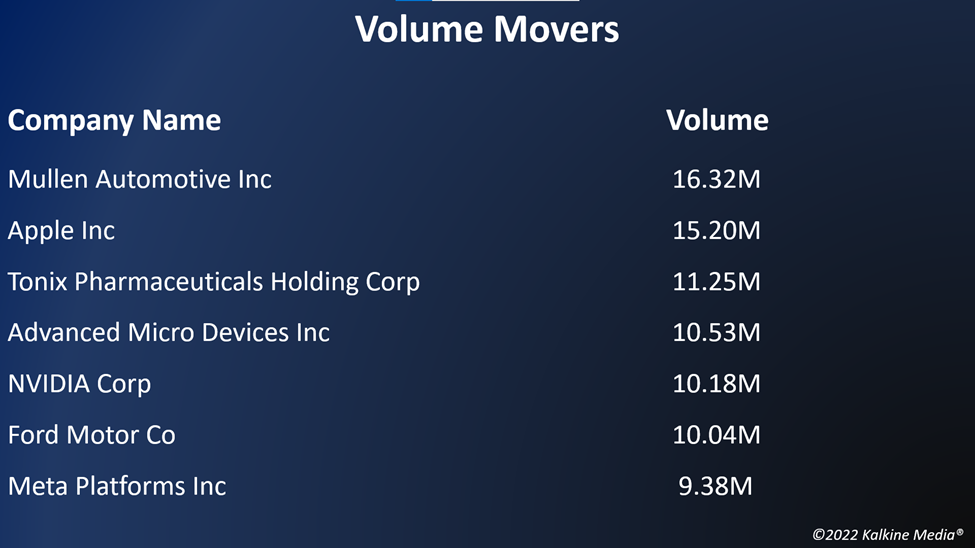 Also Read: Facebook parent drops FB symbol, to trade under META ticker from June 9
Futures & Commodities
Gold futures were up 0.10% to US$1,850.20 per ounce. Silver increased by 0.81% to US$21.863 per ounce, while copper rose 0.72% to US$4.3268.
Brent oil futures increased by 0.14% to US$115.76 per barrel and WTI crude was up 0.13% to US$114.82.
Also Read: Why is Alchemy Pay (ACH) crypto drawing attention despite its fall?
Bond Market
The 30-year Treasury bond yields were up 0.23% to 3.064, while the 10-year bond yields rose 2.49% to 2.915.
US Dollar Futures Index increased by 0.79% to US$102.575.