Benchmark US indices started the week on a positive note on Monday, September 19, as investors await Federal Reserve's meeting to kick off on Tuesday.
Meanwhile, S&P 500 and Nasdaq recorded their worst weekly performance since June, after key economic data and gloomy corporate earnings and guidance dampened the market sentiment.
The S&P 500 rose 0.69 per cent to 3,899.89. The Dow Jones was up 0.64 per cent to 31,019.68. The NASDAQ Composite added 0.76 per cent to 11,535.02, and the small-cap Russell 2000 rose 0.81 per cent to 1,812.84.
The market participants would closely follow the Fed's meeting that would begin on Tuesday, and Fed Chair Jerome Powell's news conference the next day. Notably, many investors are now betting on another 75 basis point rise in the interest rate by the central bank.
Companies like FedEx Corporation (FDX) and General Electric Company (GE) provided gloomy guidance last week, which has added concerns over economic slowdown among investors. Apart from the Fed's meeting, the investors would also keep a close track of the corporate earnings this week, for cues on the economic health.
On Monday, September 19, the information technology and consumer discretionary sectors led gains in the S&P 500 index. Eight of the 11 segments of the index stayed in the positive territory. The healthcare and real estate sectors were the laggards.
The stocks of the vaccine makers retreated on Monday, a day after US President Joe Biden reportedly said that the "pandemic is over". Shares of Moderna, Inc. (MRNA) lost more than eight per cent in the intraday session.
AutoZone, Inc. (AZO) slipped more than two per cent on Monday, wiping off some of its gains from the morning after the automotive parts retailer reported its fourth quarter fiscal 2022 earnings results. The stock was up in the morning trading after its earnings release.
In the technology sector, Apple Inc. (AAPL) increased by 2.51 per cent, Nvidia Corporation (NVDA) added 1.39 per cent, and Qualcomm Incorporated (QCOM) rose 1.36 per cent. Snowflake Inc. (SNOW) and NXP Semiconductors N.V. (NXPI) soared 1.63 per cent and 1.98 per cent, respectively.
In consumer discretionary stocks, Amazon.com, Inc. (AMZN) surged 0.91 per cent, Tesla, Inc. (TSLA) gained 1.89 per cent, and The Home Depot, Inc. (HD) jumped 1.65 per cent. Nike, Inc. (NKE) and Lowe's Companies, Inc. (LOW) advanced 2.97 per cent and 1.74 per cent, respectively.
In healthcare stocks, Eli Lilly and Company (LLY) decreased by 1.22 per cent, Pfizer Inc. (PFE) fell 1.24 per cent, and Merck & Co., Inc. (MRK) declined by 1.20 per cent. Bristol-Myers Squibb Company (BMY) and Intuitive Surgical, Inc. (ISRG) plummeted 1.85 per cent and 1.97 per cent, respectively.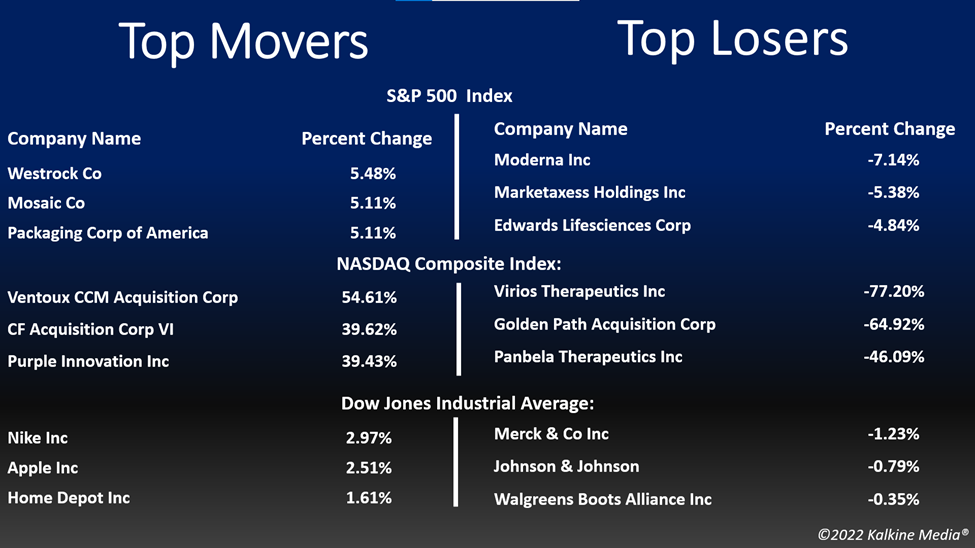 Futures & Commodities
Gold futures were up 0.06 per cent to US$1,684.50 per ounce. Silver increased by 0.82 per cent to US$19.540 per ounce, while copper rose 0.20 per cent to US$3.5235.
Brent oil futures increased by 0.60 per cent to US$91.90 per barrel and WTI crude was up 0.45 per cent to US$85.14.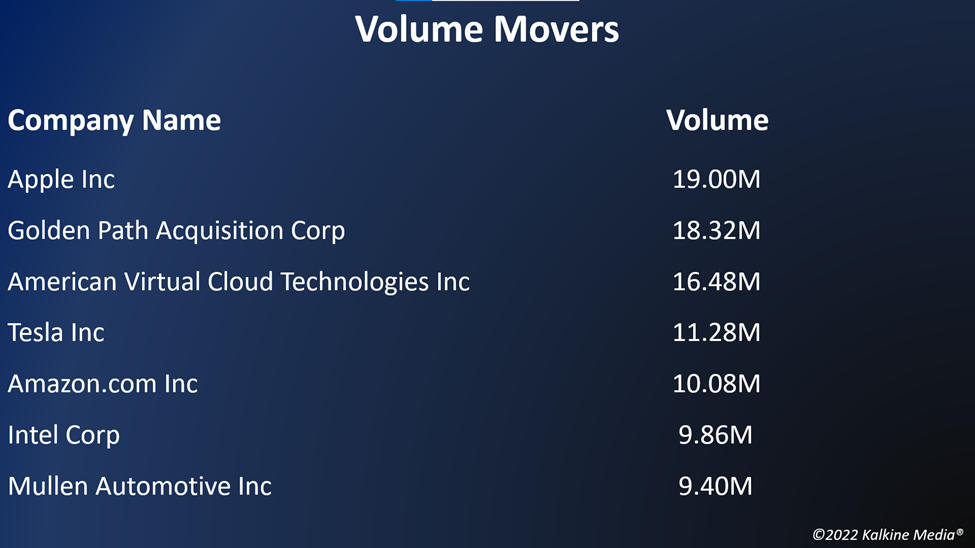 Bond Market
The 30-year Treasury bond yields were down by 0.14 per cent to 3.514, while the 10-year bond yields rose 1.26 per cent to 3.490.
US Dollar Futures Index decreased by 0.13 per cent to US$109.365.