US stocks edged higher, closing on another week of gains on Friday, August 12. All major indexes closed in the positive territory after Thursday's downturn. Investor sentiments seem to have boosted after getting a wind of inflation having peaked in July. The cooling of inflation last month has led to general market conjectures pointing toward a Fed rate hike of 50 basis points in their next meeting.
The S&P 500 rose 1.73 per cent to 4,280.15. The Dow Jones climbed 1.27 per cent to 33761.05. The NASDAQ Composite scaled 2.09 per cent to 13047.19, and the small-cap Russell 2000 gained 2.09 per cent to get to 2016.62.
After a fall in producer prices and inflation last month, the Labor Department, in another report, said the US import prices had fallen by 1.4 per cent in July.
On Thursday, all the 11 segments of the S&P 500 index stayed in the positive territory. While Consumer Cyclicals, Technology, and Basic Materials were the top movers, Healthcare, Consumer Non-Cyclicals, and Energy were the bottom movers of the day.
Shares of Micron Technology (MU) soared 4.3 per cent while Applied Materials (AMAT) shares jumped 4.7 per cent, despite no specific announcement from these companies during the day. Although the two legislations that remained in the discussion from this week, the CHIPS ACT, and the Inflation Reduction Act may have tipped the scales towards these semiconductor-centric stocks.
In the Consumer Cyclicals sector, Amazon.com, Inc. (AMZN) increased 2.07 per cent, Tesla, Inc. (TSLA) gained 4.68 per cent, and The Home Depot, Inc. (HD) rose by 1.35 per cent.
In the Technology sector, Apple Inc. (AAPL) surged 2.14 per cent, Microsoft Corporation (MSFT) climbed 1.70 per cent, and NVIDIA Corporation (NVDA) rose by 4.27 per cent.
In the Energy sector, PetroChina Company Limited (PTR) fell 1.65 per cent, Equinor ASA (EQNR) decreased by 1.02 per cent, and Enbridge Inc. (ENB) tumbled 0.23 per cent.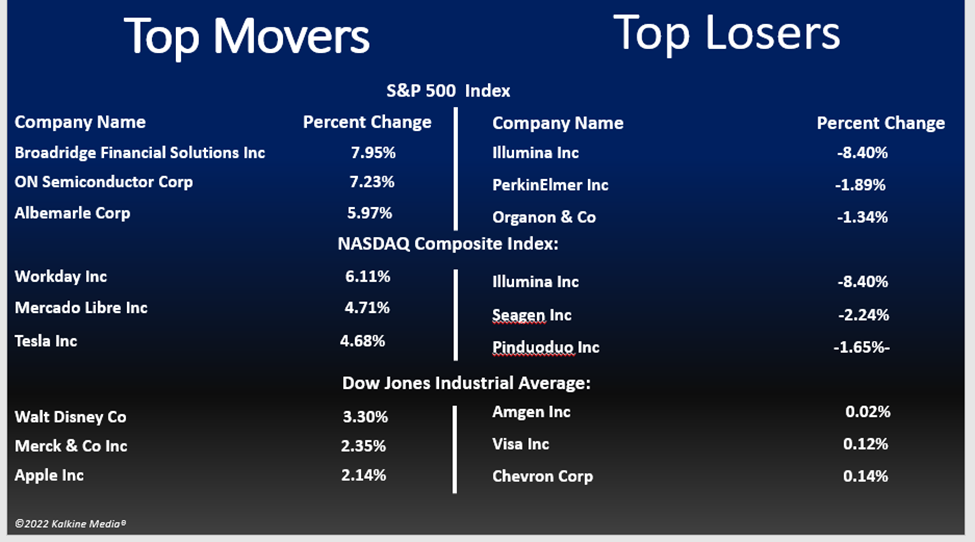 Futures & Commodities
Gold futures rose by 0.55 per cent to US$ 1,817.15 per ounce. Silver climbed by 2.24 per cent to US$ 20.805 per ounce, while copper fell by 0.81 per cent to US$ 3.6763.
Brent oil futures decreased by 1.69 per cent to US$ 97.92 per barrel and WTI crude was down 2.64 per cent to US$ 91.86.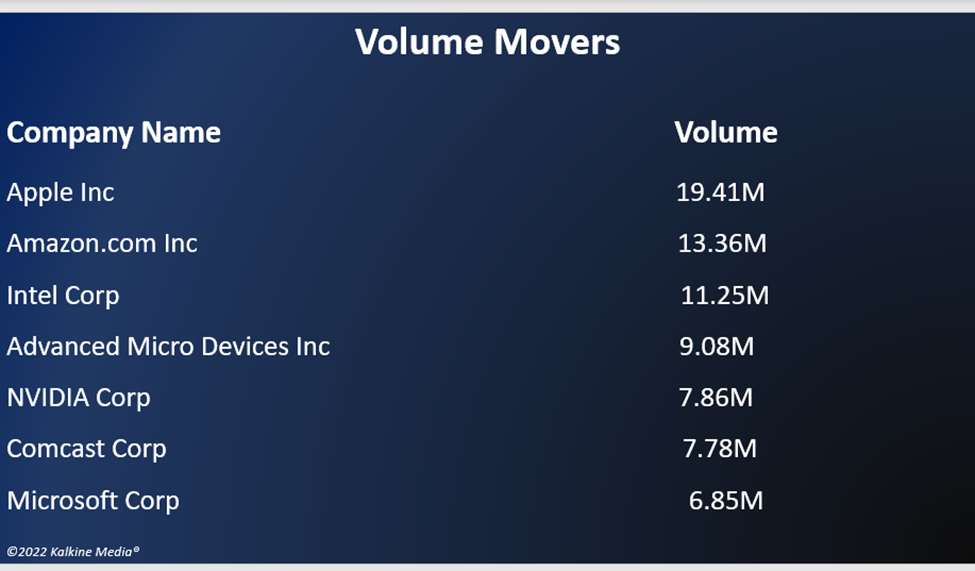 Bond Market
The 30-year Treasury bond yields tanked 1.29 per cent to 3.118, while the 10-year bond yields fell by 1.59 per cent to 2.842.
US Dollar Futures Index rose by 0.52 per cent to US$ 105.537.