US stocks closed lower on Thursday, March 3, after commodity prices hit a 14-year high amid Black Sea curbs and the unfolding humanitarian crisis unleashed by the Russia-Ukraine war.
Oil prices jumped to US$116 a barrel in intraday trading, the highest level since 2008, before falling to above US$110. Other commodities like wheat, nickel, and palladium prices also rose.
The S&P 500 fell 0.53% to 4,363.49. The Dow Jones declined 0.29% to 33,794.66. The NASDAQ Composite fell 1.56% at 13,537.94, and the small-cap Russell 2000 was down 1.29% to 2,032.41.
Russia and Ukraine on Thursday agreed to a temporary ceasefire for the safe passage of civilians stuck in the war. Both sides will also allow the delivery of medical aid and relief materials. The crisis has deepened supply concerns, triggering a surge in commodity prices.
The Ukrainian government has hinted at issuing non-fungible tokens (NFTs) to raise funds for the armed forces. Vice-PM Mykhailo Fedorov said that Kyiv would reveal the details soon.
Meanwhile, Russia is seeing an exodus of foreign companies following sanctions announced by the US and its European allies in response to the Ukraine invasion.
Iran may also see some relief from sanctions if plans to restore the 2015 deal materialize. That agreement had lifted most sanctions, including curbs on its oil industry, in exchange for tight controls on its nuclear program. The move may help calm the rapid rise in oil prices.
Fed Chair Jerome Powell on Thursday reiterated his support for a 25-basic points rate hike in a continuing session of a Senate Banking Committee. Analysts expect slow growth this year.
Separately, the government said that the non-manufacturing activity index, a measure for the US service industry, declined to a one year low of 56.5 in February. It was 59.9 points in January.
Seven out of 11 sectors of the S&P 500 saw gains on Thursday. Utilities, real estate, and consumer staples were the top movers, while consumer discretionary, technology, and communication services segments remained at the bottom.
The Kroger Company (KR) stock rose more than 10% in intraday trading after posting strong earnings. Its total sales were US$137.9 billion in fiscal 2021.
Snowflake Inc.'s (SNOW) shares fell 17% after the technology company gave weak sales guidance after its latest financial results. Its revenue in fiscal 2022 grew by 106% YoY.
The Best Buy Co., Inc. (BBY) stock grew nearly 10% after the consumer electronics company said it expects higher sales than its pandemic peak.
Okta, Inc. (OKTA) stock fell more than 8% in intraday trading after the software company said it expected higher losses in the short term due to its aggressive investment planning.
TG Therapeutics, Inc. (TGTX) stock plunged over 9% after the US Food and Drug Administration (FDA) extended the review of its blood cancer drugs.
In the utility sector, Duke Energy Corporation (DUK) stock surged 1.84%, Southern Company (SO) rose 2.83%, and Dominion Energy (D) increased by 1.54%. Exelon Corporation (EXC) rose 0.87%, and American Electric Power Company Inc. (AEP) increased by 3.00%.
In the real estate sector, Prologis Inc. (PLD) stock surged 1.31%, American Tower Corporation (AMT) rose 1.84%, and Crown Castle International Corp. (CCI) was up 1.52%. Public Storage (PSA) and Equinix Inc. (EQIX) jumped 2.10% and 1.60%, respectively.
In the consumer staples sector, Unilever PLC (UL) stock fell 1.99%, PepsiCo Inc. (PEP) decreased by 0.11%, and Diageo plc (DEO) plunged 1.38%. Philip Morris International Inc (PM) and Target Corporation (TGT) decreased by 0.06% and 0.47%%, respectively.
The global cryptocurrency market was down 3.41% to US$1.86 trillion at 4:19 pm ET, as per coinmarketcap.com. Bitcoin (BTC) price fell by 3.86% to US$42,091.61 in the last 24 hours.
Also Read: ETSY, AMZN, CPNG among top 5 e-commerce stocks to explore in March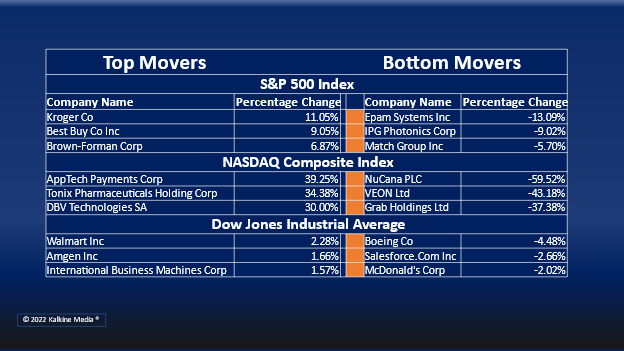 Also Read: What pushed AppleSwap (APPLE) crypto to the top gainers list?
Also Read: Biden's State of Union: Will be first to halve deficit –key takeaways
Futures & Commodities
Gold futures surged 0.93% to US$1,940.45 per ounce. Silver futures increased by 0.50% to US$25.317 per ounce, while copper futures jumped 2.73% to US$4.7930.
Brent oil futures decreased by 2.31% to US$110.31 per barrel and WTI crude futures were down by 2.50% to US$107.83.
Bond Market
The 30-year Treasury bond yields increased 0.18% to 2.237, while the 10-year bond yields were down 0.48% to 1.856.
US Dollar Futures Index surged 0.34% at US$97.745.