Wall Street's main indices closed lower on Thursday, April 14, as rising yields and mixed bank earnings weighed on mega-cap stocks ahead of an extended weekend holiday for Good Friday.
The S&P 500 was down 1.21% to 4,392.59. The Dow Jones fell 0.33% to 34,451.23. The NASDAQ Composite declined 2.14% to 13,351.08, and the small-cap Russell 2000 was down 0.99% to 2,004.98.
Mixed quarterly results of major US banks weighed the market sentiments. Prominent US banks such as Wells Fargo & Company (WFC), Morgan Stanley (MS), and Goldman Sachs & Co (GS) reported their quarterly earnings on Thursday, as the latest earnings season got underway.
Growth stocks have been hit hard in the recent sessions as Treasury yields soared in anticipation of a more aggressive rate hike by the central bank in the coming days.
On Thursday, New York Fed President John Williams supported calls for half a percentage point increase in the central bank's lending rates to calm the spiraling high inflation.
Meanwhile, the Commerce Department said the US retail and restaurant sales rose by 0.5% in March after increasing 0.8% in February. Gasoline sales increased by 8.9% in March as Russia's invasion of Ukraine bumped up the oil prices. Retail sales excluding gasoline fell 0.3%.
Also, on Thursday, the Labor Department said the initial jobless claims rose to 185,000 last week from 167,000 in the previous week. It noted that the numbers remained near the historically low levels recorded in early April.
The energy and utility sectors were the top movers in the S&P 500 index on Thursday. Eight of the eleven critical sectors in the S&P 500 index stayed in red, with the information technology and communication services sectors as the laggards.
In corporate earnings, Morgan Stanley (MS) and Citigroup Inc. (C) topped the Wall Street estimates in their first-quarter results despite a sharp drop in their profits. Shares of Morgan Stanley (MS) and Citigroup Inc. (C) ticked up 0.90% and 1.49%, respectively, after the results.
The Goldman Sachs Group, Inc. (GS) stock traded flat after reporting a 43% drop in its Q1 profit, while Wells Fargo & Company (WFC) plummeted 5.36% after its Q1 profits declined 21%.
Shares of Twitter Inc (TWTR) traded flat in intraday session, reversing gains of more than 5% in early trading, after Tesla Inc (TSLA) CEO Elon Musk, who already holds over 9% stake in the social-media firm, offered to acquire the company for US$43 billion.
In the energy sector, Exxon Mobil Corporation (XOM) increased by 1.13%, ConocoPhillips (COP) gained 1.15%, and Schlumberger Limited (SLB) surged 1.60%. The Williams Companies, Inc. (WMB) and Halliburton Company (HAL) advanced 1.33% and 1.39%, respectively.
In technology stocks, Apple Inc. (AAPL) declined 3.00%, Microsoft Corporation (MSFT) plunged 2.71%, and NVIDIA Corporation (NVDA) fell 4.26%. Taiwan Semiconductor Manufacturing Company (TSM) and Broadcom Inc. (AVGO) decreased by 3.10% and 3.15%, respectively.
In the communication sector, Alphabet Inc. (GOOGL) slipped 2.44%, Meta Platforms, Inc. (FB) plummeted 2.24%, and The Walt Disney Company (DIS) tumbled 1.42%. T-Mobile US, Inc. (TMUS) and Netflix, Inc. (NFLX) ticked down 1.40% and 2.65%, respectively.
In the crypto space, the global crypto market cap declined 2.70% to US$1.85 trillion at 4:20 pm ET on April 15. Bitcoin (BTC) and Ethereum (ETH) decreased by 3.45% and 3.34% to US$39,739.98 and US$2,990.04, respectively.
Also Read: Is Avalanche (AVAX) crypto rallying on fundraising news?
Also Read: Why is real-estate-focused Propy (PRO) crypto rising?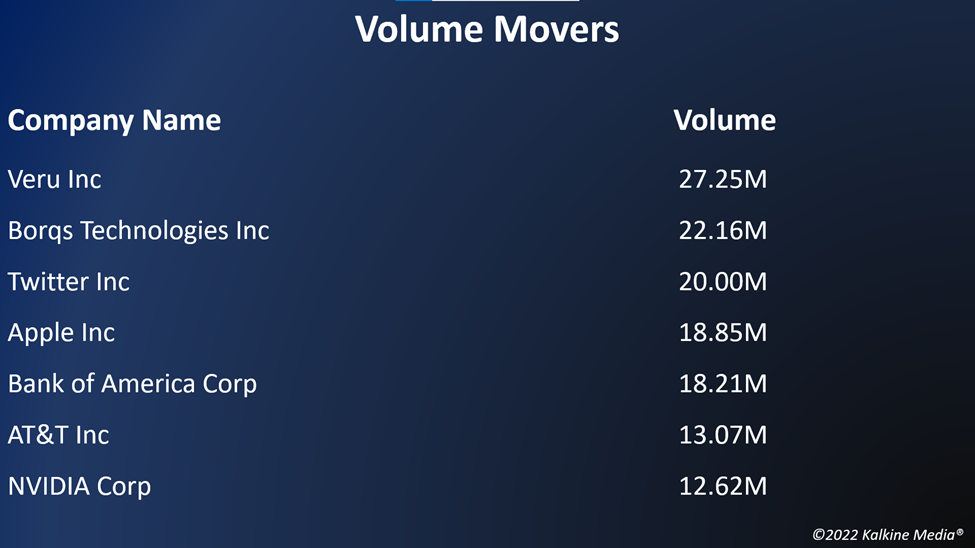 Also Read: Why is Terra (LUNA) crypto catching attention?
Futures & Commodities
Gold futures were down 0.61% to US$1,972.55 per ounce. Silver decreased by 0.90% to US$25.795 per ounce, while copper rose 0.23% to US$4.7230.
Brent oil futures increased by 2.59% to US$111.60 per barrel and WTI crude was up 2.19% to US$106.53.
Also Read: Is Ethereum (ETH) rallying on Merge update? When is it happening?
Bond Market
The 30-year Treasury bond yields were up 4.40% to 2.919, while the 10-year bond yields rose 5.15% to 2.828.
US Dollar Futures Index increased by 0.38% to US$100.293.