Wall Street indices reversed course to end in positive territory on Wednesday, September 7, as investors shrugged off concerns over the global economy and rate hike fears by the central bank.
The S&P 500 rose 1.83 per cent to 3,979.87. The Dow Jones was up 1.40 per cent to 31,581.28. The NASDAQ Composite added 2.14 per cent to 11,791.90, and the small-cap Russell 2000 rose 2.21 per cent to 1,832.00.
Richmond Fed President Thomas Barkin said that the central bank should stay on its track to raise the interest rates to a level that would hinder economic activities. He added that the policymakers should keep the interest rates at a higher level until they are confirmed that the inflation is cooling.
Echoing his remarks, Fed Vice Chair Lael Brainard said that tightening of the monetary policy would be required for "some time". The traders are now eagerly waiting for Jerome Powell's speech on September 8.
Additionally, the focus also shifts to the US Consumer Price Index (CPI) data that would be released next week. The CPI data, a gauge to measure inflation, would set the stage for future moves of the central bank with their monetary plans.
The information technology, consumer discretionary, and healthcare sectors led gains in the S&P 500 index on September 7. Ten of the 11 segments of the index stayed in the positive territory, with only energy as the laggard.
Shares of NIO Inc. (NIO) added more than two per cent in the intraday trading on Wednesday, after the Hefei, China-based EV maker posted its second quarter fiscal 2022 earnings results.
The software firm that provides Business Spend Management services, Coupa Software Incorporated (COUP) rallied over 17 per cent in the intraday session on September 7, a day after the firm released its latest quarterly earnings results that may have topped the market expectations.
UiPath Inc. (PATH) stock fell more than 11 per cent on Wednesday after the robotic process automation software maker reported its latest quarter earnings and issued its guidance for fiscal 2022 and the current quarter.
In the technology sector, Microsoft Corporation (MSFT) gained 1.91 per cent, NVIDIA Corporation (NVDA) added 1.88 per cent, and Broadcom Inc. (AVGO) surged 1.39 per cent. ASML Holding N.V. (ASML) and Cisco Systems, Inc. (CSCO) increased by 1.44 per cent and 1.24 per cent, respectively.
In consumer discretionary stocks, Amazon.com, Inc. (AMZN) soared 2.67 per cent, Tesla, Inc. (TSLA) jumped 3.38 per cent, and The Home Depot, Inc. (HD) advanced 2.74 per cent. McDonald's Corporation (MCD) and Nike, Inc. (NKE) were up 1.58 per cent and 3.17 per cent, respectively.
In the energy sector, Chevron Corporation (CVX) decreased by 1.28 per cent, Shell plc (SHEL) fell 1.16 per cent, and ConocoPhillips (COP) tumbled by 1.72 per cent. TotalEnergies SE (TTE) and BP p.l.c. (BP) ticked down 2.34 per cent and 1.48 per cent, respectively.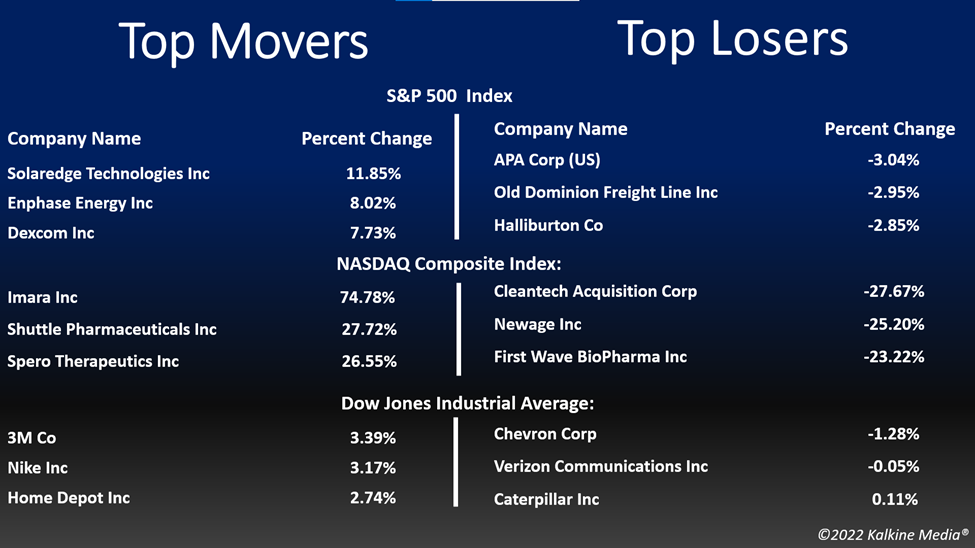 Futures & Commodities
Gold futures were up 0.95 per cent to US$1,729.25 per ounce. Silver increased by 2.62 per cent to US$18.378 per ounce, while copper fell 0.61 per cent to US$3.4410.
Brent oil futures decreased by 5.57 per cent to US$87.66 per barrel and WTI crude was down 5.85 per cent to US$81.80.
Bond Market
The 30-year Treasury bond yields were down by 1.69 per cent to 3.424, while the 10-year bond yields fell 1.89 per cent to 3.277.
US Dollar Futures Index decreased by 0.60 per cent to US$109.547.