Benchmark US indices closed lower on Thursday, January 27, after the latest economic data showed GDP grew by 6.9% in the fourth quarter of 2021, the fastest growth rate in decades.
The trading session remained volatile marked by investors' anxiety over the monetary policy and its economic impacts. Although the unpredictability in the market was not as high as the previous day.
The S&P 500 fell 0.54% to 4,326.51. The Dow Jones fell 0.02% to 34,160.78. The NASDAQ Composite declined 1.40% to 13,352.78, and the small-cap Russell 2000 fell 2.10% to 1,935.02.
On Thursday, the Commerce Department said the US GDP grew by 6.9% in the fourth quarter of 2021 from 2.3% in the previous quarter, the fastest growth rate since 1984.
It noted that activities related to company inventory replenishment amid supply shortages and household spending drove the fourth-quarter GDP growth.
The report comes a day after the Federal Reserve signaled an interest rate hike as early as March to rein in the sharp rise in inflation.
In a presser after the central bank's two-day monetary policy meeting, Fed chief Jerome Powell reaffirmed plans to end bond purchases in March, stressing that the current unemployment rate at 3.9% is close to its "goal of maximum employment".

In a separate report, the Labor Department said the weekly unemployment benefits claims fell by 30,000 to 260,000 in the week ended January 22, indicating low layoffs.
Six out of the 11 sectors of the S&P 500 remained in the positive territory on Thursday. Utilities, communication services, and energy sectors gained the most. Consumer discretionary, real estate, and industrial sectors were the bottom movers.
Apple Inc. (AAPL) stock fell 0.59% ahead of its quarterly earnings report after the market hours.
Shares of McDonald's Corporation (MCD) stock slid 0.39% in intraday trading after reporting a less-than-expected profit in the quarterly results.
Netflix, Inc. (NFLX) stock jumped more than 8% after billionaire investor William Ackman's hedge fund bought a stake worth more than US$1 billion in the company.
In the utility sector, NextEra Energy Inc. (NEE) stock rose 0.29%, Duke Energy Corporation (DUK) stock gained 1.39%, and Southern Company (SO) rose 1.27%. Dominion Energy Inc. (D) increased by 1.00%, and Exelon Corporation (EXC) was up 0.77%.
In the consumer staples sector, Procter & Gamble Company (PG) rose 0.86%, Walmart Inc. (WMT) gained 0.08%, and Coca-Cola Company (KO) increased 0.35%. PepsiCo Inc. (PEP) and Philip Morris International Inc (PM) increased by 0.10% and 0.62%, respectively.
In the consumer discretionary sector, Tesla Inc. (TSLA) was down 11.07%, Home Depot Inc. (HD) decreased by 0.31%, and McDonald's Corporation (MCD) declined 0.51%. Lowe's Companies Inc. (LOW) and Starbucks Corporation (SBUX) were down 1.09% and 0.06%, respectively.
The global cryptocurrency market retreated 2.80% to US$1.63 trillion at 3:56 pm ET, as per coinmarketcap.com. Bitcoin (BTC) fell by 3.20% to US$35,885.00 at the time.
Also Read: TIME crypto surged 11% after closing US$30 million funding round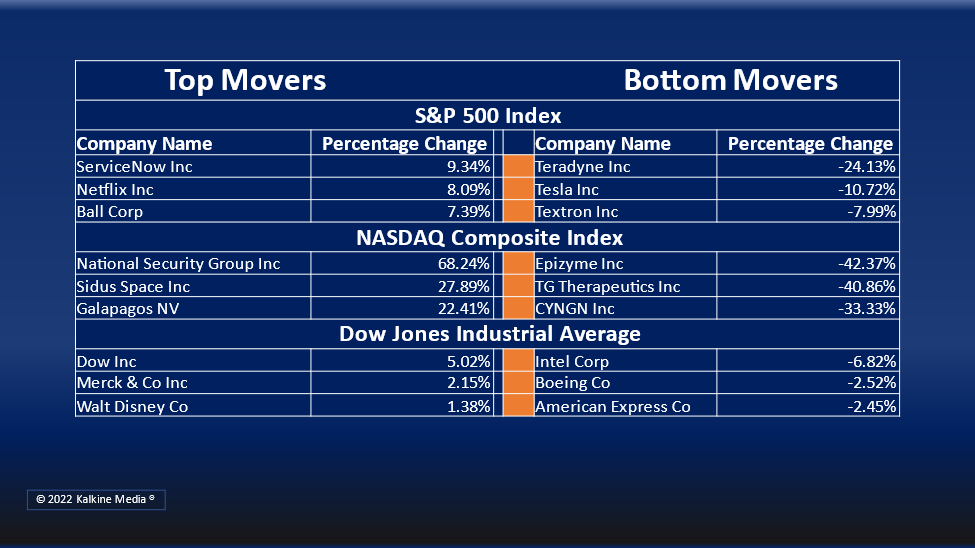 Also Read: Credo Technology (CREDO) prices IPO, set to debut today
Also Read: Why Aridis Pharmaceuticals (ARDS) soared on Thursday?
Futures & Commodities
Gold futures fell 1.97% to US$1,793.60 per ounce. Silver futures decreased by 4.49% to US$22.738 per ounce, while copper fell 2.27% to US$4.4123.
Brent oil futures decreased by 0.48% to US$88.31 per barrel and WTI crude futures were down by 0.63% to US$86.80.
Bond Market
The 30-year Treasury bond yields decreased 3.38% to 2.093, while the 10-year bond yields were down 2.04% to 1.808.
US Dollar Futures Index surged 0.84% at US$97.205.