The benchmark US stock indices slipped on Thursday, August 26, after mixed economic data and concerns over Fed's likely tightening of its asset-buying program weighed on investors' minds.
The S&P 500 was down 0.58% to 4,470.00. The Dow Jones fell 0.54% to 35,213.12. The NASDAQ Composite fell 0.64% to 14,945.81, and the small-cap Russell 2000 was down 1.13% to 2,213.98.
The tech-heavy NASDAQ and S&P 500 had seen record closes in the past three days.
Investors looked for clues over the central bank's meeting in Jackson Hole, Wyoming, on Friday. Fed officials will deliberate on their next course of action to guide the economy.
Comments from Dallas Fed President Robert Kaplan that the bank should look at pulling back the monetary support from October triggered a sharp slide in the stock markets. He believed the economic recovery will gain pace if the bank withdraws its asset-buying program.
On Thursday, the Commerce Department said the US GDP rose at an annual rate of 6.6% in the second quarter of 2021, indicating the recovery is still on track.
Another dataset from the Labor Department showed that weekly unemployment claims rose by 4,000 to a seasonally adjusted 353,000 in the week ended August 21 from the prior week's figures.
Barring real estate, all major stock segments on the S&P 500 index stayed in the negative territory. Energy and consumer discretionary stocks were the bottom movers.
In corporate news, beauty retailer Coty Inc. (COTY) stocks jumped 14.09% after the company reported strong quarterly earnings. Its net revenue surged 89.6% YoY to US$1.06 billion in Q4, 2021.
Salesforce.com Inc. (CRM) stocks were up 4% after reporting significant second-quarter revenue growth in the previous day. Its revenue was up 23% YoY to US$6.34 billion, prompting the company to raise its Q3 revenue forecast to about US$6.78 to US$6.79 from its previous projection.
Discount store operator Dollar Tree Inc. (DLTR) stock declined 11.64% after reporting Q2 earnings on Thursday. The company lowered its full-year profit estimates due to supply constraints.
Its peer Dollar General Corporation (DG) also lowered its bottom-line growth forecast due to surging freight costs. It reported a net income of US$637 million or US$2.69 per share in Q2 on Thursday. Its net sales decreased by 0.4% YoY to US$8.65 billion. The stock fell 3.34%.
Also Read: Are you an NFT fan? Check out these seven hot NFTs in the market

In the energy sector, Exxon Mobil Corp (XOM) fell 1.41%, Chevron Corp (CVX) declined 1.16%, and PetroChina Company Limited (PTR) fell 2.16%. TotalEnergies SE (TTE) and BP plc (BP) plunged 1.02% and 1.16%, respectively.
In real estate stocks, Equinix Inc. (EQIX) rose by 1.85%, AvalonBay Communities, Inc. (AVB) gained 0.90%, and Equity Residential (EQR) surged 1.26%. KE Holdings Inc. (BEKE) and Invitation Homes Inc. (INVH) advanced 5.54% and 0.85%, respectively.
In consumer stocks, Walmart Inc. (WMT) declined by 1.02%, The Coca-Cola Company (KO) fell 0.95%, and Target Corporation (TGT) plunged 0.73%. In addition, Kraft Heinz Company (KHC) and General Mills, Inc. (GIS) fell 1.80% and 1.60%.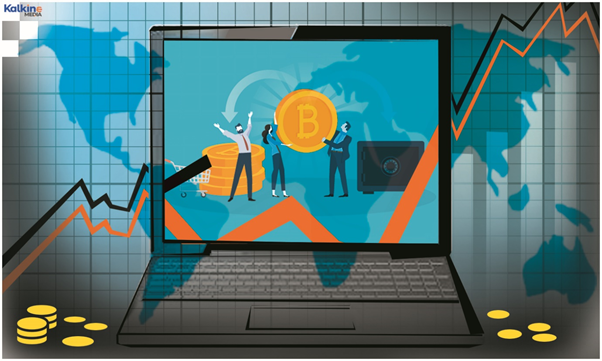 Copyright ©Kalkine Media 2021
Also Read: Life Clips (LCLP), Ozop Energy (OZSC) stocks fly on acquisitions
Top Gainers
Top performers on S&P 500 included ETSY Inc (5.10%), NetApp Inc (4.72%), Microchip Technology Inc (2.96%), Salesforce.Com Inc (2.66%). On NASDAQ, top performers were Glory Star New Media Group Holdings Ltd (50.97%), Support.com Inc (41.12%), TSR Inc (28.06%), SGOCO Group Ltd (27.50%). On Dow Jones, Salesforce.Com Inc (2.66%), JPMorgan Chase & Co (0.52%), 3M Co (0.50%), Honeywell International Inc (0.10%) were the leaders.
Top Losers
Top laggards on S&P 500 included Dollar Tree Inc (-12.08%), Autodesk Inc (-9.37%), Western Digital Corp (-4.47%), PVH Corp (-4.23%). On NASDAQ, Regencell Bioscience Holdings Ltd (-34.17%), Aditxt Inc (-29.93%), D Market Elektronik Hizmetler ve Ticaret AS (-25.37%), Sentage Holdings Inc (-25.37%). On Dow Jones, Boeing Co (-2.05%), Nike Inc (-1.72%), Walgreens Boots Alliance Inc (-1.67%), Caterpillar Inc (-1.64%) were the laggards.
Also Read: Top corporate deals that grabbed world headlines this month
Volume Movers
Top volume movers were Ford Motor Co (10.87M), Bank of America Corp (10.14M), Apple Inc (10.02M), Pfizer Inc (8.16M), Advanced Micro Devices Inc (7.33M), AT&T Inc (7.08M), Lordstown Motors Corp (18.30M), Naked Brand Group Ltd (16.74M), Support.com Inc (12.96M), Glory Star New Media Group Holdings Ltd (8.81M).
Also Read: Are these six blue-chip stocks primed to lead the banking recovery?
Futures & Commodities
Gold futures were up 0.14% to US$1,793.55 per ounce. Silver decreased by 1.00% to US$23.538 per ounce, while copper fell 0.78% to US$4.2343.
Brent oil futures decreased by 1.05% to US$70.53 per barrel and WTI crude was down 0.80% to US$67.81.
Bond Market
The 30-year Treasury bond yields was down 0.72% to 1.947, while the 10-year bond yields rose 0.51% to 1.351.
US Dollar Futures Index increased by 0.26% to US$93.078.