Wall Street indices ended the week in red on Friday, July 22, after social media firms reported gloomy earnings that have weighed on the overall market sentiments.
The S&P 500 fell 0.93% to 3,961.63. The Dow Jones was down 0.43% to 31,899.29. The NASDAQ Composite lost 1.87% to 11,834.11, and the small-cap Russell 2000 ticked down 1.62% to 1,806.88.
However, the indices are on pace to record their highest weekly gains in around a month, as investors turned their focus on the mega-cap growth stocks in recent days.
Meanwhile, the investors would be keeping a close watch on the upcoming earnings for cues on how the companies have tackled the market uncertainties in recent days. In addition, Fed's decision on how they are preparing to curb the inflation and GDP data would be followed by the investors.
The utilities and consumer staples sectors were the top movers in the S&P 500 index on Friday. Eight of the 11 sectors of the index stayed in the negative territory. The information technology and consumer discretionary sectors were the laggards.
The microblogging and social media platform, Twitter, Inc. (TWTR) gained 1.58% in intraday trading after it reported a surprising slump in its revenue on Friday.
Shares of American Express Company (AXP) soared 2.23%, after the payment card services firm reported a 31% surge in its revenue, while it posted upbeat guidance.
The SNAP Inc. (SNAP) stock slumped 38.73% after the company reported its weakest ever quarterly earnings sales growth as a publicly traded firm. In addition, the company said that it would be cutting its hiring rate.
In the consumer staples sector, The Procter & Gamble Company (PG) increased by 1.28%, Philip Morris International Inc. (PM) rose 2.48%, and Mondelez International, Inc. (MDLZ) soared by 0.90%. Colgate-Palmolive Company advanced 1.50%.
In utility stocks, NextEra Energy, Inc. (NEE) surged 1.26%, The Southern Company (SO) gained 1.16%, and Dominion Energy, Inc. (D) added 1.40%. National Grid plc (NGG) and American Electric Power Company, Inc. (AEP) ticked up 1.98% and 1.16%, respectively.
In the technology sector, Microsoft Corporation (MSFT) decreased by 1.71%, NVIDIA Corporation (NVDA) fell by 4.50%, and ASML Holding N.V. (ASML) plunged by 1.77%. Broadcom Inc. (AVGO) and Adobe Inc. (ADBE) slumped 1.30% and 2.11%, respectively.
Futures & Commodities
Gold futures were up 063% to US$1,724.15 per ounce. Silver decreased by 1.21% to US$18.492 per ounce, while copper rose 0.79% to US$3.3247.
Brent oil futures decreased by 0.32% to US$103.53 per barrel and WTI crude was down 1.49% to US$94.81.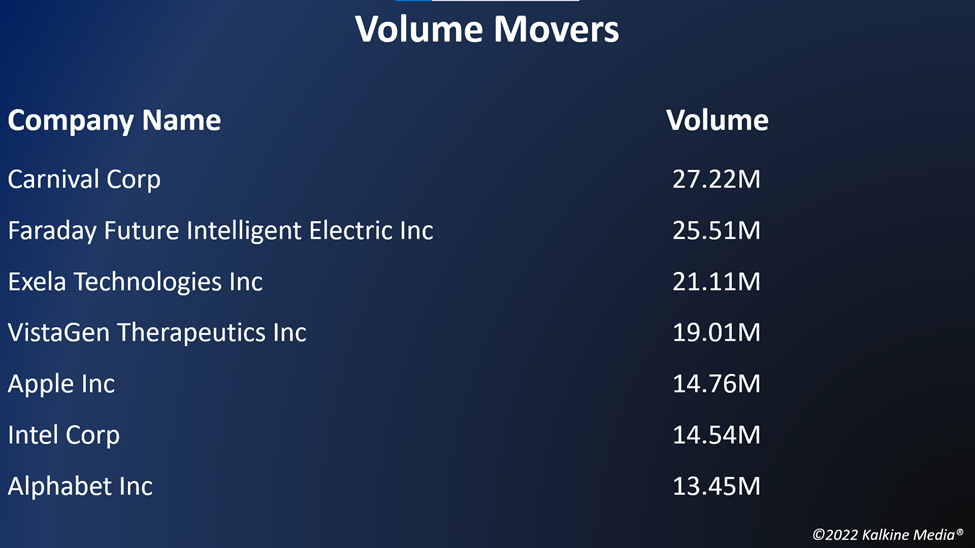 Bond Market
The 30-year Treasury bond yields were down 3.13% to 2.976, while the 10-year bond yields fell 5.36% to 2.752.
US Dollar Futures Index decreased by 0.33% to US$106.448.