Wall Street's main indices end mixed on Tuesday, May 10, as Treasury yields and oil prices declined ahead of the Labor Department's latest consumer price index data (CPI).
The 10-year Treasury notes hit a three-and-a-half-year high on Monday, forcing the mega-cap growth stocks to scale back.
The S&P 500 was up 0.25% to 4,001.05. The Dow Jones fell 0.26% to 32,160.74. The NASDAQ Composite increased by 0.98% to 11,737.67, and the small-cap Russell 2000 was down 0.02% to 1,761.79.
Traders will closely watch the latest CPI data for cues on inflation after Fed's two back-to-back interest rate boosts in March and April. The market expects more rate hikes from the bank to calm inflation.
US inflation has been at a four-decade high in recent times, accelerated by many negative factors, including supply disruptions, high energy and raw material costs, and geopolitical strife.
But US consumers are not the only ones to feel the inflation sting. The UK and Australia's central banks have also raised their interest rates to battle inflation.
On Tuesday, the oil prices fell sharply as the market participants reassessed the Western sanctions on Russian oil and the Chinese covid lockdown. Both Brent oil futures and WTI crude slipped over 3%.
The information technology and communication sectors were the top movers on the S&P 500 index on Tuesday. Four of the 11 sectors stayed in the positive territory. Utility and real estate sectors were the laggards.
Shares of Peloton Interactive, Inc. (PTON) slipped 7.18% after a lackluster quarterly performance and a weak sales guidance amid higher product prices and decreasing demand.
The Upstart Holdings, Inc. (UPST) stock tumbled 56.51% in intraday trading after posting better-than-expected first-quarter results while trimming its full-year revenue guidance on Tuesday. The company blamed the interest rate hikes and economic uncertainties for the downbeat guidance.
Shares of Sony Group Corporation (SONY) were up 1.27% in intraday trading after reporting over 100% growth in Q4 profits. It also announced a share buyback plan after the results.
In the technology sector, Apple Inc. (AAPL) increased by 1.61%, Microsoft Corporation (MSFT) rose by 1.86%, and NVIDIA Corporation (NVDA) gained 3.81%. Broadcom Inc. (AVGO) and ASML Holding N.V. (ASML) advanced 3.28% and 2.09%, respectively.
In communication stocks, Alphabet Inc. (GOOGL) surged 1.67%, Comcast Corporation (CMCSA) soared 1.36%, and T-Mobile US, Inc. (TMUS) jumped 1.04%. Netflix, Inc. (NFLX) and NetEase, Inc. (NTES) ticked up 2.63% and 4.12%, respectively.
In the utility sector, NextEra Energy, Inc. (NEE) decreased by 1.02%, Duke Energy Corporation (DUK) fell by 1.71%, and The Southern Company (SO) declined by 1.39%. Dominion Energy, Inc. (D) and Consolidated Edison, Inc. (ED) plunged 2.16% and 1.83%, respectively.
In the real estate sector, American Tower Corporation (AMT) tumbled 2.74%, Prologis, Inc. (PLD) slipped 5.26%, and Crown Castle International Corp. (CCI) dropped 2.90%. Equinix, Inc. (EQIX) and Welltower Inc. (WELL) plummeted by 3.69% and 1.45%, respectively.
In the crypto space, Bitcoin (BTC) fell by 0.76% while Ethereum (ETH) increased by 1.43%. The global crypto market cap fell 0.84% to US$1.43 trillion at 4:32 pm ET on May 10.
Also Read: Crypto exchange KuCoin raises US$150 million to expand Web3 presence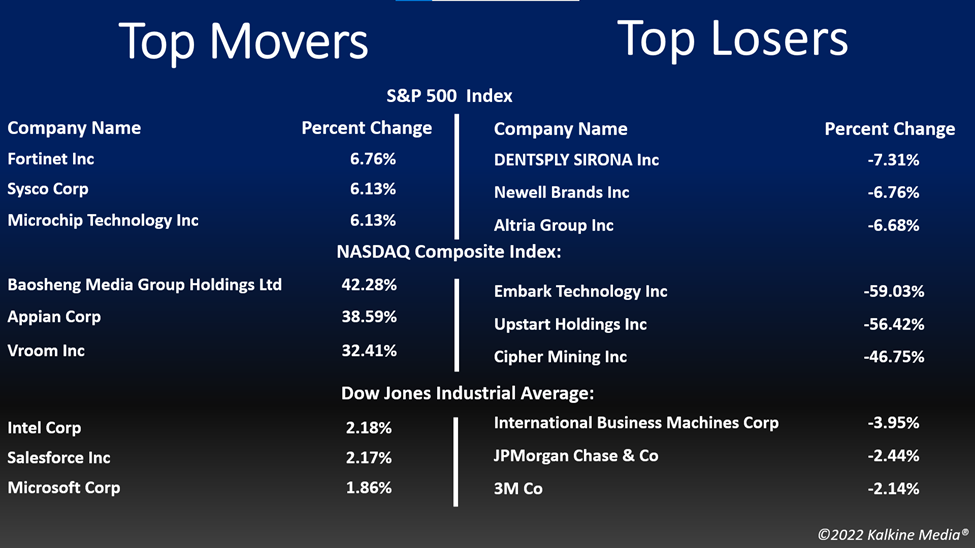 Also Read: Biohaven (BHVN) stock soars 70% after Q1 results, Pfizer's (PFE) buy offer
Also Read: PLUG to FCEL: 5 climate-friendly hydrogen stocks to watch in Q2
Futures & Commodities
Gold futures were down 1.14% to US$1,837.49 per ounce. Silver decreased by 2.58% to US$21.258 per ounce, while copper fell 0.80% to US$4.1598.
Brent oil futures decreased by 3.61% to US$102.12 per barrel and WTI crude was down 3.58% to US$99.40.
Also Read: SO, DUK, & ED among top 5 utility stocks to explore in May
Bond Market
The 30-year Treasury bond yields were down 2.53% to 3.127, while the 10-year bond yields fell 2.93% to 2.989.
US Dollar Futures Index increased by 0.24% to US$103.935.