Nasdaq and S&P 500 continued to rally on Thursday, November 4, while Dow Jones retreated from its record high on losses from the big lenders. Meanwhile, the fresh data showed that the unemployment insurance weekly claims declined to their lowest level since mid-March of the previous year.
The S&P 500 was up 0.42% to 4,680.06. The Dow Jones Industrial Average decreased by 0.09% to 36,124.23. The NASDAQ Composite Index rose 0.81% to 15,940.31, and the small-cap Russell 2000 was down 0.08% to 2,402.43.
The number of Americans filing for new claims of unemployment benefits decreased by 14,000 to 269,000 in the last week, marking its lowest level since March 14, 2020, when it was 256,000, the Labor Department reported on Thursday. Meanwhile, the number was revised up by 2,000 to 283,000 in the prior week.
The Federal Reserve affirmed on Wednesday that it has approved plans to start dialing back its pandemic-driven asset-buying program, while the investors were also waiting for clues on interest rate hikes for clarity if the inflation is transitory. However, Fed made no remarks about raising interest rates.
The consumer discretionary and technology stocks led gains in the S&P 500 index on Thursday, with the financial and utility sector as the bottom movers. Six of the 11 major sectors of the S&P 500 index stayed in the positive territory.
The stocks of Moderna, Inc. (MRNA) were down 18.43% in intraday trading after the company released its quarterly results that missed analysts' estimates while lowering its sales and production forecast for fiscal 2021. The company's total revenue came in at US$5 billion, while its net income was US$3.3 billion, or US$7.70 per diluted share.
The shares of Merck & Co., Inc. (MRL) surged 1.53% after UK's Medicines and Healthcare Products Regulatory Agency has approved its Covid-19 drug, molnupiravir, while describing the antiviral pill as safe and effective. The drug gets authorization for patients with mild and moderate Covid infections.
The stocks of Duke Energy Corporation (DUK) tumbled 1.95% in the intraday trading session, after the company's earnings beat Wall Street estimates, while its revenue misses the expectations. Its operating revenue came in at US$6.95 billion in Q3, FY21, as compared to US$6.72 billion in the year-ago quarter, while its net income increased by over 3% YoY to US$1.27 billion.
In the consumer discretionary sector, Amazon.com, Inc. (AMZN) increased by 3.30%, Tesla, Inc. (TSLA) rose 1.95%, and Nike, Inc. (NKE) surged 1.26%. McDonald's Corporation (MCD) and Lowe's Companies, Inc. (LOW) advanced 1.20% and 1.28%, respectively.
In technology stocks, Nvidia Corporation (NVDA) gained 17.13%, Adobe Inc. (ADBE) soared 2.73%, and Salesforce.com Inc. (CRM) jumped 1.70%. Accenture PLC (ACN) and Qualcomm Incorporated (QCOM) ticked up 1.12% and 12.77%, respectively.
In the financial sector, Berkshire Hathaway Inc. (BRK-B) decreased by 1.02%, JPMorgan Chase & Co (JPM) fell 2.21%, and Bank of America Corporation (BAC) sank 2.90%. Wells Fargo & Company (WFC) and Morgan Stanley (MS) tumbled 3.32% and 4.25%, respectively.
Also Read: 2 lithium stocks to watch with over 100% YTD returns as COP26 convenes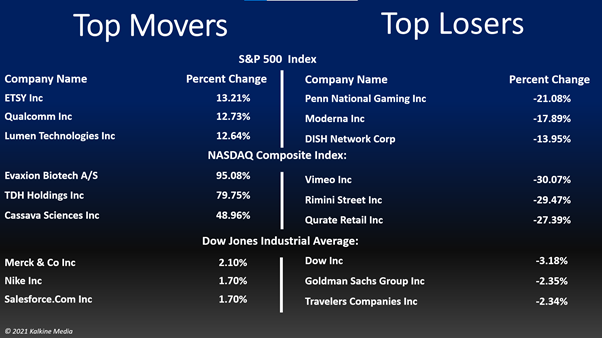 Also Read: Booking Holding (BKNG) & Roku (ROKU) revenues soar in Q3 2021
Also Read: Qualcomm (QCOM) posts strong Q4, fiscal 2021 results
Futures & Commodities
Gold futures were up 1.65% to US$1,793.00 per ounce. Silver increased by 2.70% to US$23.858 per ounce, while copper traded flat at US$4.3210.
Brent oil futures increased by 0.02% to US$81.92 per barrel and WTI crude was down 1.82% to US$79.39.
Bond Market
The 30-year Treasury bond yields was down 1.05% to 1.965, while the 10-year bond yields fell 3.12% to 1.530.
US Dollar Futures Index increased by 0.50% to US$94.323.