Highlights

The stock value of Lithium Americas Corp. (NYSE: LAC) surged over 117% YTD
Piedmont Lithium Inc. (NASDAQ: PLL) stocks rose more than 125% YTD
The net loss of Lithium Americas Corp. (NYSE: LAC) was US$19.32 million in Q2, FY21
The clean energy industry has gained attention from investors in recent quarters, especially after the COP26 climate change summit. Global leaders were already focusing on the clean energy sector, evident by the boom in the electric vehicle and renewable energy industry.
The leaders from various countries have pledged to stop deforestation by this decade's end, while around 90 countries joined the US and EU-led effort to cut methane emissions by at least 30% by 2030 as compared to 2020 levels, a White House official said.
These developments are likely to push the EV industry higher, as it is a key part of fighting climate change. Meanwhile, with the EV industry, other sectors like lithium and battery infrastructure companies are also expected to rise in the near future.
Let's explore two lithium stocks that have caught investors' eyes with the returns they have provided.
Also Read: Qualcomm (QCOM) posts strong Q4, fiscal 2021 results
Lithium Americas Corp. (NYSE: LAC)
Lithium Americas is a lithium resource company based in Vancouver, Canada. It has its operations in Canada, the US, Argentina, and Germany.
The shares of the company traded at US$29.94 at 7:12 am ET on November 4, up 1.59% from their closing price of November 3. The firm has a market cap of US$3.53 billion, and a forward one-year P/E ratio of -71.88. Its EPS is US$-0.42.
The 52-week highest and lowest stock prices were US$30.18 and US$8.95, respectively. Its trading volume was 3,103,135 on November 3.
The company's total expenses were US$13.04 million in Q2, FY21, as compared to US$6.49 million in the year-ago quarter. It reported a net loss of US$19.32 million, as compared to a loss of US$5.99 million in Q2, FY20.
Also Read: T-Mobile (TMUS) stock jumps 5% a day after Q3 results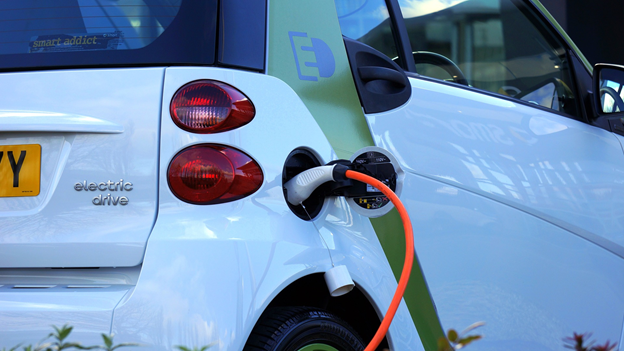 Source: Pixabay
Also Read: Five stocks to explore as more companies join metaverse madness
Piedmont Lithium Inc. (NASDAQ: PLL)
Piedmont is a lithium company that develops lithium hydroxide and other essential chemicals for the EV and battery storage sectors in the US. It is based in Belmont, North Carolina.
The stock of the company was priced at US$64.60, up 0.39%, at market close November 3. The market cap of the company is US$1.02 billion, and the forward P/E one-year ratio is -75.12. The stock saw a highest price of US$88.97 and a lowest price of US$22.10 in the last 52 weeks. Its share volume on November 3 was 206,153.
Piedmont's loss from operations was US$19.73 million in the year ended June 30, 2021, against a loss of US$6.56 million in the previous year. Its net loss came in at US$19.99 million, or a loss of US$1.48 per share, as compared to a loss of US$5.87 million, or US$0.71 apiece in the year ended June 30, 2020.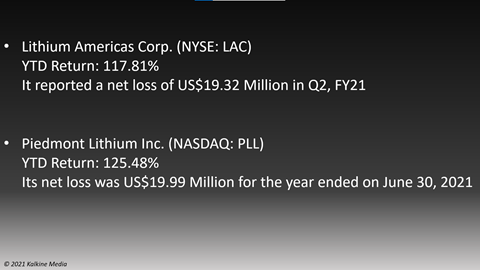 Also Read: Marriott (MAR), Exelon (EXC) profits rise sharply in third quarter
Bottom line:
Both these companies' stocks have witnessed significant gains this year, evident by the surge in their stock prices. The stock value of LAC jumped 117.81% YTD, while the PLL stocks gained 125.48% YTD. However, an investor should closely evaluate the companies before investing in the stocks.