Benchmark US indices closed in red on Thursday, December 16, driven by technology stock and Consumer stocks. Covid-19 remained a concern for investors amid global cues.
The S&P 500 declined 0.87% to 4,668.67. The Dow Jones decreased 0.08% to 35,897.64. The NASDAQ Composite was down 2.47% to 15,180.43, and the small-cap Russell 2000 declined 1.78% to 2,156.20.
The market assimilated the Fed's decision towards tapering of bond purchase and clarity over the interest rate hike next year and surged earlier in the day. Analysts found that the stance towards interest rate hike came in as expected and did not seem aggressive.
Economists expect the stocks to continue rising this year amid the Fed's plan of three interest rate increases in 2022 and ending the bond purchase program by March next year.
The initial jobless claims increased to 206,000 for the week ended December 11, said the Labor Department on Thursday.
Meanwhile, financial and energy stocks performed well while technology stocks slipped. Apple Inc. (AAPL) was down over 4%, and Affirm Holdings, Inc. (AFRM) lost around 14% intraday.
Adobe Inc. (ADBE) stock tumbled 10% over lower-than-expected guidance for the fiscal year 2022.
Accenture (ACN) jumped over 6% over its strong first quarter results and raised guidance for the full year. It revised the full year revenue growth to be between 19% and 22% from the earlier forecast of 12% to 15%.
The technology firm Rubicon Technologies entered into a SPAC merger deal with Founder for US$2.0 billion.
Reddit, the social discussion forum, has confidentially filed the draft registration statement for an initial public offering with US securities regulators.
Eight out of 11 sectors in the S&P 500 index remained positive on Thursday. Financials, Energy, and Materials sectors gained the most while Information Technology, Consumer Discretionary, and Communication Services were the bottom movers in the S&P 500 index.
In the Financial sector, Bank of America Corporation (BAC) stock grew 2.25%, JP Morgan Chase & Co. (JPM) surged 1.39%, and Wells Fargo & Company (WFC) increased by 2.44%. Charles Schwab Corporation (SCHW) rose 2.84%, and Morgan Stanley (MS) climbed 0.70%.
In the Energy Sector, Chevron Corporation (CVX) stock rose 1.04%, EOG Resources Inc. (EOG) grew 1.92%, and Pioneer Natural Resources Company (PXD) jumped 1.25%. ConocoPhillips (COP) and Schlumberger N.V. (SLB) surged 1.36% and 1.16%, respectively.
In the Information Technology sector, Oracle Corporation (ORCL) stock declined 0.82%, Broadcom Inc. (AVGO) decreased by 3.08%, and Salesforce.com Inc. (CRM) fell 2.50%. Qualcomm Incorporated (QCOM) and Intuit Inc. (INTU) stocks were down by 6.43% and 2.87%, respectively.
Also Read: These 5 US stocks returned between 500% and 5,000% in 2021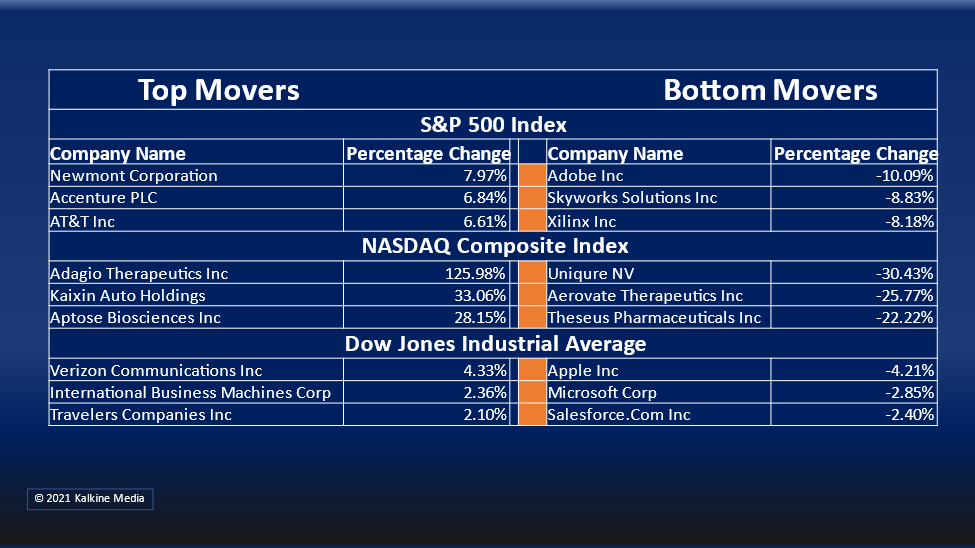 Also Read: DiCaprio-backed Rubicon to go public with Founder in $2B SPAC deal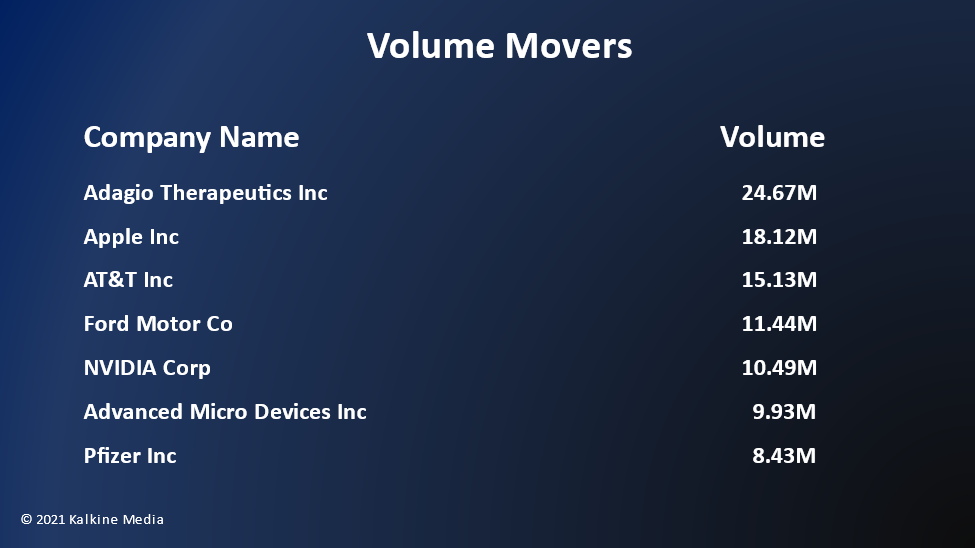 Also Read: Immix Biopharma IPO: How much does pharma stock IMMX cost?
Futures & Commodities
Gold futures climbed 1.93% to US$1,798.55 per ounce. Silver futures increased by 4.47% to US$22.508 per ounce, while copper surged 2.65% to US$4.2935.
Brent oil futures increased by 1.12% to US$74.71 per barrel and WTI crude futures were up 1.62% to US$72.02.
Bond Market
The 30-year Treasury bond yields increased 0.89% to 1.870, while the 10-year bond yields were down 2.01% to 1.433.
US Dollar Futures Index declined 0.56% at US$95.940.