Wall Street's main indices closed lower on Thursday, June 9, as rising bond yields and downbeat sentiments over a possible adverse CPI data due this week weighed on the mega-cap growth stocks.
The S&P 500 fell 2.38% to 4,017.82. The Dow Jones was down 1.94% to 32,272.79. The NASDAQ Composite decreased by 2.75% to 11,754.23, and the small-cap Russell 2000 fell 2.12% to 1,850.86.
The Labor Department is expected to release its May CPI data on Friday. Economists anticipate no major let-up in May inflation as the overall macroeconomic conditions remained relatively the same.
In its latest report on Thursday, the Department said that the unemployment benefits claims surged by 27,000 to 229,000 in the week ended June 4, the highest level since mid-January.
On the monetary front, the Federal Reserve will likely raise the interest rates by 50 basis points at their monthly meeting next week. The bank also plans a similar hike in July.
The May CPI data would be critical for the Fed officials as they iron out their next move.
The yields on the 10-year US Treasury bonds rose 0.61% to 3.047 on Thursday, the highest level since the second week of May.
In the stock market, all the 11 segments of the S&P 500 index stayed in the negative territory. The technology, financial, and healthcare sectors were the worst performers.
The shares of Chinese e-commerce giant Alibaba Group Holding Limited (BABA) fell over 8% after its affiliate Ant Group stated that it has no plans for an initial public offering. Earlier in the day, there were reports that the government was reconsidering allowing Ant for an IPO.
The FuelCell Energy, Inc. (FCEL) stock declined 6% in intraday trading after its quarterly results missed Wall Street estimates. Shares of Five Below, Inc. (FIVE) fell 1.37% after the discount store operator reported a fall in quarterly profits due to higher operating costs.
Shares of NXP Semiconductors N.V. (NXPI) rose 4.73% after South Korea's Samsung Electronics revealed plans to buy the Netherlands-based chipmaker.
In the financial sector, Berkshire Hathaway Inc. (BRK-A) decreased by 2.57%, Visa Inc. (V) fell 3.46%, and JPMorgan Chase & Co. (JPM) plunged 2.10%. Bank of America Corporation (BAC) and Mastercard Incorporated (MA) plummeted by 3.85% and 3.68%, respectively.
In technology stocks, Apple Inc. (AAPL) declined 3.60%, Microsoft Corporation (MSFT) dropped 2.08%, and NVIDIA Corporation (NVDA) tumbled 3.22%. Broadcom Inc. (AVGO) and Accenture plc (ACN) retreated 1.62% and 2.38%, respectively.
In the health care sector, Johnson & Johnson (JNJ) lost 2.01%, Pfizer Inc. (PFE) fell 3.16%, and Eli Lilly and Company (LLY) decreased by 3.27%. AbbVie Inc. (ABBV) and Merck & Co., Inc. (MRL) plunged 2.56% and 1.65%, respectively.
In the crypto space, Bitcoin (BTC) and Ethereum (ETH) declined 0.26% and 0.24%, respectively. The global crypto market cap decreased by 0.20% to US$1.24 trillion at 4:28 pm ET on June 9.
Also Read: Top healthcare stocks to explore in June: JNJ, LLY, ABBV, MRK & BMY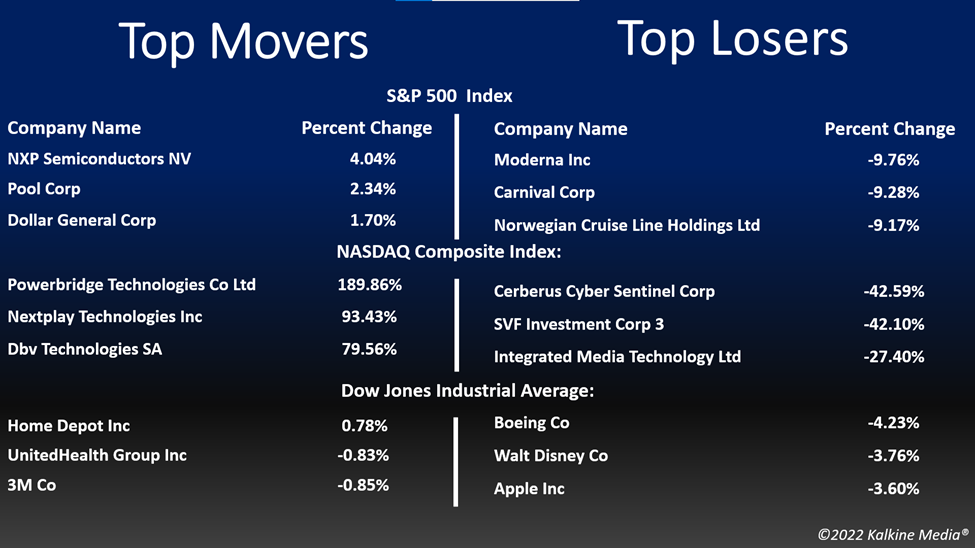 Also Read: Guess why Applied UV (AUVI) stock gained 60% on Thursday?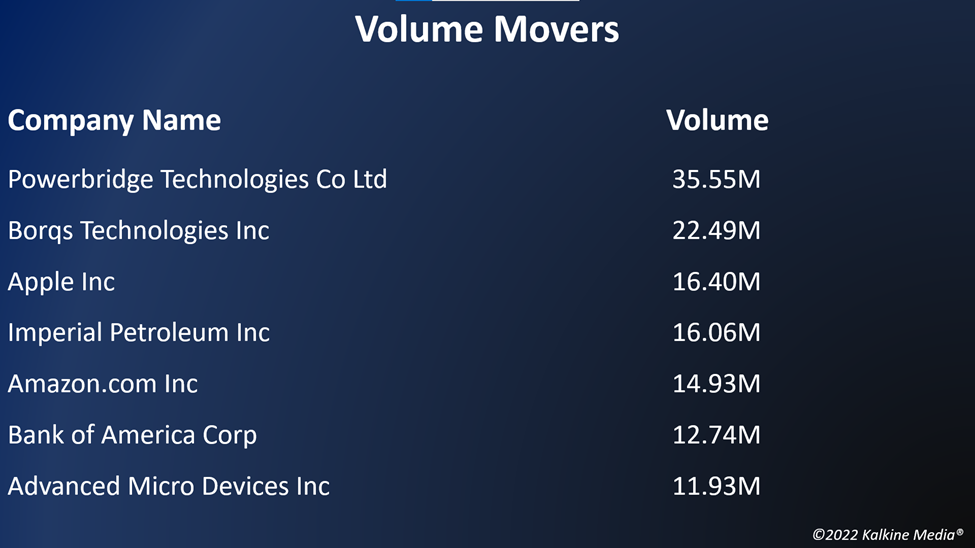 Also Read: Crypto bank vs Fed: It is not Fed's first brush with litigation
Futures & Commodities
Gold futures were down 0.32% to US$1,850.60 per ounce. Silver decreased by 1.82% to US$21.692 per ounce, while copper fell 2.02% to US$4.3645.
Brent oil futures decreased by 0.47% to US$123.00 per barrel and WTI crude was down 0.55% to US$121.44.
Also Read: US household wealth declines for first time since 2020
Bond Market
The 30-year Treasury bond yields were down 0.26% to 3.171, while the 10-year bond yields rose 0.61% to 3.047.
US Dollar Futures Index increased by 0.75% to US$103.310.